Press Release: Bounteous Adds Renowned Digital Leader Brian Whipple and Seasoned CHRO Talent Holly Paul to Bounteous' Board of Directors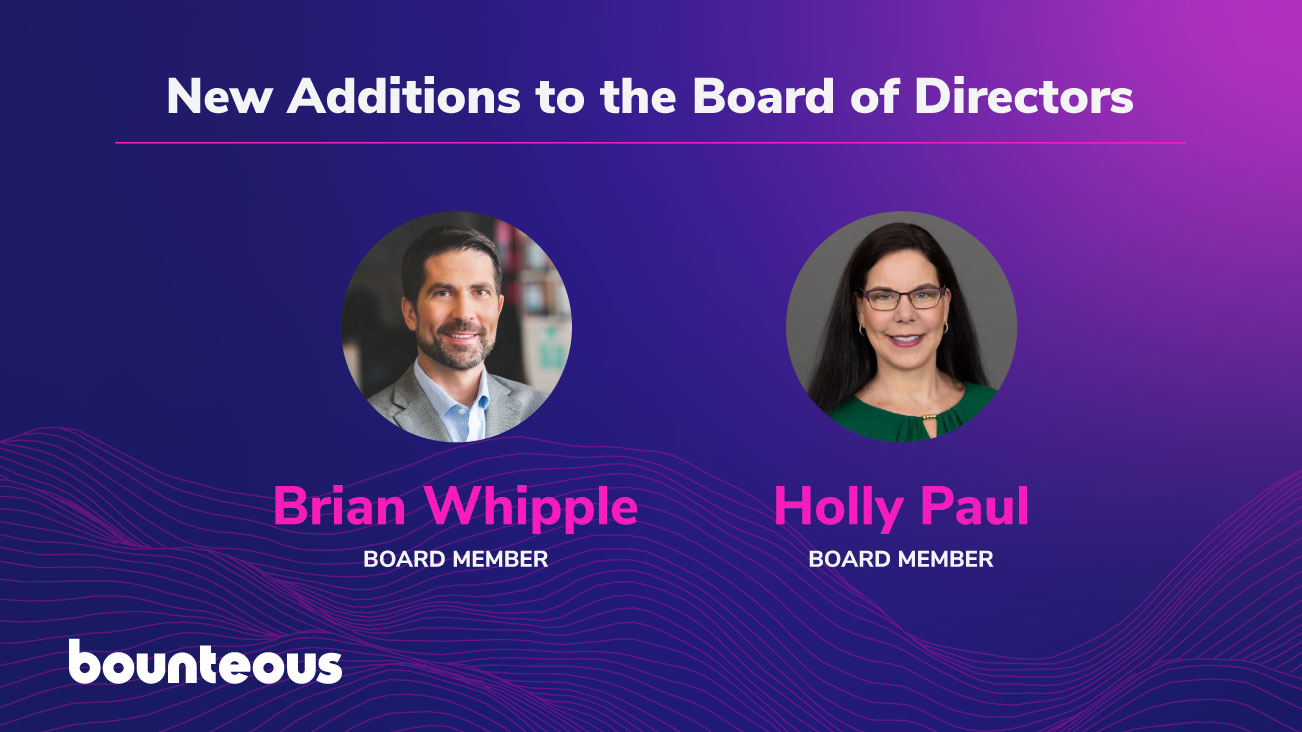 Former Accenture Interactive CEO and FTI Consulting Chief Human Resources Officer join Board of Directors as catalysts for the growth of leading digital experience consultancy
CHICAGO — July 7, 2022 — Bounteous, the digital innovation partner of the world's most ambitious brands, announces today that Brian Whipple and Holly Paul have joined the Bounteous Board of Directors.
Brian Whipple served as the Chief Executive Officer at Accenture Interactive, which he grew from a start-up initiative to generating over $10 billion in revenue. Previously, he was the Chief Operating Officer of Hill Holliday, a marketing and communications agency.
"I have always been deeply impressed by Bounteous' visionary approach and proprietary Co-Innovation enablement methods," said Whipple. "It's an honor to join the Bounteous Board of Directors, and to be part of a values-led company that's constantly innovating to deliver the customer experiences of the future."
Bounteous' CEO, Keith Schwartz added, "I am thrilled to welcome additional world-class leaders to our board. Brian has long been a visionary in the intersection of marketing and technology. His experience together with his passion for defining and delivering the world's best customer experiences for Fortune 500 brands will be an enormous asset to Bounteous and our clients."
Holly Paul is FTI Consulting's Chief Human Resources Officer where she leads efforts to attract, engage, hire, develop and retain FTI Consulting's leading professionals. Prior to that, she served as Chief Human Resources Officer at Vocus, Inc., a high growth marketing and public relations software company. She began her career at PricewaterhouseCoopers ("PwC") where she served nearly 20 years, ultimately rising to become one of the firm's most senior talent acquisition specialists.
Paul said, "I've been amazed by the thoughtful, intentional way Bounteous has gone about attracting and retaining all-star talent and building a world-class culture even while rapidly scaling their global team. I'm looking forward to being a part of their next phase of growth and talent development and acquisition."
"We were seeking a board member whose career has been dedicated to growing professional talent, and we are excited to benefit from Holly's expertise in this area," said Bounteous Chief People Officer, Leah Weyandt. "We strongly believe that our ability to develop and grow our people is critical to achieving outcomes for our clients and Bounteous."
Bounteous has grown six-fold over the last five years. In 2021, Bounteous announced a move into global expansion as well as a partnership with New Mountain Capital, a leading growth-oriented investment firm with over $37 billion in assets under management. The company continues to make strategic investments in talent, expanding service offerings, and capitalizing on Co-Innovation as a catalyst to drive digital transformation initiatives for clients such as Caesars Entertainment, Coca-Cola, Domino's and Mars Wrigley.
About Bounteous
Founded in 2003 in Chicago, Bounteous is a leading digital experience consultancy that co-innovates with the world's most ambitious brands to create transformative digital experiences. With services in Strategy, Experience Design, Technology, Analytics and Insight, and Marketing, Bounteous elevates brand experiences and drives superior client outcomes. For more information, please visit www.bounteous.com. For more information about co-innovation, download the Co-Innovation Manifesto at co-innovation.com.
For the most up-to-date news, follow Bounteous on Twitter, LinkedIn, Facebook, and Instagram.