Improving Patient Care with Google Marketing Platform and Google Cloud Platform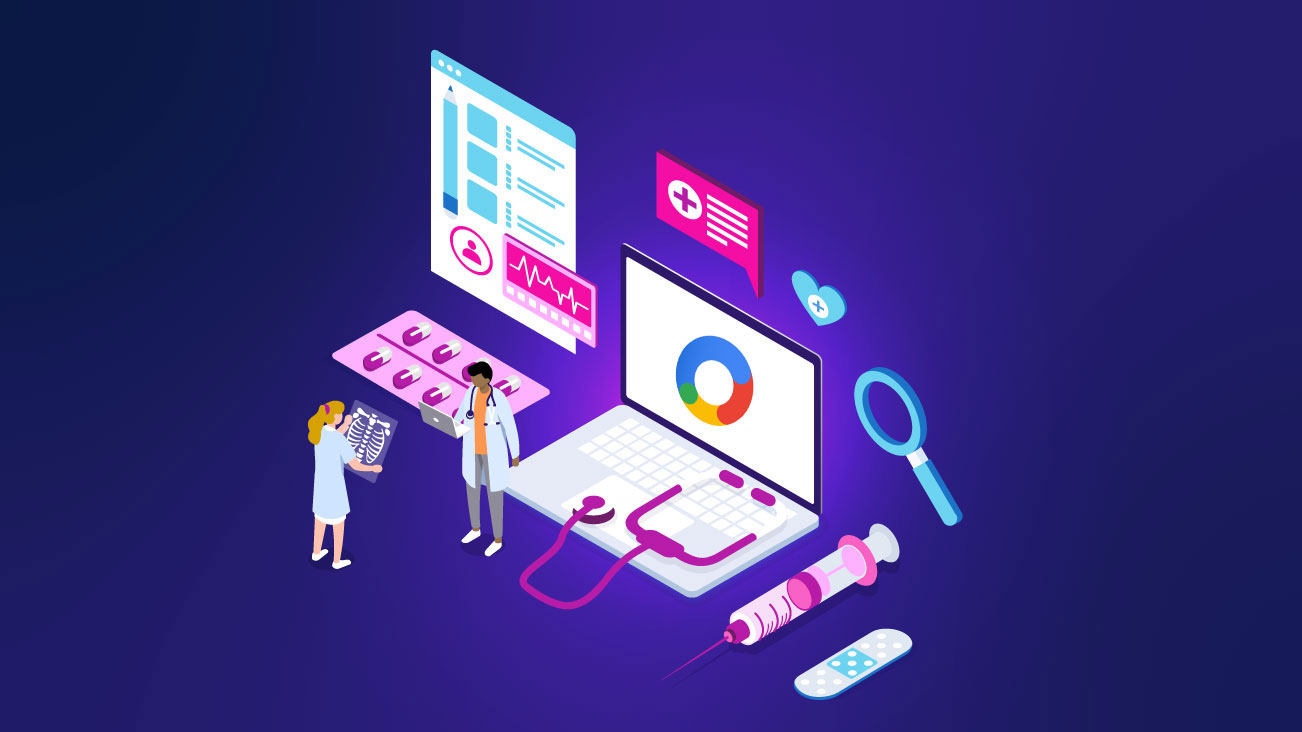 Marketers and digital analysts in the healthcare industry succeed while navigating additional regulations and challenges that their counterparts in many other sectors don't encounter. Guarding patient privacy and abiding by the Health Insurance Portability and Accountability Act (HIPAA) is a paramount task, as is navigating the intersection of emerging consumer digital privacy standards like California Consumer Privacy Act (CCPA) and Europe's General Data Protection Regulation (GDPR).
Healthcare providers, Insurers, Payers, Pharmaceuticals, and Health tech companies can leverage Google Marketing Platform (GMP) and Google Cloud Platform (GCP) as central pieces of their martech stacks to better understand digital patient journeys, reach key audiences, and leverage the cloud.
Understanding Digital Patient Journeys
A need to sophisticate data collection, create more actionable marketing opportunities, and maintain strict privacy controls has led more and more Healthcare companies to adopt Google Analytics. The next evolution is Google Analytics 4 (GA4), which greatly simplifies cross-device measurement across web and app platforms, making it easier than ever to measure and understand key audiences. Healthcare companies will need to move quickly to roadmap and implement Google Analytics 4, as the current version of Google Analytics will sunset in mid-2023. We've previously covered everything that health-focused data teams need to know about the GA4 timeline. Tools like Enhanced Measurement will enable data teams to quickly deploy event collection. GA4 also creates a new foundation for data privacy. 
GA4 features Consent Mode, which interacts with your Consent Management Platform (CMP) to put users in control of their data when visiting websites and mobile apps. When integrated with Google Tag Manager (GTM), Consent Mode can even manage third-party/non-Google tag consent management. 
Furthering privacy controls, GA4 also offers the capability for data deletion requests if and when data is collected erroneously. This empowers companies to clean any collected data and maintain a privacy-focused digital data set. 
Bounteous implemented Google Analytics 4 during development and launch of Birdi, a new digital pharmacy that makes prescription home delivery faster, easier and more affordable. The measurement strategy for Birdi allows its stakeholders to analyze user behavior between both their mobile apps as well as their website. This next-generation home delivery solution provides a better experience to consumers and employer groups while maintaining strict digital privacy guidelines.
Reaching Key Audiences
Google Marketing Platform integrates the widely-adopted Google Analytics 360 enterprise analytics platform with Display & Video 360, an industry-leading demand-side platform, and Campaign Manager 360, a top ad server and digital ad analytics platform. These tools help marketers negotiate the best digital media placements across ad networks like Google, YouTube, and dozens of third-party advertising exchanges to execute media buys across static, video, app, audio, and OOH ad types. Companies can better control data sharing with advertising partners when they adopt and integrate these three tools.
Eli Lilly adopted Campaign Manager 360 with privacy on their mind: "We also look at the potential risk to consumer privacy to guide our data use and first-party data strategy. Based on this, we took ownership of our Campaign Manager 360 ad serving contracts. This gave us full transparency into media costs, performance, and measurement. It also allowed us to integrate more easily with solutions like Google Analytics 360."
This control enabled Elil Lilly's digital team to test marketing messages across channels quickly and easily. Their experiment cycle demonstrated that personalized approaches increased the brand's ROI between 12% and 35%, depending on the marketing channel. They were able to demonstrate tangible business results from personalized messaging. 
St. Jude Children's Research Hospital famously relies on small dollar donations to fund critical juvenile cancer research. They increased donations by 46% year over year with Google Marketing Platform, in-part by turning the now-dated telethon format into a YouTube livestream that leveraged new ad formats for promotion and drove $3million in donations.
Advanced Analytics for Both Marketers & Health Records
When Healthcare companies leverage Google Marketing Platform, it's easy to connect to the cloud to create unique segmentations or run granular analysis. BigQuery is a popular Google Cloud Platform tool used to ingest and transform data from Google Marketing Platform and merge with existing data sets. We've written quite a bit about the benefits of connecting digital data to BigQuery: Analysts can use raw data, apply machine learning models, and develop unique statistical models or audiences that can then enhance digital campaigns. The connection from GMP to BigQuery is extremely powerful and can inspire companies to dig deeper into the cloud beyond customer experience and digital ad data. 
96% of physicians agree that gaining easier access to critical health information may save patient's lives. Google Cloud Platform also hosts a powerful toolkit called the Google Cloud Healthcare Data Engine. This toolkit enables health organizations to tackle data interoperability challenges and develop custom solutions that maximize FHIR standards. 
The Healthcare Data Engine lets companies build immediately useful longitudinal records of patient data and can map over 90% of HL7v2 messages to FHIR across leading Electronic Health Records systems (EHR) out of the box, enabling a path to better care, while reducing the total cost of ownership. Companies can make better real-time decisions around population health, resource utilization, optimizing clinical trials and accelerating research, identifying high-risk patients, and other critical needs with health insights.
This is built on GCP's Healthcare API that allows easy and standardized data exchange between healthcare applications and solutions built on Google Cloud. It supports healthcare data standards such as HL7® FHIR®, HL7® v2, and DICOM® to provide a fully managed, highly scalable, enterprise-grade development environment for building clinical and analytics solutions securely on Google Cloud. The Cloud Healthcare API also includes additional value-added capabilities, such as automated DICOM and FHIR de-identification to better prepare data for solutions. Google Cloud Platform supports HIPAA compliance, making it a compelling platform for digital transformation in healthcare.
Learn more in these solutions playbooks assembled for National institute of Health (NIH) and the Google Cloud Next conference.
There's much at stake as companies in the Healthcare space undergo digital transformation initiatives. Google's integrated enterprise offerings deserve consideration and can play a central role in any leading organization's martech map.