Mobile Payments Are Table Stakes For Restaurant Brands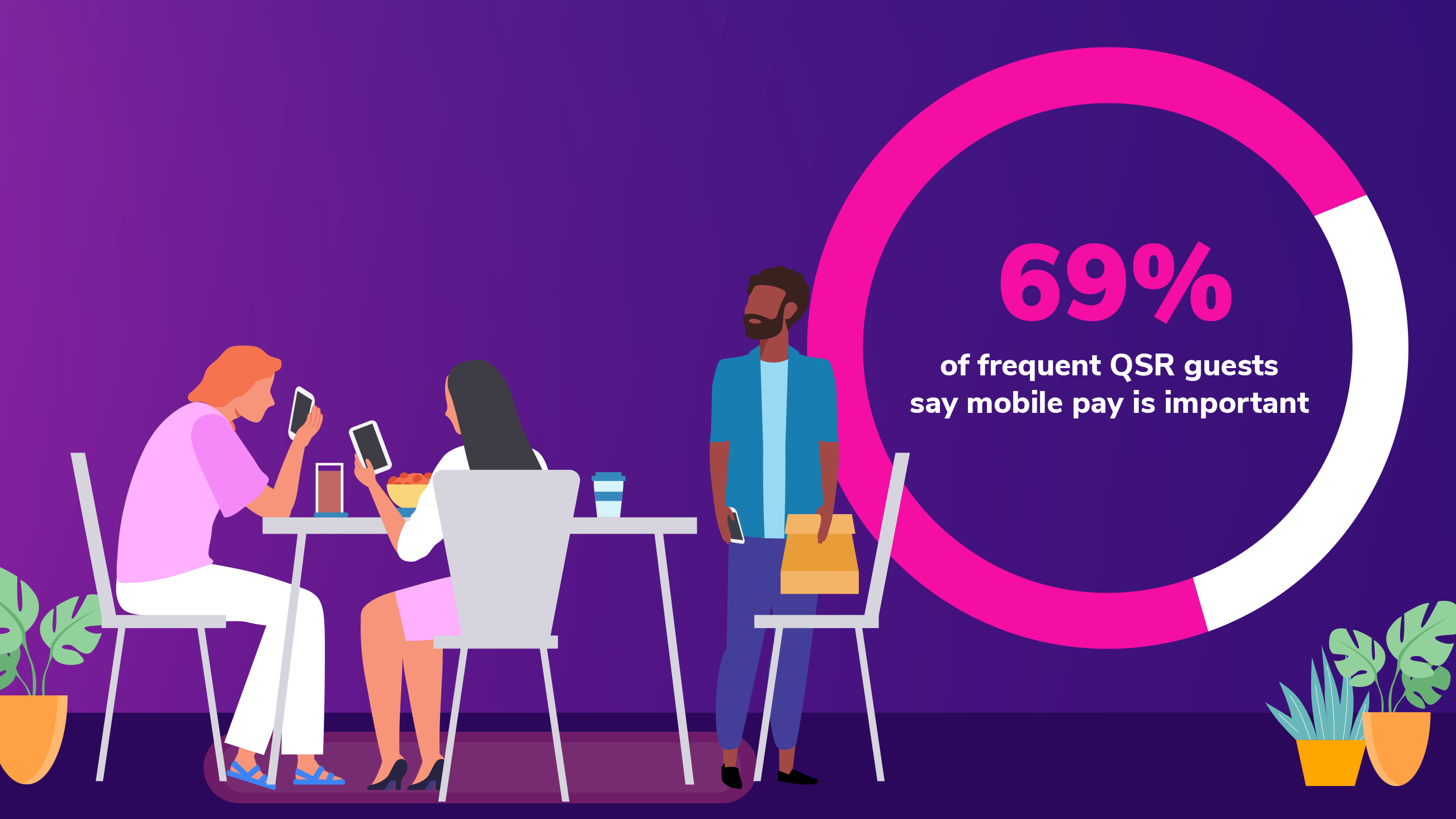 With so much competition among restaurant brands and growing consumer expectations of seamless digital ordering, offering a strong and clear value proposition is critical. One leading emerging differentiator is mobile payments.

Recent research conducted by Bounteous + Olo reveals that 45 percent of quick-serve restaurant customers would choose one brand's website or app over another based on the availability of mobile payment options. Restaurant leaders are increasingly interested in the importance of mobile payments and digital wallets among restaurant guests.

Sean Thompson, IT Director for Freddy's, says the brand's experience with mobile payments within their new app and online ordering site, designed by Bounteous, has been an eye-opening experience.

"We learned a lot with our first app," Thompson said. "One of the biggest challenges was credit card processing—not only at the Guest level, but also on the backend in terms of processing the payments and accounting reconciliation."

Freddy's wanted to eliminate as many friction points as possible within the new app with one fell swoop. And even though they'd been at the forefront of digital ordering during the pandemic, they had to be willing to rethink decisions and investments they'd made just two years ago—after all, consumer behavior and "sticky" habits like mobile ordering have evolved by leaps and bounds since early 2020. That meant giving Guests as many options as possible to pay within the app and ordering website.

"Any moment that creates a pause within an online checkout is an opportunity for the Guest to close the app and go somewhere else," Thompson said. "I didn't want to lose business because we couldn't take Amex or load gift cards into the mobile wallet. That's leaving money on the table, and we try not to do that."
Creating Habit-Forming Opportunities
Tor Opedal, VP and GM, Payments at Olo, says that creating habit-forming opportunities for mobile payments is a critical aspect of conditioning consumers to use the technology more frequently. Just as customers have become accustomed to online ordering and delivery, they can—and will—get used to digital payments at restaurants as well.

"The payment experience should be frictionless, but also something that is easy to use frequently," Opedal said. "It's frequency that builds habit."

Mobile payments messaging doesn't need to be overt. It can be as simple as showing the Olo Pay, Apple Pay, Google Pay, or Samsung Pay logos during the checkout process. And operators needn't attempt to persuade a large number of guests to transition to digital payments at once: The key is to consistently inform guests during the checkout process that mobile payments are an option.

55% of frequent QSR /fast casual guests bought more when mobile wallet options were available.

Thompson says that Freddy's Guests who use Olo Pay typically order food more often and have higher check averages and KPIs than non-mobile payment users. Mobile payments also offer other ways for restaurant operators to elevate the loyalty experience. Typically, restaurant operators think about rewards in terms of points or discounts, but "rewards" can also be enhanced benefits such as convenience, time savings, or being able to "repeat" go-to orders with one click. Over time, this level of convenience and subtle messaging encourages Guests to transition to digital payments.

"It doesn't take many frustrating, friction-filled checkout experiences to drive guests not only to abandon the cart, but the brand altogether," Opedal said. "Having the mobile wallet experience brings guests closer to the brand."
Mobile Payments Can Mean Lower Delivery Fees
Another major benefit for customers ordering—and paying—through native apps is lower delivery fees. One of the key experience pieces Freddy's offers through mobile ordering is their built-in delivery option.

"We all know about the markups for third party delivery and that there are lots of fees with those last-mile options," Thompson said. "With mobile payments through our app, we are able to deliver food without passing additional costs on to the consumer. That's a strong value proposition for Freddy's Guests."
Increase Convenience, but Stay True to Your Brand
Opedal encourages operators who are considering adding mobile wallet and digital payment options to determine where they currently stand before adding too many bells and whistles. Make sure that the technological framework is adequate, that the order flow is natural and friction-free for the consumer, and that operators can easily and quickly access payment data.

"Payment providers should be able to present mobile payment options in a way that is palpable to the consumer—without astronomical costs to the operator, and preferably with reconciliation and flow sent to a single dashboard for easy analytics," he said.

Thompson's outlook on the future of mobile payments: "Don't worry too much about what other brands are doing—focus instead on understanding what your brand is about and what your guests want. Even though we are all competitors, if brands all work together on this, it will benefit us all to have mobile wallet and digital payment options—because it creates better experiences for restaurant Guests overall. A rising tide lifts all ships."

Watch the full FSTEC panel discussion here.