Press Release: Bounteous Achieves Eighth Adobe Solution Partner Program Specialization For Adobe Experience Cloud's Real‑Time CDP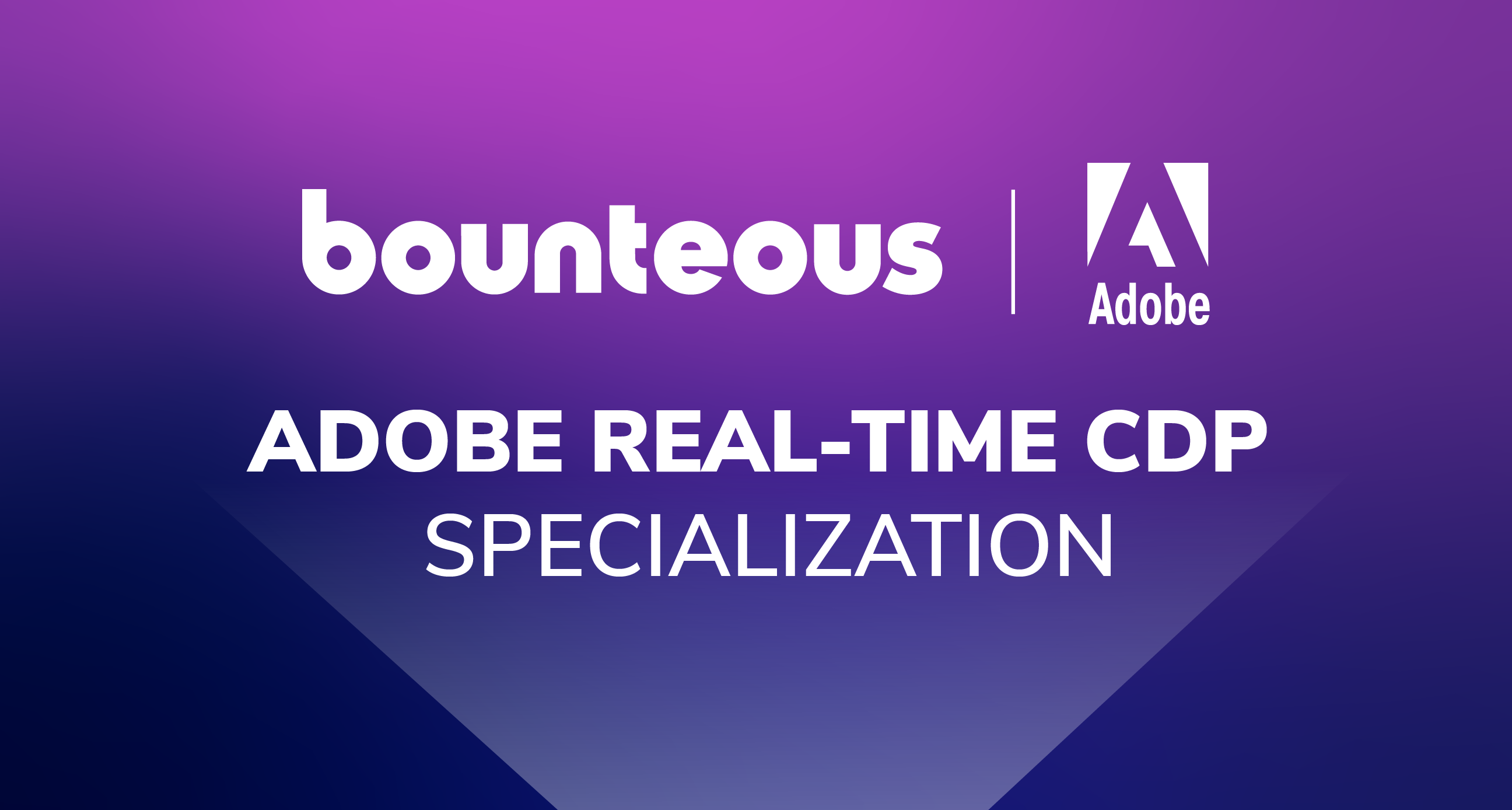 CHICAGO — November 13, 2023 — Bounteous, the digital innovation partner of the world's most ambitious brands, has set a new industry benchmark by securing its eighth specialization in Adobe's Solution Partner Program for Adobe Real-Time CDP. Bounteous received this recognition by completing the requirements of this specialization, demonstrating Bounteous' continued expertise and ability to build and activate unified customer profiles to deliver personalized experiences at scale.
Real-Time CDP, powered by Adobe Experience Platform, helps businesses make better use of their data, delivering a unified view of customer experiences and critical insights that power one-to-one personalization at scale.
Adobe's Solution Partner Program awards specializations to partners demonstrating multi-faceted expertise, including technical proficiency, successful implementation, and proven customer satisfaction. These metrics are assessed through Adobe Certified Expert credentials, successful project implementations, and customer testimonials related to the specialized solution.
"This eighth specialization is a testament to our unwavering commitment to mastering emerging Adobe technologies," said Dave Mankowski, Chief Growth Officer at Bounteous. "It not only highlights our dedication to our clients but also reaffirms that Bounteous is a leader across the entire Adobe technology ecosystem."
Bounteous has completed more than a dozen Adobe Real-Time CDP implementations for clients, including partnering closely with one client to stand up and activate within Adobe Real-Time CDP in only 6 months. Bounteous offers customizable solutions leveraging the Activate for Adobe Experience Platform framework to prove value quickly from clients' investments in Adobe Real-Time CDP, Adobe Customer Journey Analytics, and/or Adobe Journey Optimizer.
"Bounteous continues to prove their dedication to their Adobe Partnership by embracing and innovating alongside our cutting edge technologies, reflected by their specialization in Adobe Real-Time CDP," says Tony Sanders, Senior Director, Americas Partner Sales. "We're looking forward to continuing to grow the adoption of Adobe Real-Time CDP with Bounteous as an influential partner in the space."
As an Adobe Gold Partner and recognized industry thought leader, Bounteous' global team of Adobe experts holds over 100 certifications across Adobe Experience Cloud. Bounteous has developed Adobe specialized practices in the Americas region in seven Adobe Experience Cloud applications, including Adobe Analytics, Adobe Experience Manager, Adobe Experience Manager: Run and Operate, Adobe Campaign Standard, Adobe Campaign Classic, Adobe Commerce, Adobe Target, and now Adobe Real-Time CDP.
About Bounteous
Founded in 2003 in Chicago, Bounteous is a leading digital experience consultancy that co-innovates with the world's most ambitious brands to create transformative digital experiences. With services in Strategy, Experience Design, Technology, Analytics and Insight, and Marketing, Bounteous elevates brand experiences and drives superior client outcomes. For more information, please visit www.bounteous.com.
For more information about Co-Innovation, download the Co-Innovation Manifesto at co-innovation.com.
For the most up-to-date news, follow Bounteous on Twitter, LinkedIn, Facebook, and Instagram.