Of the various elements to advertising via Google AdWords, Ad Extensions are my favorite feature and topic of discussion during strategic planning. From sitelinks, to location extensions, to the newest drop-down beta (we'll talk about this later), each ad extension presents a different way to showcase your business and the opportunity to increase traffic. This article reviews 11 Ad Extensions, some of which you can implement today and others are still in beta.
1.) Sitelinks
Sitelinks are my favorite Ad Extension. At the most basic level, these are blue hyperlinks below ad text that send searchers to specific pages of your site. You can upload up to 10, and Google will show anywhere from 4 – 6 in a variety of formats (two columns, one-line and extended). Recently, we launched sitelinks across newly-launched campaigns and overnight, CTR increased by 40%. If you haven't launched sitelinks yet – stop reading this article (come back later) and get those going!
Here the newest, upgraded features:
Sitelinks at the Ad Group level – Formerly only at the Campaign level
Scheduling – Schedule sitelinks to run during the days/hours that you choose
Bulk upload with AdWords Editor for Ad Groups (yes!) – Download the most recent version
Extended Sitelinks – Create additional text below sitelinks, up to 70 characters

Last thing to note – ads must be in one of the top three sponsored results on the SERP in order to serve. You'll also be charged the same way as clicking on an ad headline.
2.) Call Extensions
Call Extensions allow users to click directly on the phone number displayed in ad copy from their mobile device. You have two options to selecting a phone number: 1.) Google forwarding number and use call reporting or 2.) My own phone number (don't use call reporting). Call Metrics reporting provides  the following metrics: call duration, source (by device), conversions and engine metrics.
Guess what? You can schedule call extensions, too! Nobody there to answer the phone? No problem. Schedule call extensions to show during business (or service center) hours. Finally, utilize the mobile-optimized call extensions to display a "call button" within ads.
3.) Location Extensions
Trying to drive in-store sales and increase brand awareness? Test out Location Extensions to display brick & mortar addresses. One campaign can target multiple locations and the location closest to the user will appear within the ad.
Advertisers can add/update extensions in two ways:
Linked to a Google Places Account
Manually
If you have a large number of locations, upload via Google Places. For just a handful, however, adding via the AdWords UI is simple. Cost is only accrued when searchers click through to the map or on the "directions" option.
4.) Social Annotations
Do you have an active Google+ page? If so, opt into Social Annotations. This is a simple way to 1.) build Google+ following and 2.) prove the credibility of your brand. The only stipulation is that your Google+ page must be verified in order to be eligible.
5.) Seller Ratings
This extension attaches a star rating from Google Product Search to ads – and clicks on the reviews links are free of charge.

Requirements to serve Seller Ratings:
Must be rated in Google Product Search
Must have a composite of 3.5 or more stars
Must have at least 30 reviews in last 12 months
6.) Mobile App Extension
If you (or your client) has an app – this extension is an excellent option to drive increased downloads across mobile or tablet devices. Once a searcher clicks on the ad, they can download the app from either the iTunes or Android market. No need to worry about devices, as ads will only be shown on devices offering those apps (i.e. ads directing to iTunes will only serve on iPhones).
Six extensions down, five to go…
7.) Offer Ads
This extension isn't relevant for all advertisers, but if you that have specific in-store promotions, take advantage of offer ads. Overall, offer ads are meant to drive in-store traffic, so if the promotion is online-only, Google recommends utilizing sitelinks.
Regarding ad format, you can completely tailor the offer headline, redemption date, distribution date, offer type (percent, amount or free) and upload an image to further reinforce your brand. Scheduling abilities also apply to this extension.
One of my favorite features is the granular reporting options. By selecting the "Click type" under the "Segment" drop-down, you can analyze the number of headline clicks vs. view offer clicks. Furthermore, Google allows you to access number of clicks on "Print offer" and "Save Offer."

*Image source: Google AdWords blog
8.) Communication Ad Extension (beta)
Wouldn't it be great if you could generate leads directly from a Paid Search ad? Wish = granted…once it is out of beta. There are a  few options: newsletter signup, request an email or request a call.
How does it work? The user selects the contact method (whether from selecting request an email or request a call), submits their information and Google will provide you with a message containing user-provided information.
Since this is in beta, jury's still out on pricing model. If pressed, I'd assume that it will operate like any other ad extension and charge based on keyword-level CPC if information is submitted. This does raise an interesting question: "What if they submit their info and then click through to the site? Does that result in a double-charge?" Only time will tell.
9.) Review Extension (beta)
This displays reviews from reputable third parties in search ads by submitting a direct quote or summary of a key point from a review. If you have great reviews out there, then this extension can add incredible weight to the relevancy of your organization.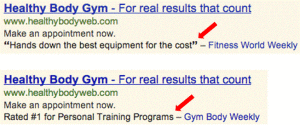 *Image source: Google AdWords blog
10.) Image Extension (beta)
This extension announced in early June allows advertisers to enhance text ads via pre-selected images thus providing a more aesthetically pleasing SERP experience. Advertisers can choose the images that they want to be displayed and send to Google for review. Per the Google AdWords blog, "You must have the necessary rights to the images you wish to display with your ads." Also, "It is more likely that your image extensions will show for a query like luxury car designs than locations of nearby car dealerships."
Attention all travel/food/B2C advertisers – how excited are you for this feature?

*Image source: Google AdWords blog
Last, but most certainly not least, courtesy of Search Engine Land…
11.) Drop-Down Navigation Ad Extension (beta)
Presenting to you, the most hot-off-the-press Ad Extension that Google AdWords has to offer. This "I Am Looking for" ad extension actually allows searchers to select from a drop-down menu of 10 specific sections to an advertiser's site. As if sitelinks weren't enough, now Google allows advertisers to provide even more options.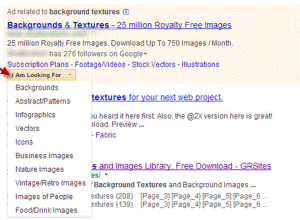 *Image source: Search Engine Land
Of all ad extensions currently in beta, I'm most looking forward for this roll out across all advertisers. As you can see, there are almost a dozen options to extend and enhance your ads. The best advice that I can give is to test everything (where relevant to your business), be diligent about analyzing changes in performance and adjust accordingly.
Happy testing!