Press Release: Bounteous Announces New Solutions For Adobe Experience Cloud, Cites Speed‑To‑Market & Expanded Functionality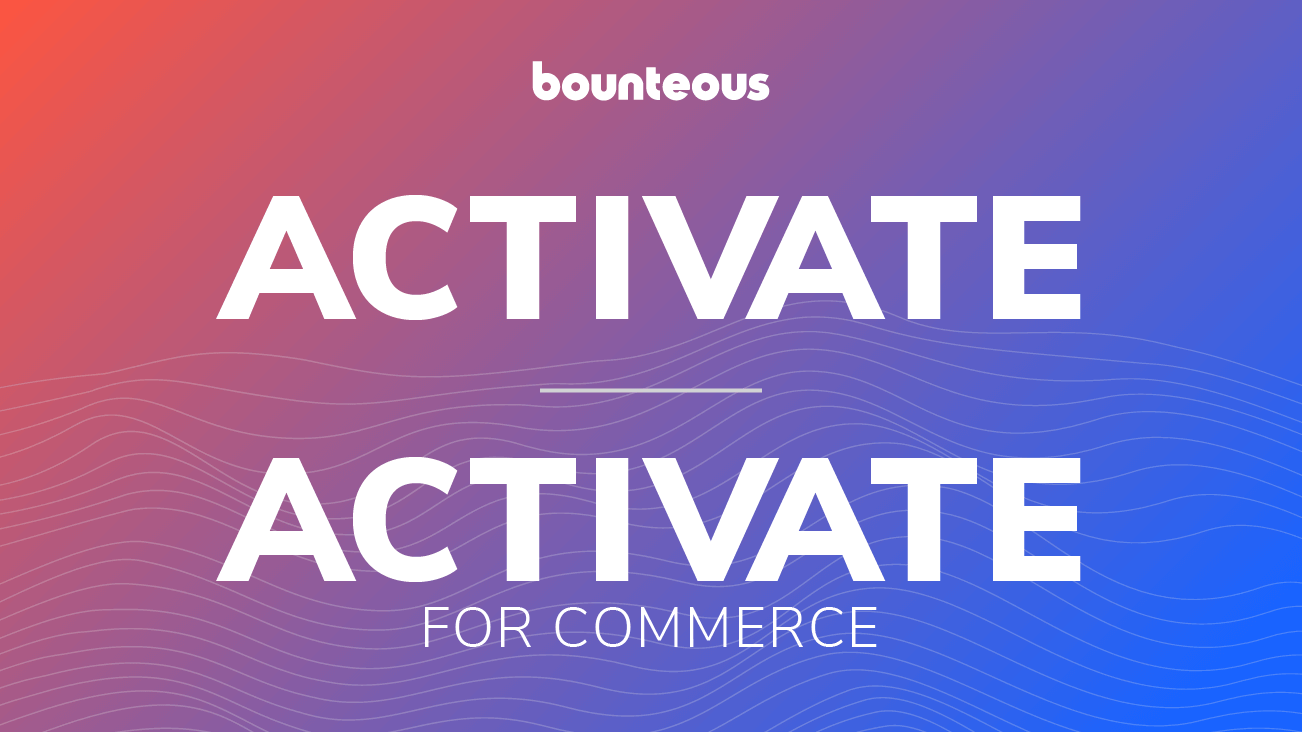 Exclusive new solution for Adobe Experience Manager, Adobe Commerce Cloud empowers creation of differentiated digital experiences
CHICAGO — May 13, 2019 — Bounteous, a leading insights-driven digital experience agency, is proud to announce Activate and Activate for Commerce, exclusive new solutions for advancing the capabilities of Adobe Experience Cloud, expediting time-to-value, and offering expanded functionality for expertly delivering an end-to-end digital experience.
Activate is a collection of frameworks exclusively crafted by Bounteous and debuts with Adobe Activate and Activate for Commerce solutions. Designed to help companies take full advantage of the Adobe Experience Cloud, kickstarting Adobe Experience Manager (AEM) development, and crafted to seamlessly enable tracking through Adobe Analytics and personalization through Adobe Target.
Activate, built by the award-winning Adobe practice at Bounteous, packages years of best practices and successful deployments to help clients quickly create a modern, useful digital experience. Activate is complete with a flexible design system, customizable components, a robust data layer, and is ready for advanced internationalization and multi-site functionality.
Activate for Commerce extends the Activate functionality to include commerce-specific features and functionality, helping companies take advantage of the recently announced Adobe Commerce Cloud. Activate for Commerce incorporates features and functionality specifically designed for eCommerce websites built on Adobe Commerce, previously known as Magento Commerce, and enables integration in AEM to get the benefit of both programs. Activate for Commerce makes it easy for businesses to combine the benefits from both platforms, and get to value faster, adding flexibility, scalability, and acceleration to programs.
"It's important for businesses looking to make a timely impact in their customer's journey to not recreate the wheel," said Marc Infield, Bounteous VP of Digital Experience Platforms. "Our rich knowledge base at Bounteous is full of valuable expertise that we're now able to provide to our customers through a set of foundational frameworks for Adobe Experience and Commerce Clouds. Clients can now focus on growing their long-term ROI and getting to differentiated value faster. Using Activate means we are smarter, better, faster, and stronger, together."
Activate is available exclusively for Bounteous customers looking to build beautiful big-picture solutions. To learn more about Activate and Activate for Commerce, and schedule a live demo with Bounteous, visit https://www.bounteous.com/activate/demo/.
Bounteous has been a Adobe Commerce partner for over 10 years and is an Adobe Gold Solutions partner and has a specialization in both Adobe Experience Manager and Adobe Analytics. Bounteous was the 2018 Emerging Adobe Experience Cloud Partner of the Year and has over 100 certifications across the entire Adobe Cloud, including Adobe Experience Manager, Adobe Analytics, Adobe Target, Adobe Campaign, Marketo, and Adobe Commerce Cloud.
Bounteous Adobe experts are the top contributors to ACS AEM Commons, and were named both the 2019 and 2018 AEM Rock Star, awarded to the world's best AEM architects. Bounteous was also cited twice in the recent Forrester report "Ten Ways to Get the Most Out of Your Adobe Investment."
About Bounteous
Founded in 2003 in Chicago, Bounteous creates big-picture digital solutions that help leading companies deliver transformational digital brand experiences. Our expertise includes Strategy, Experience Design, Technology, Analytics and Insight, and Marketing. Bounteous forms problem-solving partnerships with their clients to envision, design, and build their digital futures. For more information, please visit www.bounteous.com.
For the most up-to-date news, follow Bounteous on Twitter, LinkedIn, Facebook, and Instagram.