Press Release: Bounteous Named One of the 2021 Best Workplaces in Consulting & Professional Services™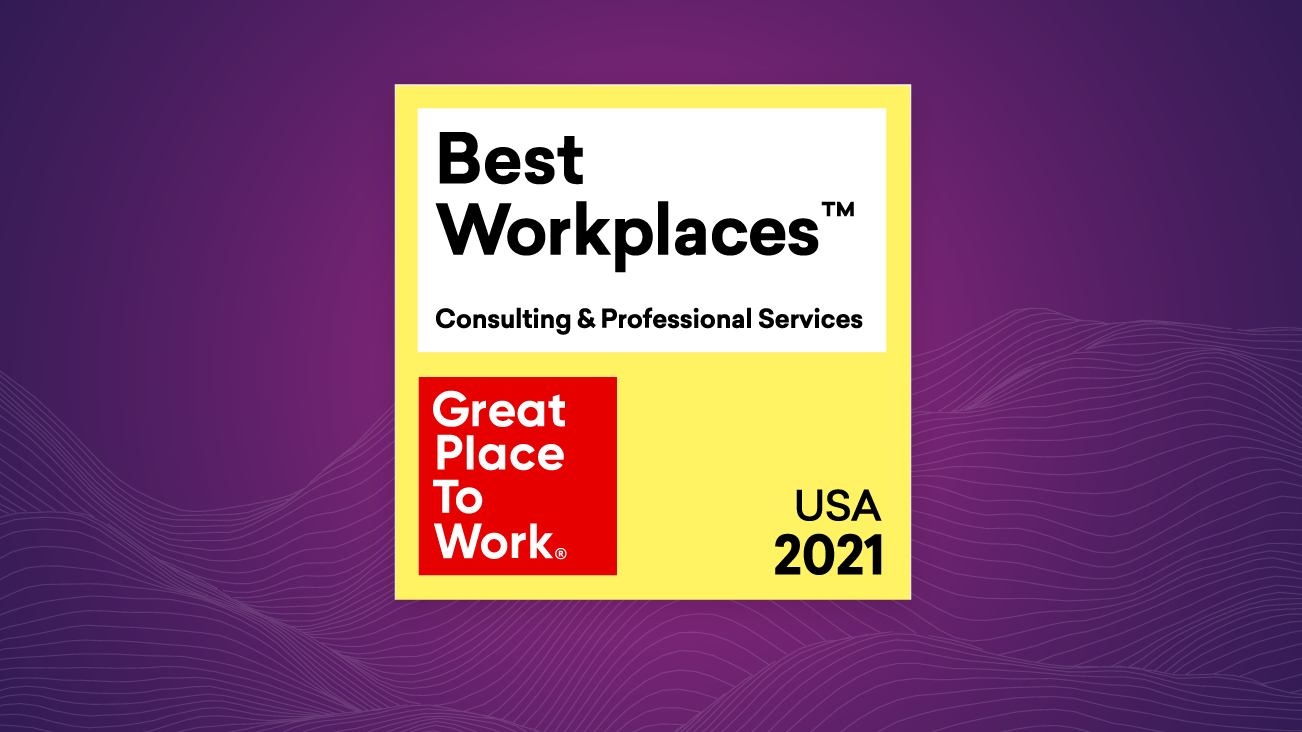 Consultancy continues to attract and retain industry-leading talent
Chicago—April 23, 2021—Bounteous has been named one of the 2021 Best Workplaces in Consulting & Professional Services™, following a banner year for culture-centric awards for the leading digital experience consultancy. Sitting at the intersection of systems integrators, management consultancies, and digital marketing agencies, Bounteous blends the creativity of an agency, the skills of a system integrator, and the insight of a consultancy.
This is Bounteous' inaugural time being named to this prestigious list, this year coming in at 8th place for small and medium firms. Earning a spot means that Bounteous is one of the best companies to work for in the country.
"At Bounteous, we are a people-first business and fundamentally believe that each team member is a critical contributor to our long-tenured success," said Leah Weyandt, Chief People Officer at Bounteous. "The goal is to enable our people to engage, be heard, feel valued, grow, and make a meaningful impact. It's an absolute honor to be recognized from within."
Bounteous is the co-innovation partner to leading multinational brands. The firm has expanded its global presence in 2021 by deploying solutions across the globe and co-innovating on work outside of its North American headquarters. Bounteous also received a mention in the 2021 Gartner Magic Quadrant for Global Marketing Agencies report.
The Best Workplaces in Consulting & Professional Services award is based on analysis of survey responses from more than 463,000 current employees across the U.S. In that survey, 95 percent of Bounteous' employees said it's a great place to work. This number compares to 59 percent of employees at a typical U.S.-based company.
The Best Workplaces in Consulting & Professional Services list is highly competitive. Great Place to Work, the global authority on workplace culture, selects winners using rigorous analytics and confidential employee feedback on how they're treated. Companies are assessed on how well they are creating a great employee experience that cuts across race, gender, age, disability status, or any aspect of who employees are or what their role is.
"These companies are proof that strong company culture is not restricted to the physical workplace," said Sarah Lewis-Kulin, VP global recognition, Great Place to Work®. "Despite the challenges of the pandemic and remote work, employees at these companies say they feel supported by their leaders, connected to their colleagues, and that managers bring out the best in everyone."
So far in 2021, Bounteous has also ranked as a Best Workplaces™ in Canada and Best Workplaces for Women. In 2020, Bounteous was named to the Fortune Best Small & Medium Workplaces™ and was ranked #2 in Great Place to Work's Best Workplaces in Chicago™.
For more on Bounteous' rankings, visit its profiles with Great Place to Work U.S. and Canada.
About Bounteous
Founded in 2003 in Chicago, Bounteous creates big-picture digital solutions that help leading companies deliver transformational digital brand experiences. With expertise in Strategy, Experience Design, Solutions Engineering, Analytics, and Marketing, Bounteous forms co-innovation partnerships with clients to envision, design, and build their digital futures. For more information, please visit www.bounteous.com. For more information about co-innovation, download the Co-Innovation Manifesto at co-innovation.com.
For the most up-to-date news, follow Bounteous on Twitter, LinkedIn, Facebook, and Instagram.
About the Best Workplaces in Consulting & Professional Services™
Great Place to Work® selected the Best Workplaces in Consulting & Professional Services™ by gathering and analyzing confidential survey responses from more than 463,000 employees at Great Place to Work-Certified™ organizations across the country. Company rankings are derived from 60 employee experience questions within the Great Place to Work Trust Index™ survey. Read the full methodology.
To get on this list next year, start here.
About Great Place to Work®
Great Place to Work® is the global authority on workplace culture. Since 1992, they have surveyed more than 100 million employees worldwide and used those deep insights to define what makes a great workplace: trust. Their employee survey platform empowers leaders with the feedback, real-time reporting and insights they need to make data-driven people decisions. Everything they do is driven by the mission to build a better world by helping every organization become a great place to work For All™.
Learn more at greatplacetowork.com and on LinkedIn, Twitter, Facebook and Instagram. ​​​