Coca‑Cola, Bounteous Win The Adobe Experience Maker Of The Year Award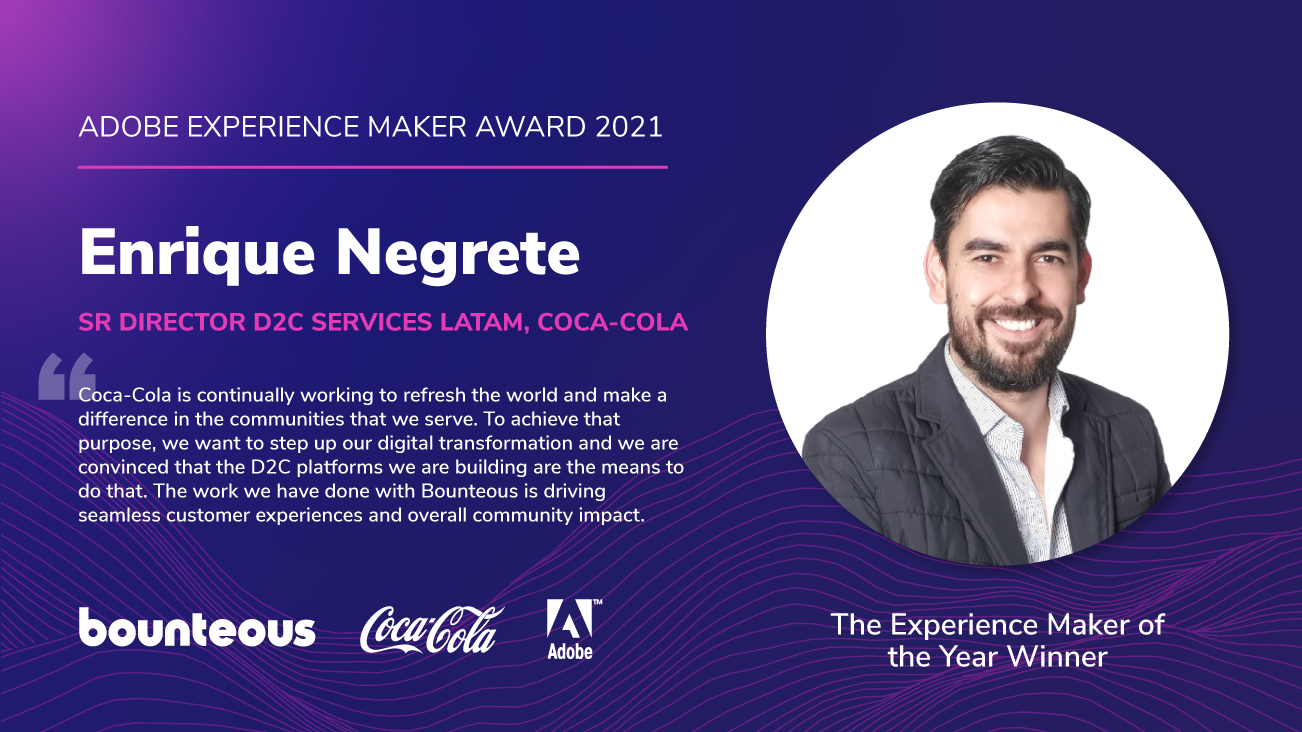 Recognized for driving exceptional customer experiences and business impact
Chicago - June 23, 2021 - Bounteous, a leading insights-driven digital experience consultancy, today announced its win alongside Coca-Cola for The Adobe Experience Maker Of The Year award. Enrique Negrete, Senior Director D2C Services LATAM for Coca-Cola, was named The Experience Maker Of The Year during the 2021 Adobe Experience Maker virtual gala. 
The Experience Maker Of The Year award recognizes an individual who has uniquely delivered exceptional customer experiences and significant business impacts. With over 500 Experience Maker award submissions, Negrete, Coca-Cola, and Bounteous' work stood out as a strong partnership utilizing Adobe Commerce and Adobe Experience Platform to build a robust Direct to Consumer (D2C) experience that met the brand expectations of a Coca-Cola consumer, while also fulfilling the business and operational needs of bottler partners in LATAM.
"Bounteous has worked with Coca-Cola for more than six years and the LATAM team for the last three years," said Raghu Kakarala, EVP of Commerce at Bounteous. "We've built a thriving Coke store that delights consumers and launched a new version of Coca-Cola En Tu Hogar (CCETH) that was built around the client's needs and unique franchise model. Enrique's vision for creating a centralized Commerce platform, so that Coca-Cola consumers could receive their weekly supply of water during uncertain times, is a leading contributor to the change and tremendous growth CCETH has seen this year. His efforts have set a foundation for expansion projects in 2021."
Under Negrete's leadership, Coca-Cola wanted to provide 24/7 online access to the full product catalog to consumers across Mexico. This meant showing precise availability, delivery schedules, and also allowing consumers to manage their orders and introduce subscriptions as an option for recurring consumption. Technically, the product variations, pricing, delivery routes, availability, and fulfillments requirements are highly complex and need to be seamlessly surfaced to the customer, while simultaneously allowing for sophisticated fulfillment flow on the back-end. 
Coca-Cola and Bounteous utilized the Adobe Experience Cloud solutions to enable broader access using digital channels consumers preferred, while enhancing the consumer experience and staying relevant to the market's needs.
Negrete has led the transformation of Coca-Cola En Tu Hogar into a fast growing online business that serves the needs of consumers in Mexico. He has the ability to view consumer needs and motivations and map them to business and process methods that drive consumer value and preference. 
"Coca-Cola is continually working to refresh the world and make a difference in the communities that we serve. To achieve that purpose, we want to step up our digital transformation and we are convinced that the D2C platforms we are building are the means to do that," said Negrete. "The work we have done with Bounteous is driving seamless customer experiences and overall community impact."
Bounteous continues to support and impact the future of commerce through successful digital transformations, best practices, and recommendations for implementing Adobe Commerce solutions. To learn more about how Bounteous employs best-of-class Adobe technology solutions, check out its Adobe Commerce partner page. 
About Bounteous
Founded in 2003 in Chicago, Bounteous co‑innovates with the world's most ambitious brands to create transformative digital experiences. With services in Strategy, Experience Design, Technology, Analytics and Insight, and Marketing, Bounteous elevates brand experiences through technology partnerships and unparalleled platform expertise. For more information, please visit www.bounteous.com. For more information about co-innovation, download the Co-Innovation Manifesto at co-innovation.com. For the most up-to-date news, follow Bounteous on Twitter, LinkedIn, Facebook, and Instagram.
About Coca-Cola
The Coca-Cola Company (NYSE: KO) is a total beverage company with products sold in more than 200 countries and territories. Our company's purpose is to refresh the world and make a difference. Our portfolio of brands includes Coca-Cola, Sprite, Fanta and other sparkling soft drinks. Our hydration, sports, coffee and tea brands include Dasani, smartwater, vitaminwater, Topo Chico, Powerade, Costa, Georgia, Gold Peak, Honest and Ayataka. Our nutrition, juice, dairy and plant-based beverage brands include Minute Maid, Simply, innocent, Del Valle, fairlife and AdeS. We're constantly transforming our portfolio, from reducing sugar in our drinks to bringing innovative new products to market. We seek to positively impact people's lives, communities and the planet through water replenishment, packaging recycling, sustainable sourcing practices and carbon emissions reductions across our value chain. Together with our bottling partners, we employ more than 700,000 people, helping bring economic opportunity to local communities worldwide. Learn more at www.coca-colacompany.com and follow us on Twitter, Instagram, Facebook and LinkedIn.
Contacts
Bounteous
Sarah Baker
(773) 296-2600
sarah.baker@bounteous.com