Look (and Strategize) Before You Leap: What to Consider When Migrating to Google Analytics 4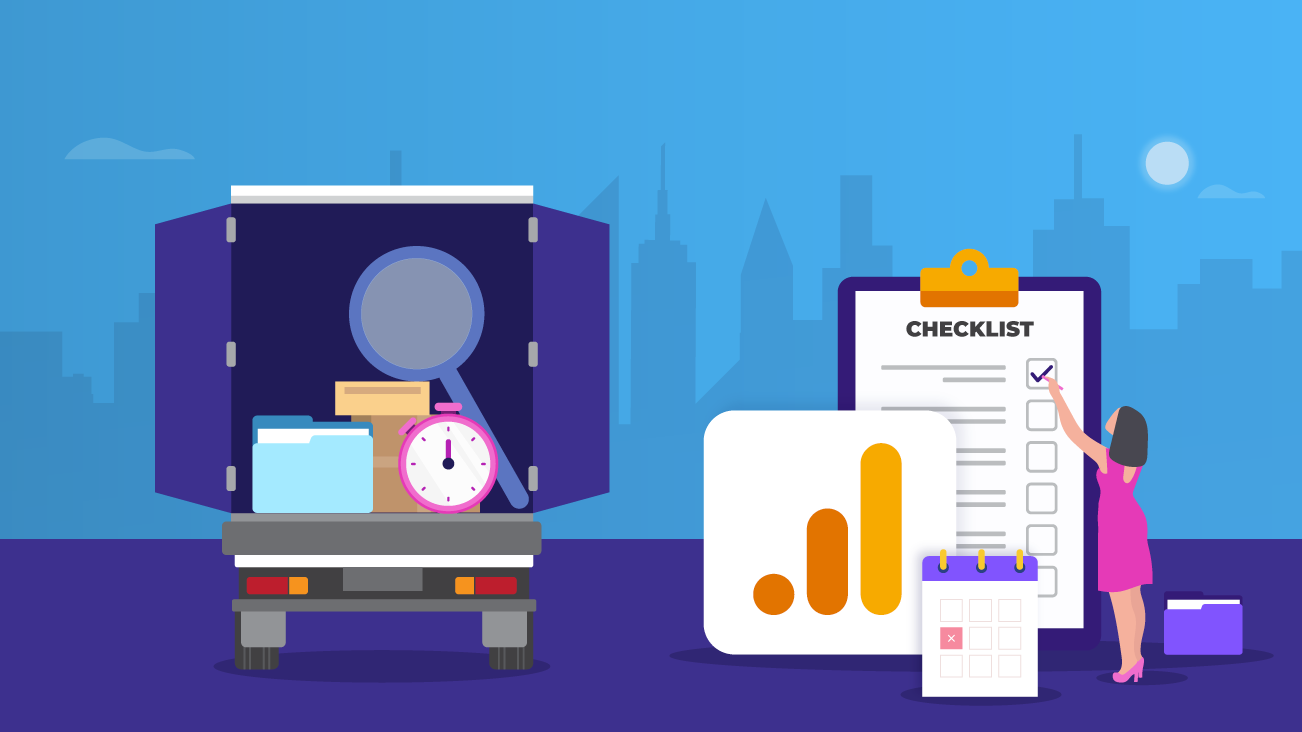 Google Analytics (GA) using Universal Analytics (UA) is not going away any time soon, but Google Analytics 4 (GA4) is here to stay. It's not a matter of whether or not to migrate to GA4, it's a matter of when and of course, how.
Take advantage of this opportunity to start fresh in a tool that is meant to provide more flexibility, with the ability to better understand users across their online interaction with your company enriched by predictive metrics and machine learning. The insights derived from GA4 (the new and improved version of UA) can benefit your business past the cost of the GA4 migration.
But to get to that point, we need to figure out how to plan for the migration and fit it into your roadmap and/or budget. The more you plan now, the less rework there will be later.
Migration Decision
I want to stress the importance of not putting off the GA4 migration. Even if you've gotten started, it may take between six to 12 months (or longer) for GA4 to be your source of truth.
Like with UA, tracking and configuration cannot be applied retroactively (for the most part) so you could be missing out on valuable data. The longer you take to plan and implement, the longer it will be before you can reap the full benefits of GA4.
That being said, GA4 can be coupled with your existing technology roadmap. If there is a huge product launch or site redesign on the horizon, GA4 can be a part of that process or planned immediately following the launch.
With new features coming out every day (at least it seems that way), you have to determine what's right for you—better yet, when is right for you. In the meantime though, we recommend continuing to invest in UA tracking with GA4 in mind.
Migration Planning
It will be a while before GA4 becomes your source of truth. You need to build it up and get accustomed to using it, just like you did with Google Analytics the first (or few) time(s) around.
For some, GA4 will become the source of truth sooner rather than later, but it really depends on the organization. There's no rush to make GA4 your single source of truth right away, but we can work towards that starting today.
Remember, while you're implementing GA4, you will continue to have your existing analytics implementation to support you. There won't be any major modifications to UA in the coming months and it won't be going anywhere any time soon, so you have time to plan, test, and build to get things right.
The important thing is that you aren't alone in navigating this new platform. I'll link to several blog posts, resources, and training opportunities to help you get more acquainted with GA4.
Learning & Getting Started: Immediate Action
Let's take a look at some immediate action items you can start on to learn more about GA4 and help you get started.
Start the Conversation Internally and/or With Your Agency Partner
If you are interested in GA4, chances are others in your organization may be as well. You can start the conversation internally to gather any questions or concerns your company may have about GA4 and strategize your KPIs/goals for 2021/2022 before reaching out to your agency partner. Note that it is important to continue to invest in UA tracking with GA4 in mind, don't completely abandon all the work you've already done with UA.
Your agency partner is most likely planning GA4 migrations for other clients and may have additional insights and strategies in addition to what's outlined in this post. They can also help facilitate your internal discussion or help to answer questions and build your GA4 strategy.
Now That You Have a Google Analytics 4 Strategy In Mind, Start Educating Yourself and Your Organization
It's hard to plan for something if you don't know exactly what it is or what the impacts might be. While the ball is rolling on GA4 strategy (which isn't going to happen overnight), you should attend applicable training sessions and read about GA4 (Congrats! You're here so that means you've already started! Check out the section below for key resources).
Once you are educated on GA4, you'll be in a better position to educate others within your organization. They might not need to know as much as you do for their job functionality, but will be looking to you for direction.
Create a Google Analytics 4 Property and Enable the Enhanced Measurement Features
Some may want to skip the first two steps and jump straight to this one. Although it can be done, we advise that some planning and education is done before this step. After all, how can you start tracking and analyzing data if you don't have any or know what you are looking for?
Creating a test GA4 property now and enabling built-in features will allow you to start collecting foundational data like pageviews, file downloads, video views, and more. It won't have everything you are used to in UA (if you have a robust tracking implementation) but it will be a start and at least for you to see how the data will look in GA4.
GA4 fundamentally collects data differently than previous versions of Google Analytics. Take the appropriate care to determine if you need a new property vs. a data stream when you are creating the new GA4 test property.
Plan & Strategize: First Months of Migration
Depending on the priority of the migration compared to other companies and marketing 
initiatives, consider the following steps for GA4 migration.
Implement Parallel Tracking for Universal Analytics  and Google Analytics 4
Audit your current tracking implementation to map out and identify priority tracking items you want to have tracking parity for in GA4. This can include tracking related to revenue generation, lead acquisition, and other site goals. These items should be implemented first before worrying about all of the UA tracking you've accumulated over the year. Chances are some of it is old or not applicable anymore as your site and goals have changed over the years.
Once you've determined the high property tracking, you should determine what details are important for you to know about your users. Start by registering your custom dimensions and metrics.
Figure Out What Data Types You Want and What Was Important for You In Universal Analytics
Map out and strategize configurations you have set up in UA like filters, goals (UA)/conversion events (GA4), content groups, channel groups, Ecommerce, and Firebase events that will be important to have in your new GA4 property. These aspects might not be fully available in GA4 yet, but can be addressed as the feature becomes available.
Flag Reports That Will Be Affected by Google Analytics 4
GA4 gives you access to a variety of reports within the Analysis Hub and the ability to use BigQuery (for non-360 and 360 users alike). However, the change in the way data is collected means the data schema is different for GA4 compared to UA. Some fields will remain the same like Page Titles and others will change (new fields/removed fields).
All reports that are using UA data sources will need to be updated for GA4. Depending on how many reports your organization has and how often they are referenced, it can be beneficial to update reports in batches, updating your most important reports first.
Additionally, the update from UA to GA4 can be made during a slow season for the business or between scheduled reporting periods to help reduce the chaos. This will also give you time to explain the changes to report stakeholders who are used to seeing reports a certain way.
We know that updating reports will be costly (time and money) however, we've got a tool to help. If you relied heavily on content groupings in UA, we've got a way to recreate them using  CASE WHEN statements and regex to build content groups in GA4 directly and/or for GDS and BQ for reporting/analysis purposes.
Execute & Move Forward: Final Months of Migration
As you move to execute and finalize your migration, make sure to consider the following items.
Implement Configurations You've Previously Mapped Out
Take action based on your mapping and strategy work to configure filters, goals (UA)/conversion events (GA4), content groups, channel groups, Ecommerce, and Firebase events.
All new implementations should be compatible with UA and GA4, meaning if you are implementing in UA, to make sure that the dataLayer works with the GA4 data collection method and that GA4 implementations can be mapped back to the corresponding UA tracking. This will be extremely helpful in the dual-tagging process and builds up your GA4 configuration while providing you with corresponding data within the comforts of UA.
Yes, it's more work, but you'll be grateful you have the comfort of a familiar UA property when you're learning the GA4 data model and reporting interface. This is especially important if your UA property is GA360 and you need your data protected by the GA360 SLA. GA4 properties are not yet covered by Analytics 360 SLAs.
Start Using Google Analytics 4 for Analysis and Reporting
You'll likely be using both UA and GA4 reporting for a while until 1) you get more comfortable with your newly migrated data, and 2) it's built out to the level you need. Start by duplicating and updating the reports you previously flagged to the GA4 schema.
Additionally, you can use the new tools available to you in BigQuery and Analysis Hub (previously only available to GA360 users) to analyze your data. You may find that these features can replace or improve your analysis and reporting capabilities.
Now That You've Fully Migrated to Google Analytics 4, It's Time to Have Some Real Fun
Just like with UA, you will add to your GA4 property and take advantage of new features as they are released to build a smarter and better dataset. The UA you are used to now wasn't built overnight and GA4 won't be either.
Remember to Link Google Analytics 4 With Google Ads and BigQuery (and Other Integrations As They Become Available)
Linking your GA4 property to Google Ads and BigQuery has the same benefits as the UA linkage of the past and so much more.
With the Google Ads link, you can create and import conversions (formerly known as a goal in UA and conversion events in GA4) and audiences to enable a two-way flow of data between the two platforms. However, GA4 audiences will be stronger than ever before due to predictive metrics and modeling related to purchase probability, churn, revenue prediction, and audience building. You can even use this feature to increase bid adjustments on an audience with a high predicted conversion rate (yes please!).
With the BigQuery link, non-360 users are getting access to BigQuery for the first time. BigQuery can be a big game-changer for those users as it provides an advanced and robust way to query and analyze data at a more granular level (compared to the GA interface).
Migration Checklist
This checklist is not exhaustive of all the items that need to be considered or completed to prepare for the GA4 migration, but will point you in the right direction.
As GA4 keeps changing, so do our strategies to help prepare our clients for success on GA4.
Now that you are fully migrated to GA4, take a deep breath and celebrate! Continuous tweaking and optimizations are still required to improve analytics over time, but you got past the hump and can handle the rest in stride.
Key Bounteous Resources
As promised, below are some recommended reading materials and training sessions to help you get started with your migration now that you've determined your migration timeline, plan, and checklist.