Press Release: Bounteous Honored at 2021 Content Marketing Awards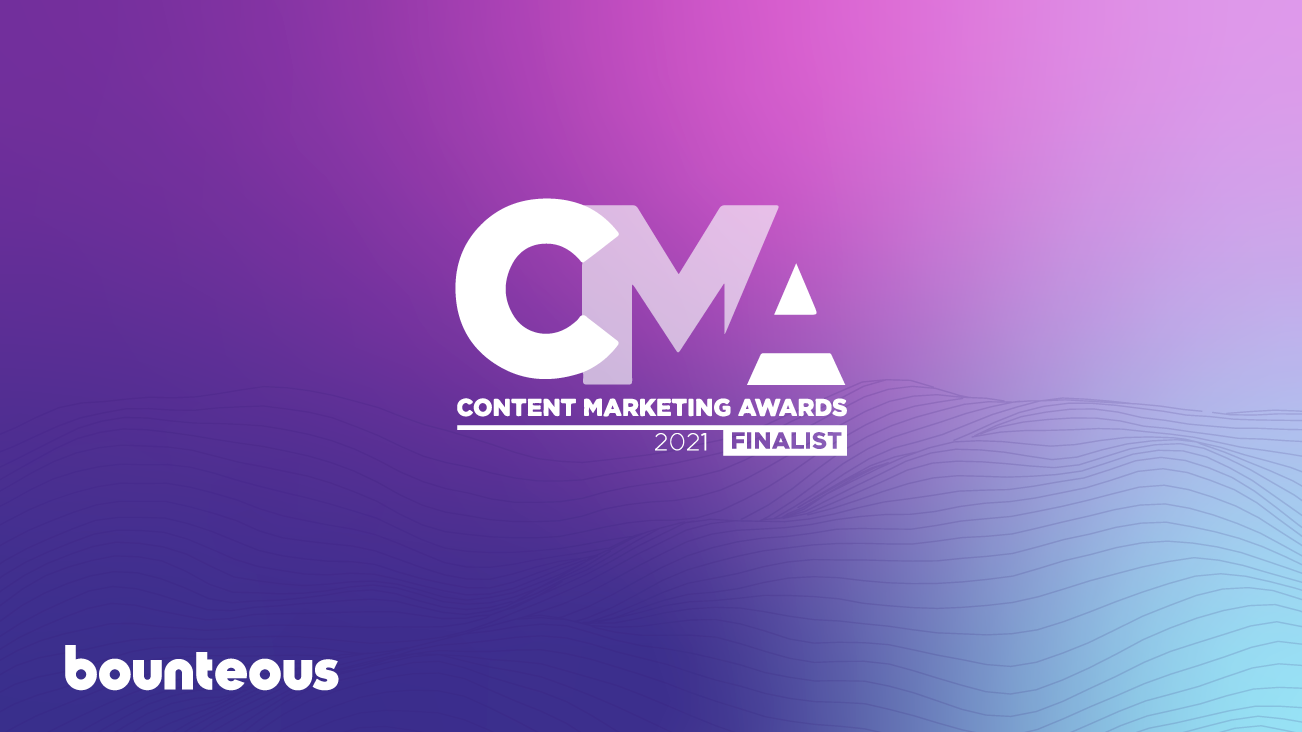 Longest-running international awards program recognizes best content marketing projects each year
Chicago, IL — August 5, 2021 – Bounteous, a leading insights-driven digital transformation consultancy, was honored with two finalist distinctions in the 2021 Content Marketing Awards, the largest and longest-running international content marketing awards program in the world for content creation, distribution, and innovation. This is the company's first time being honored for its work with two blue-chip clients.
"Our Experience Design and Content Strategy practice is growing at a rapid rate and continually produces outstanding work for our clients," said Marc Blanchard, Chief Experience Officer at Bounteous. "We're proud to be honored as part of the esteemed Content Marketing Awards and look forward to continuing to move the needle forward with innovative, groundbreaking content for our clients."
Proofpoint and Bounteous were named a finalist in the Paid Advertising/Content Marketing Integration category for their collaboration in education, ad technology, and expert ad management to Proofpoint's existing lead generation program.
Wawa and Bounteous were also honored as a finalist in Best Use of TikTok in Content Marketing for their partnership in developing a unique content strategy for the platform, which garnered a high number of views and a significant increase in followers of the Wawa brand on TikTok.
Judges assessed nearly 1,000 entries across 80+ categories, which recognize all aspects of content marketing, including the best in strategy, automation, research, social media, video, editorial, illustration, design, and much more, across many different industries.
The Content Marketing Awards are owned and presented by the Content Marketing Institute to recognize and award the best content marketing projects, agencies, and marketers in the industry each year.
The Bounteous Content Strategy team is an award-winning and analyst-recognized practice within the growing Experience Design competency. Bounteous has been cited in Forrester research including "A Practical Guide To Modern Content Strategy," and "The Agile CMS Cookbook: Tales From The Test Kitchen."
Bounteous is hiring in all departments for talent located anywhere. Visit bounteous.com/careers to learn more.
About Bounteous
Founded in 2003 in Chicago, Bounteous is a leading digital experience consultancy that co-innovates with the world's most ambitious brands to create transformative digital experiences. With services in Strategy, Experience Design, Technology, Analytics and Insight, and Marketing, Bounteous elevates brand experiences through technology partnerships and unparalleled platform expertise. For more information, please visit www.bounteous.com. For more information about co-innovation, download the Co-Innovation Manifesto at co-innovation.com.
For the most up-to-date news, follow Bounteous on Twitter, LinkedIn, Facebook, and Instagram.
About Content Marketing Institute
Content Marketing Institute is the leading global content marketing education and training organization, teaching enterprise brands how to attract and retain customers through compelling, multichannel storytelling. CMI's Content Marketing World event, the largest content marketing-focused event, is held every fall in Cleveland, Ohio, and ContentTECH Summit event is held every spring. CMI publishes Chief Content Officer for executives and provides strategic consulting and content marketing research for some of the best-known brands in the world. Content Marketing Institute is organized by Informa Connect. Learn more at contentmarketinginstitute.com.