Press Release: Bounteous Recognized Alongside Mesirow at 2021 Financial Communications Society's Portfolio Awards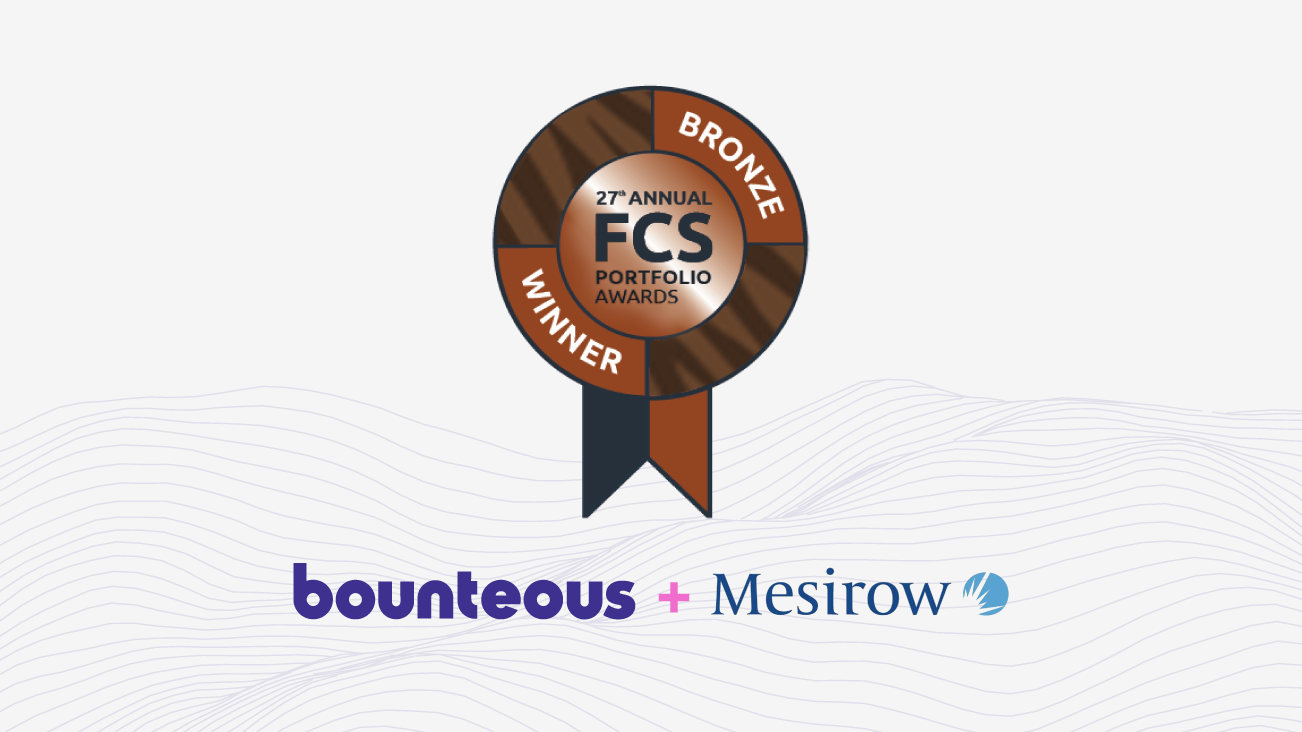 Honors creative excellence in financial marketing and communications
Chicago, IL — September 28, 2021 – Bounteous, a leading insights-driven digital transformation consultancy, was honored in the 2021 Financial Communications Society's FCS Portfolio Awards for visual identity success alongside its client partner at Mesirow.
Mesirow won a bronze medal in the Branding & Advertising / Visual Identity (Logo; Visual Identity System) category.
Bounteous spearheaded the website implementation and partnered with Mesirow on a strategic replatform and rebrand to drive marketing and lead generation efficiencies. Overall, Mesirow's robust brand launch included logo and brand style guide tactics (led by Finmark Partners), the Mesirow.com website, at-a-glance capabilities overview, and brand video (led by Breakout Studio).
"It's an honor to have our digital implementation for Mesirow recognized by an organization as celebrated as the Financial Communications Society," said Sarah Chodera, Chief Marketing Officer, Mesirow. "This comprehensive rebrand was a collaborative effort involving multiple strategic partners, and we're proud to continually push the envelope on digital experience and innovation in the financial services sector on behalf of our clients."
Suzanne Winn, Group Creative Director at Bounteous added, "We're so proud of the partnership with Mesirow in implementing their new platform and strategy. We collaborated closely to bring their new brand to life and build a uniquely tailored digital experience for Mesirow customers and prospects."
Celebrating its 27th year, the FCS Portfolio Awards honors creative excellence in financial marketing and communications. A total of 79 companies, representing 87 brands, were named finalists in this year's competition. All categories are judged by a panel of senior marketing executives from leading financial brands and agencies, including Morgan Stanley, State Street Global Advisors, Citi, BNY Mellon Wealth Management, Invesco, and Raymond James.
This has been a banner quarter for the growing Bounteous Experience Design team for awards recognition, also recently recognized by the Content Marketing Association with clients Wawa and Proofpoint. The Bounteous Content Strategy team is an analyst-recognized practice within the growing Experience Design competency, and has been cited in Forrester research including "A Practical Guide To Modern Content Strategy," and "The Agile CMS Cookbook: Tales From The Test Kitchen."
Bounteous is hiring in all departments for talent located anywhere. Visit bounteous.com/careers to learn more.
About Bounteous
Founded in 2003 in Chicago, Bounteous is a leading digital experience consultancy that co-innovates with the world's most ambitious brands to create transformative digital experiences. With services in Strategy, Experience Design, Technology, Analytics and Insight, and Marketing, Bounteous elevates brand experiences through technology partnerships and unparalleled platform expertise. For more information, please visit www.bounteous.com. For more information about co-innovation, download the Co-Innovation Manifesto at co-innovation.com.
For the most up-to-date news, follow Bounteous on Twitter, LinkedIn, Facebook, and Instagram.
About FCS Portfolio Awards
The Portfolio Awards competition recognizes creative excellence in marketing communications work from financial companies, with Gold, Silver and Bronze trophies awarded for Public Relations; Print & Digital Collateral; Annual Reports; Advertising in print, audio, television, out-of-home, direct mail, and multimedia; Digital Media including display/rich media, email, websites, web video, apps, and mobile; Social Media; Branded Content; External & Employee Communications; Events; and Visual Identity. Entries were received from financial services providers, including investment firms, credit card companies, investment banks, brokerages and exchanges, insurance companies, mutual funds, ETFs, hedge funds, accounting firms, clearing corporations and commercial banks.