Press Release: Bounteous Recognized as a 2021 Best Workplace for Today's Youth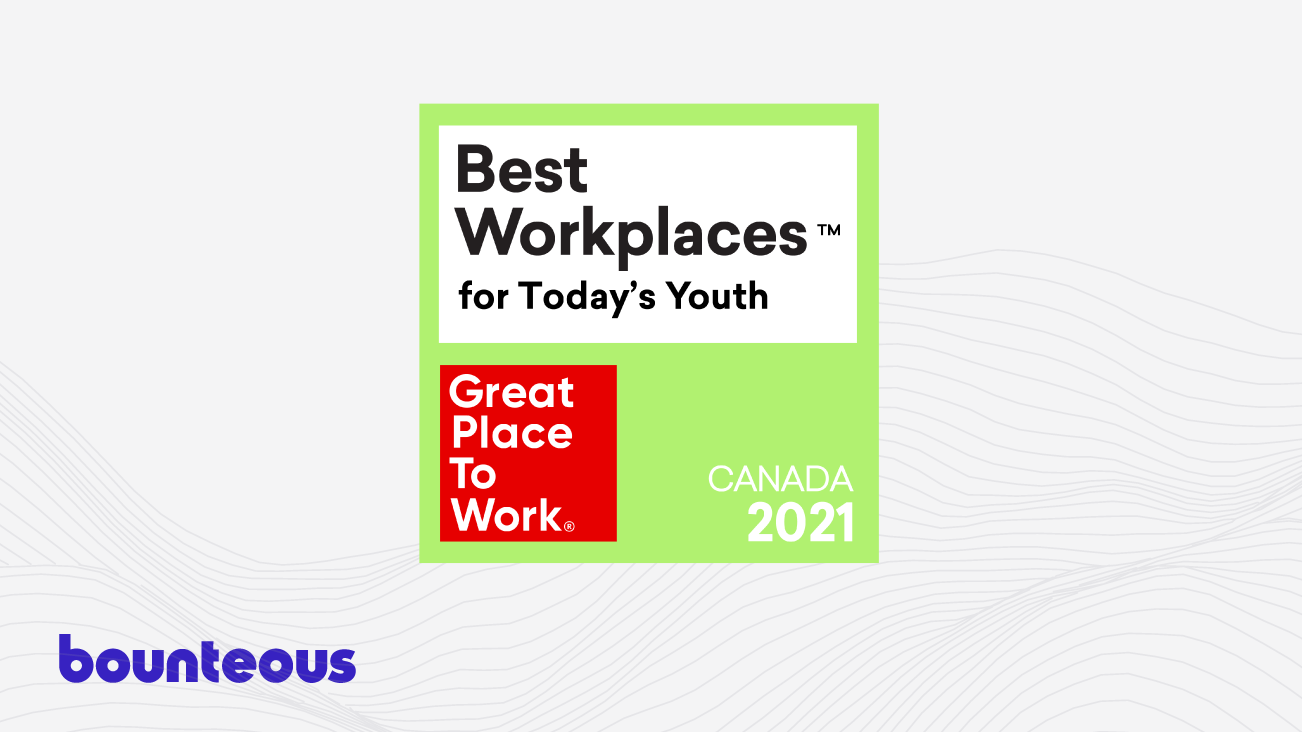 Digital experience consultancy secures another spot on generational list
Toronto, Canada — October 19, 2021 — Great Place to Work® has credited Bounteous as one of the 2021 Best Workplaces for Today's Youth. This is the latest recognition in a slew of awards Bounteous has received in 2021 due to the insights-driven digital experience consultancy's collaborative, innovative partnerships with its talented team members and clients.
To be eligible for this list, organizations must have at least 30 percent of their employees fit the millennial or younger demographics and have at least a 90 percent positive response to the statement, "I am treated fairly regardless of my age."
Bounteous, a leading insights-driven digital experience consultancy, is home to over 1,100 team members worldwide, with its recent acquisition of Lister Digital. Approximately 70 percent of its North American team members are classified as millennials.
"Our goals are to provide a workplace that is not only diverse, equitable, and inclusive, but inspires our people to be the best they can be and innovate in extraordinary ways," said Leah Weyandt, Chief People Officer at Bounteous. "The millennial workforce values opportunities to grow, but also deeply understands that each person's journey is their own. As Bounteous leaders, our job is to encourage, support, and fuel their long-term success."
Throughout the COVID-19 pandemic, Bounteous has promoted a transparent environment through weekly virtual town hall sessions; a supportive, team-oriented culture; virtual yoga, trivia nights; benefit concerts; bingo; collaboration center coffee hours; and activities for parents and their children. Bounteous' people-first culture includes benefits with a 401(k) match, 100 percent paid medical, a take-what-you-need time off policy, and an Employee Assistance Program that offers short-term counseling to team members and their dependents, as well as financial and legal counseling and assistance.
The 2021 Best Workplace for Today's Youth list is based on direct feedback from employees of the hundreds of organizations that were surveyed by Great Place to Work®. Bounteous has been named to multiple GPTW lists in 2021, including 2021 Best Workplaces for Millennials™, Best Workplaces for Consulting & Professional Services, and the Best Workplaces™ for Women.
Bounteous is hiring in all departments for talent located anywhere. Visit bounteous.com/careers to learn more.
About Bounteous
Founded in 2003 in Chicago, Bounteous is a leading digital experience consultancy that co-innovates with the world's most ambitious brands to create transformative digital experiences. With services in Strategy, Experience Design, Technology, Analytics and Insight, and Marketing, Bounteous elevates brand experiences through technology partnerships and unparalleled platform expertise. For more information, please visit www.bounteous.com. For more information about co-innovation, download the Co-Innovation Manifesto at co-innovation.com.
For the most up-to-date news, follow Bounteous on Twitter, LinkedIn, Facebook, and Instagram.
About Great Place to Work®
Great Place to Work is the global authority on high-trust, high-performance workplace cultures. Through proprietary assessment tools, advisory services, and certification programs, GPTW recognizes the world's Best Workplaces in a series of national lists including those published by The Globe & Mail (Canada) and Fortune magazine (USA). Great Place to Work provides the benchmarks, framework, and expertise needed to create, sustain, and recognize outstanding workplace cultures. Visit us at www.greatplacetowork.ca or find us on Twitter at @GPTW_Canada.
Learn more at greatplacetowork.com and on LinkedIn, Twitter, Facebook and Instagram.