Press Release: Bounteous Honored at Google Premier Partner Awards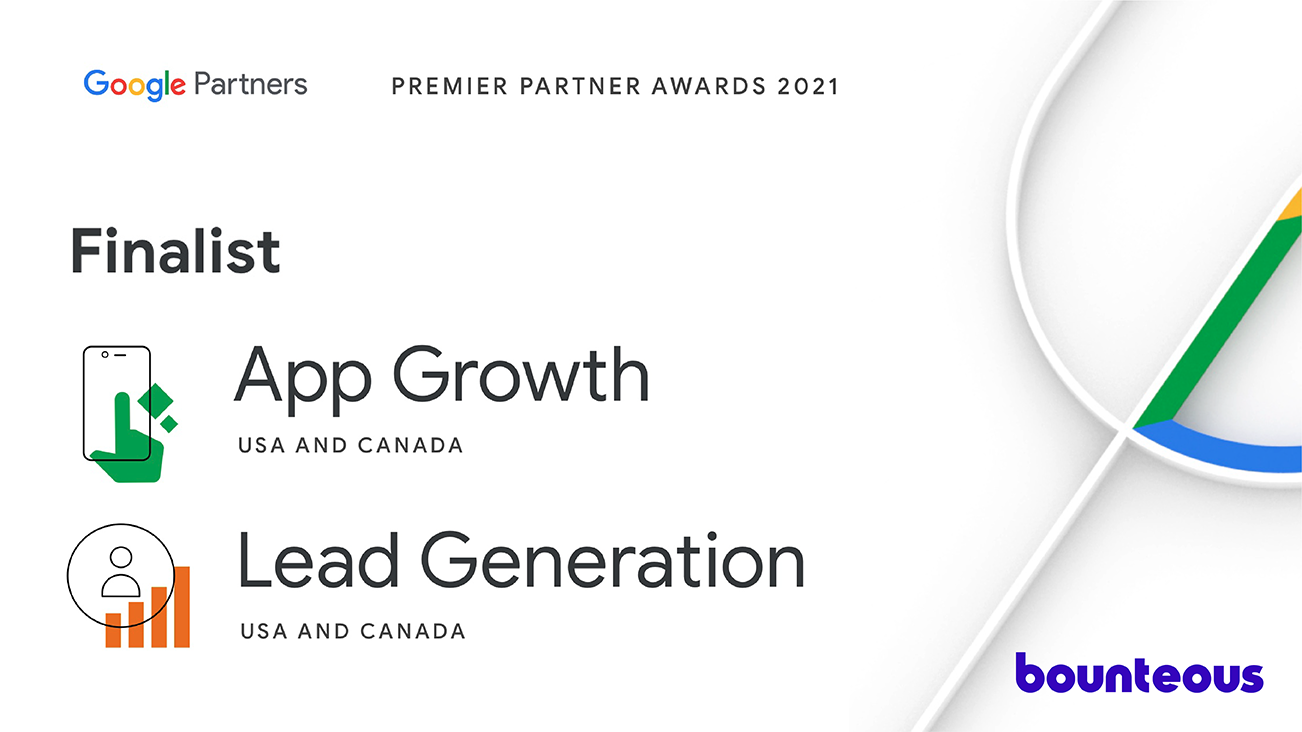 Search Marketing Team Finalist for Best Lead Gen & App Growth Campaigns
Chicago, IL — October 20, 2021 – Bounteous, a leading insights-driven digital transformation consultancy, was honored as a finalist in two categories at the 2021 Google Premier Partner Awards. This was the company's first finalist designation.
"I am honored that Google has recognized our dedicated client team for innovative work," said Jillian Tate, SVP of Media at Bounteous. "Recognition from the Google Premier Partner awards judges is clear validation of our team's ability to deliver results through our client partnerships with Proofpoint and Domino's Pizza of Canada as well as with Google. We have increased our clients' per-sale and customer lifetime value amounts by using a combination of first and third-party data to build higher value segments. This recognition substantiates our data-driven approach to the ever-shifting challenges in digital advertising."
Bounteous received finalist honors for their digital advertising work in two categories, Lead Gen campaign for Proofpoint and App Growth campaign for Domino's Pizza of Canada, respectively.
Google's Premier Partner Awards is an annual event that celebrates the impact and innovation that its advertising partners make in the digital marketing industry and on clients' business objectives.
Bounteous is hiring in all departments for talent located anywhere. Visit bounteous.com/careers to learn how you can join the award-winning team.
About Bounteous
Founded in 2003 in Chicago, Bounteous is a leading digital experience consultancy that co-innovates with the world's most ambitious brands to create transformative digital experiences. With services in Strategy, Experience Design, Technology, Analytics and Insight, and Marketing, Bounteous elevates brand experiences through technology partnerships and unparalleled platform expertise. For more information, please visit www.bounteous.com. For more information about co-innovation, download the Co-Innovation Manifesto at co-innovation.com.
For the most up-to-date news, follow Bounteous on Twitter, LinkedIn, Facebook, and Instagram.