Press Release: Bounteous Announces Activate for Adobe Campaign Ensuring Platform Implementation Expediency, Compliance, and Time to Value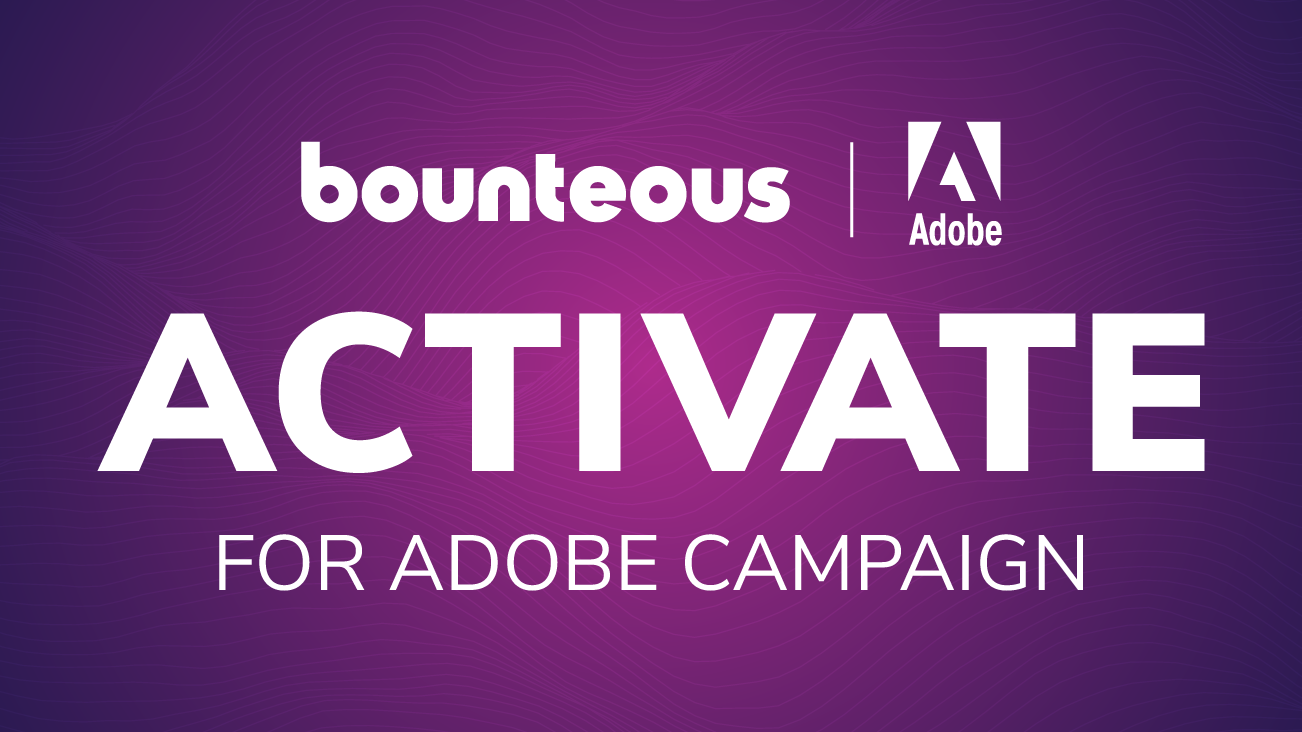 Rapid enablement, proven processes, and optimized platform performance with the Bounteous Accelerator for Adobe Campaign
Chicago — October 25, 2021 — Bounteous, a leading insights-driven digital experience consultancy, today announced the release of its Activate for Adobe Campaign offering.
Built by the award-winning Adobe practice at Bounteous, Activate includes years of best practices and successful deployments to help companies quickly create a modern, efficient digital experience.
Activate for Adobe Campaign is Bounteous' digital marketing foundation kit, conceived of and built specifically for Adobe Campaign Classic. With this solution, companies can take advantage of pre-built campaign templates, platform monitoring, and enhanced reporting capabilities to set the stage for successful cross-channel campaigning in Adobe Campaign.
This solution built by our "Adobe Specialized" Campaign Classic practice incorporates features and functionality specifically designed to ensure platform implementation expediency, regulatory compliance, and quick time to value. Activate for Adobe Campaign includes pre-built Activate Accelerator widgets, an Activate Advisor Client Toolkit to provide full visibility and guidance for client-required tasks, and Activate Academy, a rapid enablement program comprised of deskside coaching and a proven training curriculum, customized to each specific client implementation.
"Introducing capabilities that drive personalized experiences and meet customer expectations in marketing communications is exciting. However, we also understand that the mechanics of advancing along the digital communications maturity curve can be daunting," said Holly Quezada, Bounteous Director, Martech Engineering. "That's why Bounteous is excited to introduce this new solution to accelerate platform utilization for our clients. Activate for Adobe Campaign provides the fundamental capabilities clients need to jumpstart their use of the tool, so marketers can focus on higher-order activities that continue to drive value and innovation for their customers."
To learn more about Activate for Adobe Campaign, and schedule a meeting with Bounteous, visit https://www.bounteous.com/partners/adobe/activate-adobe-campaign/.
As a Platinum Partner in the Adobe Solution Partner Program, Bounteous holds over 100 certifications across Adobe Experience Cloud and has developed Adobe-specialized practices in the Americas region in multiple Experience Cloud applications, including Adobe Analytics, Adobe Experience Manager, Adobe Experience Manager: Run and Operate, Adobe Campaign, Adobe Campaign Standard, and Adobe Commerce. Bounteous experts are recognized Adobe Campaign Architect and Adobe Campaign Business Practitioner Subject Matter Experts and most recently designated as "Adobe Community Advisors," which highlight the most engaged, passionate, and supportive Digital Experience Community members.
About Bounteous
Founded in 2003 in Chicago, Bounteous is a leading digital experience consultancy that co-innovates with the world's most ambitious brands to create transformative digital experiences. With services in Strategy, Experience Design, Technology, Analytics and Insight, and Marketing, Bounteous elevates brand experiences through technology partnerships and unparalleled platform expertise. For more information, please visit www.bounteous.com. For more information about co-innovation, download the Co-Innovation Manifesto at co-innovation.com.
For the most up-to-date news, follow Bounteous on Twitter, LinkedIn, Facebook, and Instagram.