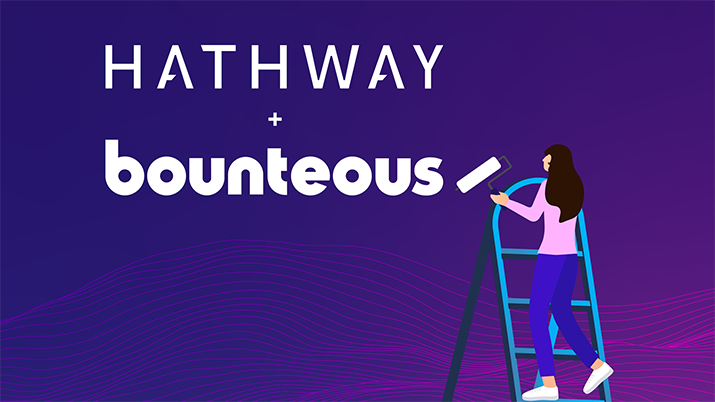 In November 2021, Bounteous acquired renowned digital marketing agency Hathway, which now operates as the Restaurants and Convenience Store vertical at Bounteous. Here, Bounteous EVP and Managing Director Jesse Dundon shares the story of how Hathway was founded, its early clients—and how the acquisition by Bounteous will help scale their vision for the restaurant and c-store industries. 
Stoked. That's the best word to describe how it feels that all 250 of us at Hathway are joining the team at Bounteous, a 1,000+ person digital transformation agency based out of Chicago. Together with Bounteous, our staff will have an ever better place to do the best work of their careers and our clients will be able to innovate even faster through our expanded talent pool and a comprehensive set of capabilities.
Hathway will become a business unit within Bounteous, with Kevin and I remaining at the helm and becoming investors at Bounteous. At this stage in Hathway's trajectory, this is truly the opportunity of a lifetime for all of us. We owe a great debt of gratitude to our team, clients, partners, and advisors for helping get us here. Thank you!
Kevin and Jesse in front of the Cal Poly Mustang
It's hard to believe that it's been thirteen years since my college buddy Kevin Rice and I first started doing freelance web development. At the time, we were working in a garage at a house near the Cal Poly SLO campus. Fresh off our first startup (University Steam Cleaning), we were focused on our second startup (WiHire) which we had started with a $40k seed investment from my high school rugby coach (thanks Tim!). I still remember that house clearly; nearly ten of us recent college grads packed in tight, a few working on WiHire and the rest working on other startup ideas, many of us taking turns living in a large garden shed we had converted into an extra room (thanks Kayla for saving me from that shed!). This was before the advent of Cal Poly's Center for Innovation and Entrepreneurship and the Hothouse startup incubator, though I'd be remiss if I didn't mention the sage advice we've gotten from a number of Cal Poly professors (there's too many of you to name but you know who you are) and early CIE visionaries (thanks Jon!). But we were a family in some regards — a group of kids all united by a common dream of staving off the realities of post-college life in the depths of the great recession.
The Garage Days at 1990 Hays Street
One by one, that dream faded as our friends and co-founders went off to get "real" jobs (shoutout to Gabe, Ryan, Tom, Trent, Joe, Chance, and Aaron!). But Kevin and I persevered. We threw in the towel on WiHire in mid 2009 when we realized our freelance web development work had turned into real business, providing real value to our customers, with real revenues to boot. We had started calling ourselves Hathway Tech, an abbreviation of Hathway Technology Group LLC, the name we had given to WiHire's holding company as a tongue-in-cheek homage to Hathway Avenue, the street near Cal Poly where many of us had bounced around while attending school (props to 322, 321, 306, 331, 274 ½, and 549 Hathway Avenue for all you did for us during our formative years).
As we brought on talented team members in graphic design and expanded our services beyond web development, Hathway Tech was further abbreviated to Hathway, which is what we've been proud to call ourselves ever since.
The Namesake
Though Hathway was very much an accidental company in its origins, as we expanded and moved into a series of real offices in San Luis Obispo and flirted with outposts in Austin and San Francisco we consciously evolved our strategy to meet market needs. Our original focus on using open-source tools like Joomla to quickly build websites for small businesses brought us our first software channel partnership (thanks Alejandro from jReviews!) and first taste of larger ongoing retainers (thanks Justin!!). Joomla eventually gave way to Drupal as we expanded channel partnerships with Acquia and focused on enterprise-grade CMS projects, right about the time we also started getting big into Facebook apps (thanks Kate from Amway!) and mobile apps (thanks John from Behr Paint!). Our multi-year engagement with local SLO darling Mindbody (thanks Andres, Rick, Chet, Bob, and tons of others!) was a great learning experience for all of us and the engine behind our first big growth spurt.
While we kept most of our attention turned towards Hathway, we still had time for startup software ideas. From Dingbot (started by our Internship of Things internship program back when IoT was all the rage), to Scanlander (QR code landing pages long before they came into vogue in 2020), nothing really stuck until Welkio, the front-desk guest registration kiosk platform that we started in-house, spun off in 2015, and eventually sold to WeWork (thanks Flo and DJ!).
Along the way we got some great advice. Whether from our board of advisors (thanks Curt, Ronda, Tom, Waheed, Danny, and Karla!), executive coaches (thanks Michael Gunther of Collaboration and Paul Stoltz of Peak Learning!) or team members who had worked in other companies, we tried our best to learn from other people's experiences. But we certainly made mistakes along the way and had some hard times too, like that gut-wrenching day in 2016 when we had to lay off a quarter of our 50-person workforce after a perfect storm of client attrition and sales losses (thank you all for being a part of our journey even though we had to part ways before the destination). Fueled by a desire to never be put in that position again, Kevin and I renewed our focus in Hathway, which is where the magic really started to happen.
The Jamba Juice App Circa 2015
We had our first taste of the restaurant industry when we were hired to build the new mobile apps for Jamba Juice. That's also when we first met Olo, an ecommerce platform provider specializing in restaurants. So in 2016, we began a partnership with Olo and developed the first versions of the NomNom™ framework, which paved the way for integrations with Punchh, Paytronix, SessionM, and countless other technology platforms used by top brands in the industry. After our learnings with prior products like Welkio, NomNom succeeded because of how tightly it integrated with our service offerings and helped us deliver custom branded applications better, faster, and more cost effectively.
Heading into 2020 over half of our business was with large chain restaurants and coffee shops, so when the lockdowns started there was a momentary panic. But over the ensuing months we realized that online orders were more important than ever to restaurants as their in-store sales slowed to a halt and demand for our platform and services skyrocketed. We could have been profiteers and increased our prices but we did the opposite — for our clients who needed it the most, we offered lower rates and more time to pay their bills; for our new clients, we came up with faster and cheaper ways to get to market. And in turn we were repaid with more growth than we could imagine and got by with no pay cuts and no layoffs. The pandemic even brought us an opportunity to greatly extend our reach beyond San Luis Obispo with a shift to remote work. But it was also incredibly humbling as we realized that plenty of great companies had no such luck, and plenty of essential workers didn't have the luxury of working from home. To this day we remain grateful we have been able to create so many jobs and help so many brands succeed in the toughest period of our generation.
Fast forward to today: NomNom fuels over $2B in ecommerce sales across our ecosystem of branded websites and mobile apps. Hathway has more than 250 dedicated team members on staff across the globe with central locations in San Luis Obispo, Dallas, and Kiev. We're more diverse than ever in our employee base, yet more focused than ever on providing ecommerce, loyalty, and digital marketing services for the restaurant and convenience store industries. But with that rapid growth and the increasingly critical nature of our services has come challenges, not the least of which has been attracting and retaining the best possible talent in what the business world has come to call "The Great Resignation."
Though we'd always been proudly independent, we realized that we could scale more effectively if we had more resources behind us. So over the course of 2021 we worked with an investment banking firm to explore a number of approaches, from private equity investments to joining forces with other established companies in our space. Over the course of this process we got to meet the team at Bounteous and quickly realized a few things.
Bounteous, as we came to find out, was a lot like us. Just like us, they were founded by two friends as a development shop and had expanded into strategy, design, and digital marketing. Just like us, they knew that delivering value to clients required close partnerships with software platforms. Just like us, they recognized that an intense focus on specific industry verticals drives growth. And just like us, they believed that to win with clients, you had to put your employees first and do whatever it takes to provide a great place for them to thrive in their careers.
But they were a few years ahead of us, almost five years to the day. They had hit the same inflection point we were experiencing this year at about the same time in their history, though in a much different market context. And while they chose to take a leap with a private equity investor that eventually paid off, they had learned a lot along the way and had just taken those learnings into a new investment partnership with a top firm called New Mountain Capital. They had also recently acquired a 300+ person offshore development group that would be a great complement to our 30-person office in Europe.
Inspired by the possibility of moving even quicker by partnering with Bounteous versus other options in front of us, we initially thought that this direction meant sacrificing our independence. But as it turns out, Bounteous had something else in mind. They recognized that our vertical focus on restaurants and convenience stores was so valuable that it should be kept intact, so they offered me and Kevin an opportunity to join the team while continuing to run point as the leaders of a new vertically-focused business unit at Bounteous. Everyone at Hathway will join Bounteous and we'll continue to attract and retain talent to do great work with restaurants, c-stores, and more.
So on my 36th birthday, October 24, 2021, with both excitement and a bit of anxiety, we signed a definitive agreement to join Bounteous and as of November 5 we're officially part of the team. We are proud to have accomplished this from our home in San Luis Obispo. We are grateful to those that paved the way. We are excited to help take our partner brands to the next level with access to deeper resources in data and analytics, digital marketing, and global engineering talent. We are pumped for new opportunities for growth for our team members. And while it has been amazing to say "We Are Hathway" for all these years, it's an absolute thrill to now say that while we were Hathway, moving forward We Are Bounteous.
Like I said…I'm stoked.