Press Release: Bounteous Wins Third Consecutive Ad Age Best Places to Work for 2022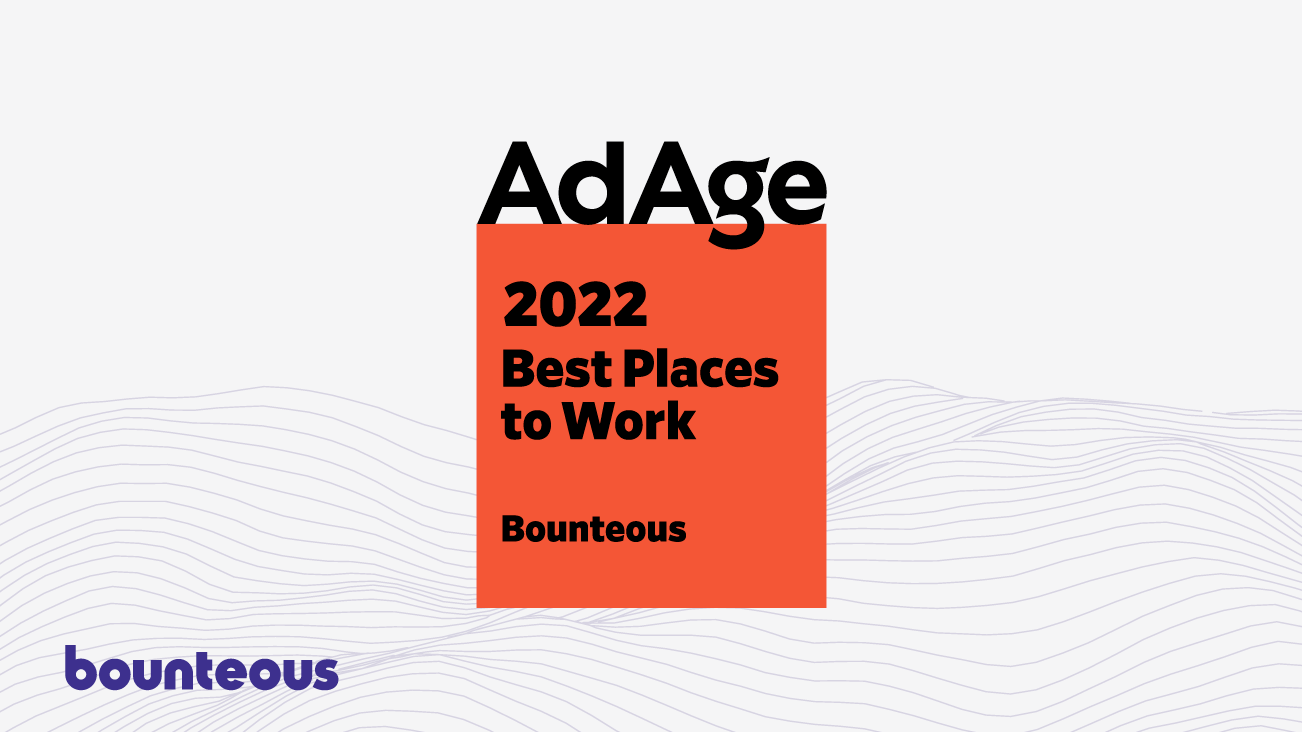 20-year leader in hybrid working attracts top digital talent due to strong leadership, inclusive culture, and dynamic global presence
CHICAGO, January 24, 2022 – Bounteous, the digital innovation partner of the world's most ambitious brands, has been named a third consecutive winner on the Best Places to Work 2022 list by Ad Age, an annual ranking of companies that lead the pack in factors ranging from pay and benefits to corporate culture and leadership.
"We're proud to be recognized for fostering a work environment and culture that is inclusive, healthy, and provides lots of opportunities for learning and career growth," said Keith Schwartz, Bounteous co-founder and CEO. "To innovate and deliver great work for our clients, we've built a culture and value system that embodies the notion that, 'what is right is more important than who is right,' which requires making all of our team members feel safe and respected."
The winners reflect the highest overall numerical scores based on an analysis of questionnaires submitted by employers and survey responses from their employees. Ad Age asked about key areas of workplace culture at Bounteous, including: formal programs and/or practices to actively recruit and/or retain employees of varying ethnic and cultural backgrounds; formal programs implemented to enable a culture of diversity; formal feedback programs; detailed breakdown of health insurance and benefits package; employee performance reviews; sustainability; wellness programs; Employee Resource Groups (ERGs); career training and development; work-life balance; organizational initiates to relieve workday stress and promote fun; changes to workplace policies and programs in response to COVID; and more.
Bounteous' leadership team has spoken extensively about how it has successfully created a strong culture using a hybrid working model. Collaboration centers have also reopened to allow team members to innovate in ways most effective to their preferred working style and environment.
Ad Age produced Best Places to Work 2022 in partnership with the research firm Best Companies Group. The competition was open to agencies, ad tech firms, brand, or corporate marketing departments or groups, and in-house agencies of marketers.
This win is the latest of many culture honors for Bounteous, which was recently named a Built In Chicago Best Workplace, Great Place to Work-Certified™️ Company in U.S. and Canada, and one of Chief Marketer's Top 200 Marketing Agencies.
Bounteous is hiring in all departments for talent located anywhere. Visit bounteous.com/careers to learn more.
About Bounteous
Founded in 2003 in Chicago, Bounteous is a leading digital experience consultancy that co-innovates with the world's most ambitious brands to create transformative digital experiences. With services in Strategy, Experience Design, Technology, Analytics and Insight, and Marketing, Bounteous elevates brand experiences and drives superior client outcomes. For more information, please visit www.bounteous.com. For more information about co-innovation, download the Co-Innovation Manifesto at co-innovation.com.
For the most up-to-date news, follow Bounteous on Twitter, LinkedIn, Facebook, and Instagram.
About Ad Age
Created in 1930 to cover a burgeoning industry with objectivity, accuracy and fairness, Ad Age continues to be powered by award-winning journalism. Today, Ad Age is a global media brand focusing on curated creativity, data and analysis, people and culture, and innovation and forecasting.
From vital print editions to must-attend events and innovative platform offerings, Ad Age's industry-leading content includes the coveted A-List & Creativity Awards, the Ad Age Next conference series and proprietary data including the Leading National Advertisers Report from the Ad Age Datacenter.