Press Release: Bounteous Hires Katy Allen to Lead Healthcare‑Focused Team as Co‑Innovation Consultancy Accelerates Global Vertical Strategy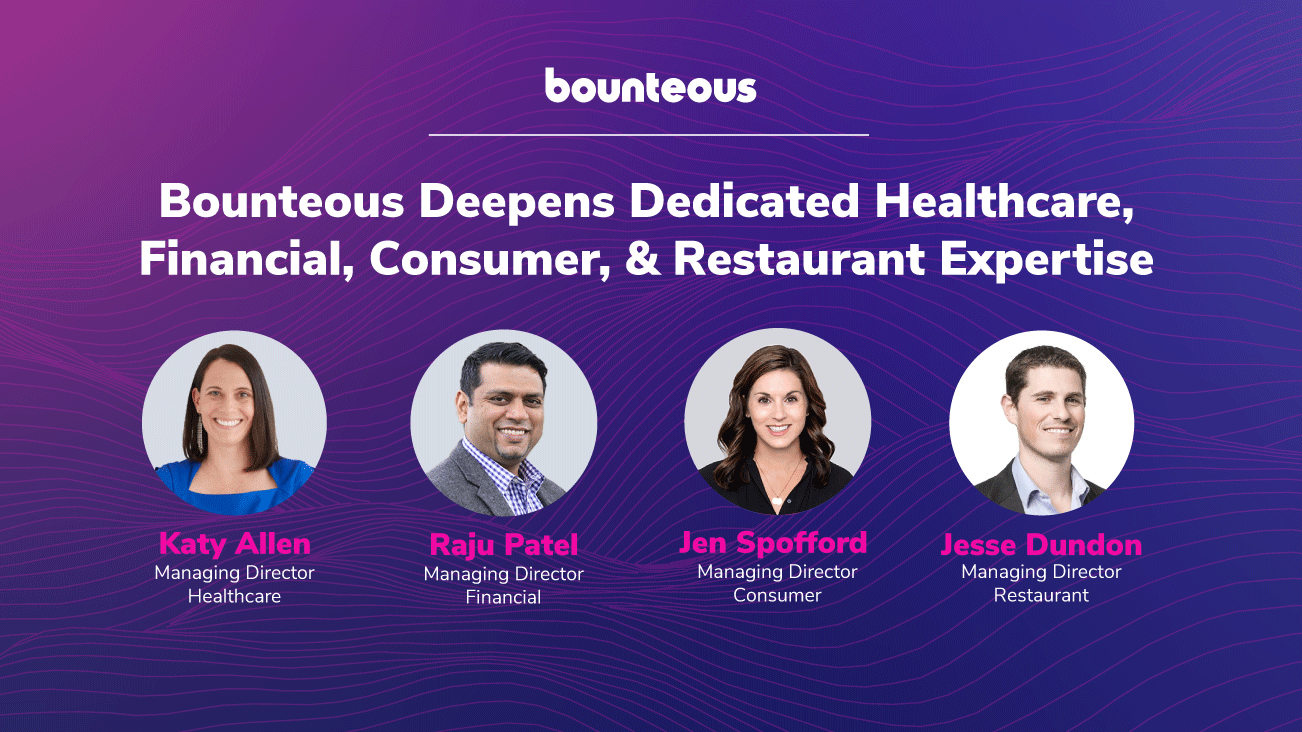 Fast-growing company expands executive team; deepening industry expertise
CHICAGO, IL – March 16, 2022 – Bounteous, the digital innovation partner of the world's most ambitious brands, today announced that Katy Allen joins Bounteous as Managing Director, Healthcare, as well as the appointment of new Managing Directors to the executive leadership team. Collectively, these leaders spearhead the growth of Bounteous' dedicated expertise serving the digital transformation needs for the Healthcare, Financial, Consumer, and Restaurant industries.
Allen, most recently Senior Partner, Business Consulting at ICF Next, is an expert in healthcare consulting, customer experience, and business transformation, with more than 20 years of experience in strategy, operations, and digital innovation. Her healthcare consulting experience includes Fortune 50 health payers, the world's No. 1 hospital system, global life sciences and biopharma, and national health associations.
"I am passionate about the role digital plays in the simplification of healthcare access and use," Allen said. "We have an opportunity to influence the cost of care and improve health outcomes, by moving our clients closer to the people they serve. I'm honored to lead this dedicated strategic offering at Bounteous and build upon their foundation of co-innovating with clients in healthcare and other key industries."
Additionally, Bounteous named two new appointments to its leadership team: the promotion of Jen Spofford to Managing Director, after previously serving as SVP of Client Service, and Jesse Dundon to Managing Director, following Bounteous' acquisition of Hathway, the leading digital growth partner for restaurant and convenience store brands. These appointments follow the hiring of Raju Patel in February 2022 as Managing Director, with responsibility for the company's expanded initiatives around the financial services industry.
Bounteous' expanded go-to-market strategy empowers the fast-growing consultancy to continue to realize its vision of being the preeminent, independent digital innovation partner to the world's most ambitious companies.
"These additions to our leadership team are part of Bounteous' strategic decision to deepen our vertical expertise in key industry segments that recognize the digital innovation imperative," said Bounteous CEO Keith Schwartz. "Katy and her colleagues possess an invaluable understanding of the challenges and key digital solutions in their respective industries."
Spofford has nearly 20 years of experience leading teams to create compelling experiences that drive results for many of the world's favorite consumer brands, including Wawa, The Coca-Cola Company, Mars, Caesars Entertainment, and Staples. In her new role, she'll lead the Bounteous teams developing solutions for clients in consumer goods, retail, and travel and hospitality.
As CEO of Hathway, Dundon led the company to become the go-to partner for a wide range of Restaurant and Convenience brands including Wingstop, Dutch Bros. Coffee, Noodles & Co, Panda Express, Raising Canes, and Dash-In Food Stores. Its digital ordering solutions drive over $2 billion in digital sales and over 200 million digital transactions per year across nearly 20,000 restaurant and C-Store locations and join a portfolio of widely recognized Bounteous customers in these verticals.
This industry focus will enhance existing global delivery capabilities and Bounteous' extensive experience driving solutions for marquee clients in Healthcare; Financial Services; Consumer Goods; Retail; Restaurant and Convenience; Travel and Hospitality; Media, Entertainment, and Technology; Industrial and Manufacturing, and more.
About Bounteous
Founded in 2003 in Chicago, Bounteous is a leading digital experience consultancy that co-innovates with the world's most ambitious brands to create transformative digital experiences. With services in Strategy, Experience Design, Technology, Analytics and Insight, and Marketing, Bounteous elevates brand experiences and drives superior client outcomes. For more information, please visit www.bounteous.com. For more information about co-innovation, download the Co-Innovation Manifesto at co-innovation.com.
For the most up-to-date news, follow Bounteous on Twitter, LinkedIn, Facebook, and Instagram.