Press Release: Bounteous' Seth Dobbs Quoted in Report by Independent Research Firm, 'Experience Architecture: Build Your Business On A System Built For Performance'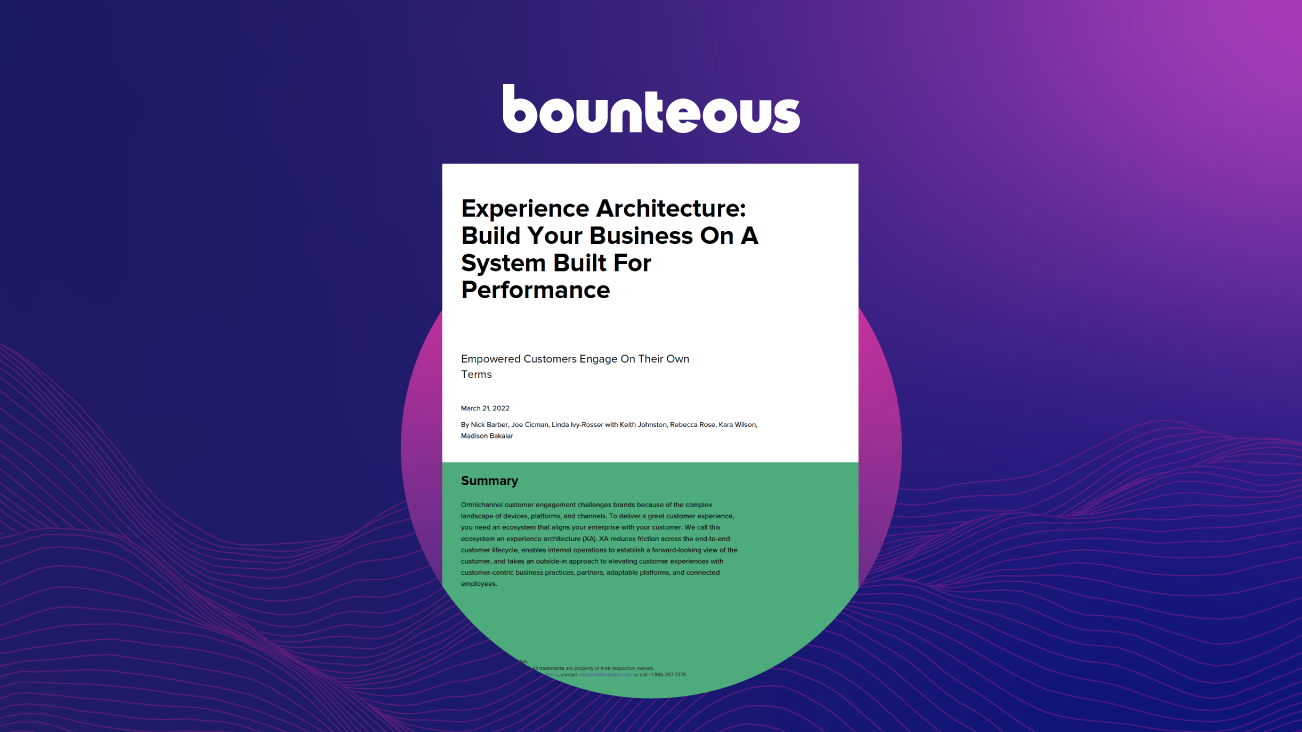 CHICAGO — March 28, 2022 — Bounteous, the digital innovation partner of the world's most ambitious brands, is included in new Forrester research, "Experience Architecture: Build Your Business On A System Built For Performance."
The report, authored by Senior Analyst Nick Barber, covers experience architecture (XA), which Forrester defines, "reduces friction across the end-to-end customer lifecycle, enables internal operations to establish a forward-looking view of the customer, and takes an outside-in approach to elevating customer experiences with customer-centric business practices, partners, adaptable platforms, and connected employees."
According to the report, it is critical to have a front-office technology architecture and co-innovation partners proactively and strategically focused on the customer experience. The report recommends "to operationalize co-innovation by implementing multitiered governance, quarterly prioritization sessions, continuous incubation, and coordinated delivery."
"Ultimately, experience architectures exist to support dynamic, engaging, and personalized experiences for end users," said Seth Dobbs, CTO of Bounteous in the report. "These experiences require contributions from individuals representing a wide variety of disciplines such as technologists, data scientists, researchers, and designers. By defining and implementing XA, business operations and technology personas can better communicate and collaborate with their peers."
Bounteous, with its recent acquisitions of Hathway and Lister Digital, is a global leader in co-innovation, commerce, and customer experience, employing more than 1,700 team members globally, helping the world's most innovative brands such as Domino's, Mars, and Wawa create transformational experiences.
The report is available online to Forrester customers or for purchase here.
About Bounteous
Founded in 2003 in Chicago, Bounteous is a leading digital experience consultancy that co-innovates with the world's most ambitious brands to create transformative digital experiences. With services in Strategy, Experience Design, Technology, Analytics and Insight, and Marketing, Bounteous elevates brand experiences and drives superior client outcomes. For more information, please visit www.bounteous.com. For more information about co-innovation, download the Co-Innovation Manifesto at co-innovation.com.
For the most up-to-date news, follow Bounteous on Twitter, LinkedIn, Facebook, and Instagram.