Dreamforce 2023: The Era of Einstein
Dreamforce 2023 was one for the books, highlighting the continued evolution of Einstein GPT and other AI integrations within the Salesforce platform. During this year's main keynote, Marc Benioff shared that society is in the second wave of artificial intelligence. Enterprise AI has moved from predictive to today's generative intelligence—and eventually, AI will see growth to autonomous agents and artificial general intelligence.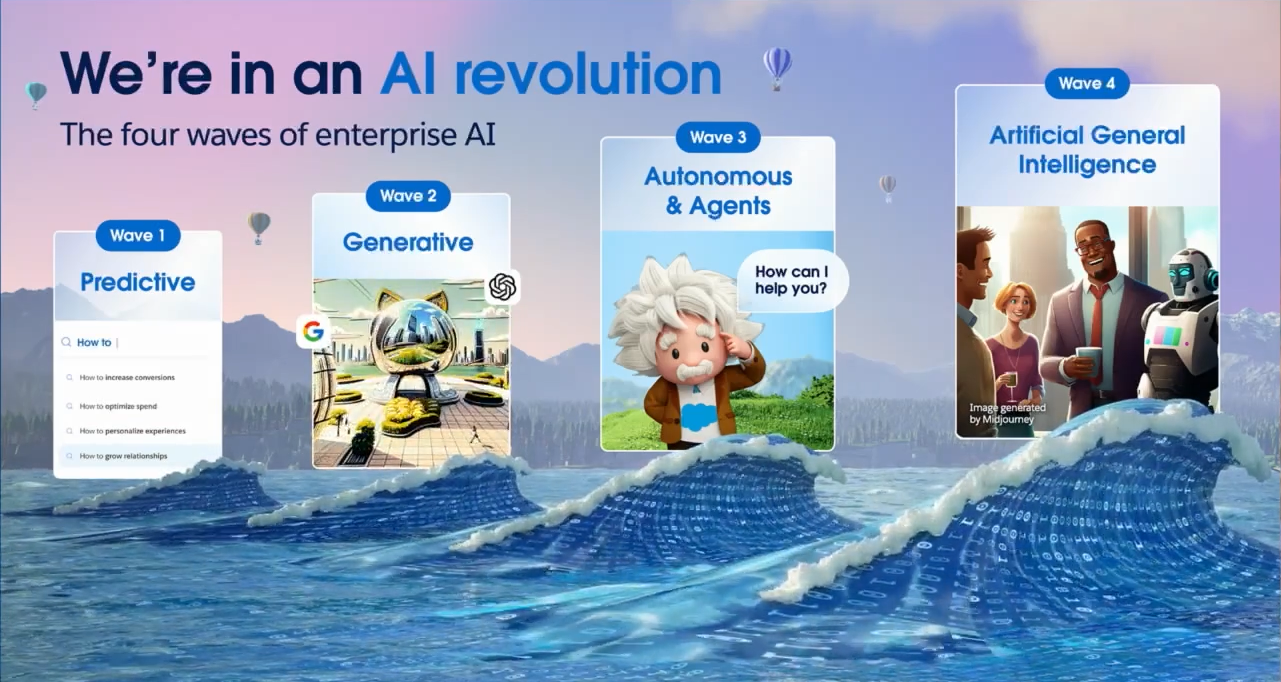 AI opens up significant opportunities, including automated workflows, time-savings from generative content creation, or enhancing decision-making with AI-generated business insights. In their June 2023 report, McKinsey Digital predicted that AI will generate $4.4 trillion in annual gross domestic product (GDP) and free up to 30 percent of employee time by 2030. 
Addressing Privacy Concerns with Einstein Trust Layer
The wisdom of Spider-Man can be applied to the AI landscape: "With great power comes great responsibility." In other words, AI unlocks many opportunities, but there is a trust gap among users. There are islands of data, fear of large language models (LLMs) abusing data, hallucinations, bias, and toxicity. Fifty-two percent of consumers don't think AI is safe and secure. 
Salesforce's core values and guidelines for responsible AI ensure that enhancements to the platform are safe, secure, accurate, and ethical. That's where the Einstein Trust Layer comes in. Trust Layer is natively built into the Salesforce platform and designed for enterprise security standards. Salesforce makes it very clear: your data is not their product.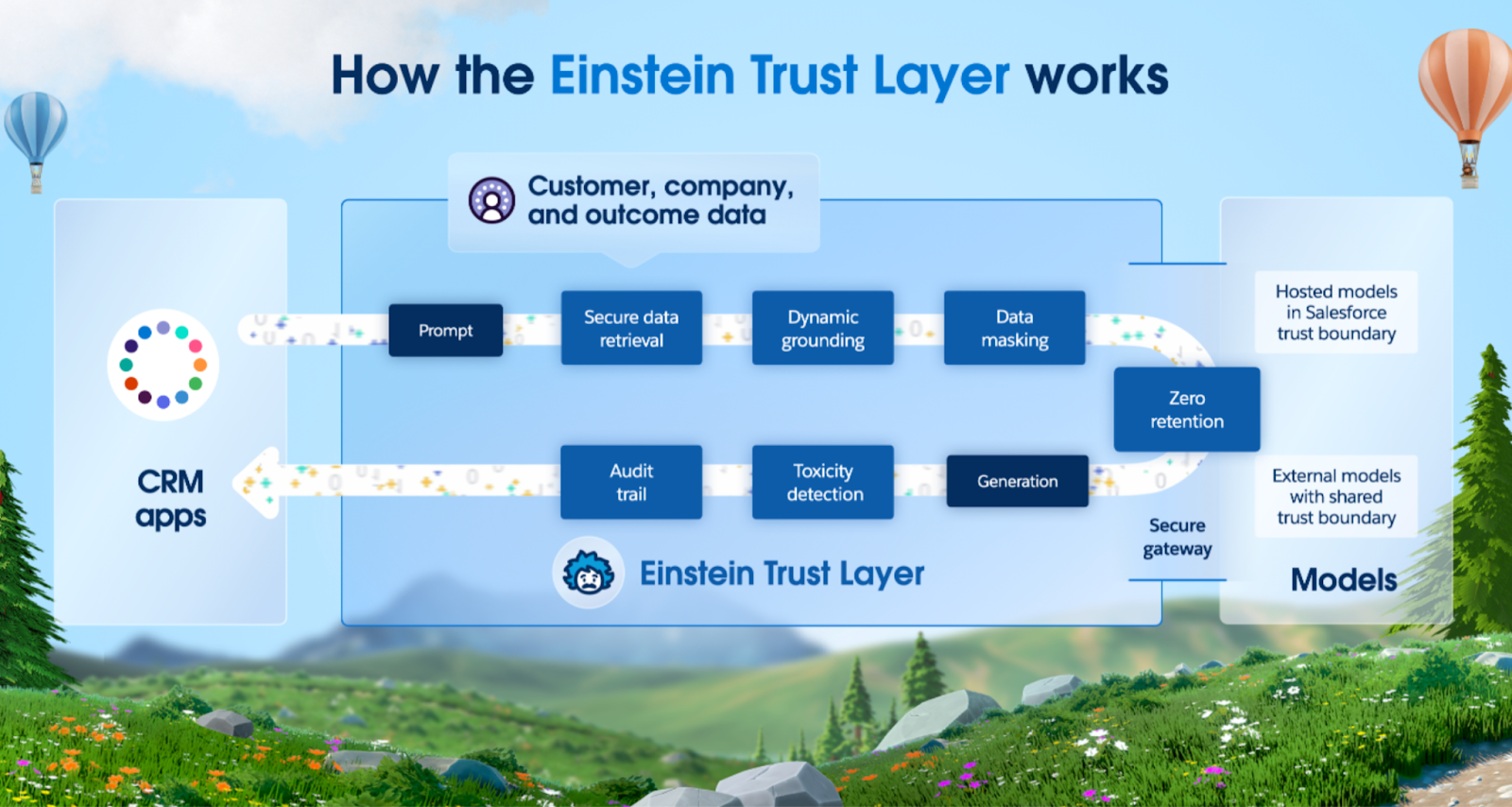 Introducing Einstein 1 Platform
Customers can take any data source and connect their Salesforce Data Cloud and Salesforce CRM to create a unified profile of their customers and infuse AI, automation, and analytics to create exceptional customer experiences. With Salesforce's proprietary metadata framework, users have the equivalent of a common language. Einstein 1 Platform organizes your company data across all core Salesforce applications so applications can communicate with each other and create a unified view of your data, regardless of how the data is structured. This makes it possible to customize every customer experience and act on data insights using several low-code services, including content generation and AI predictions.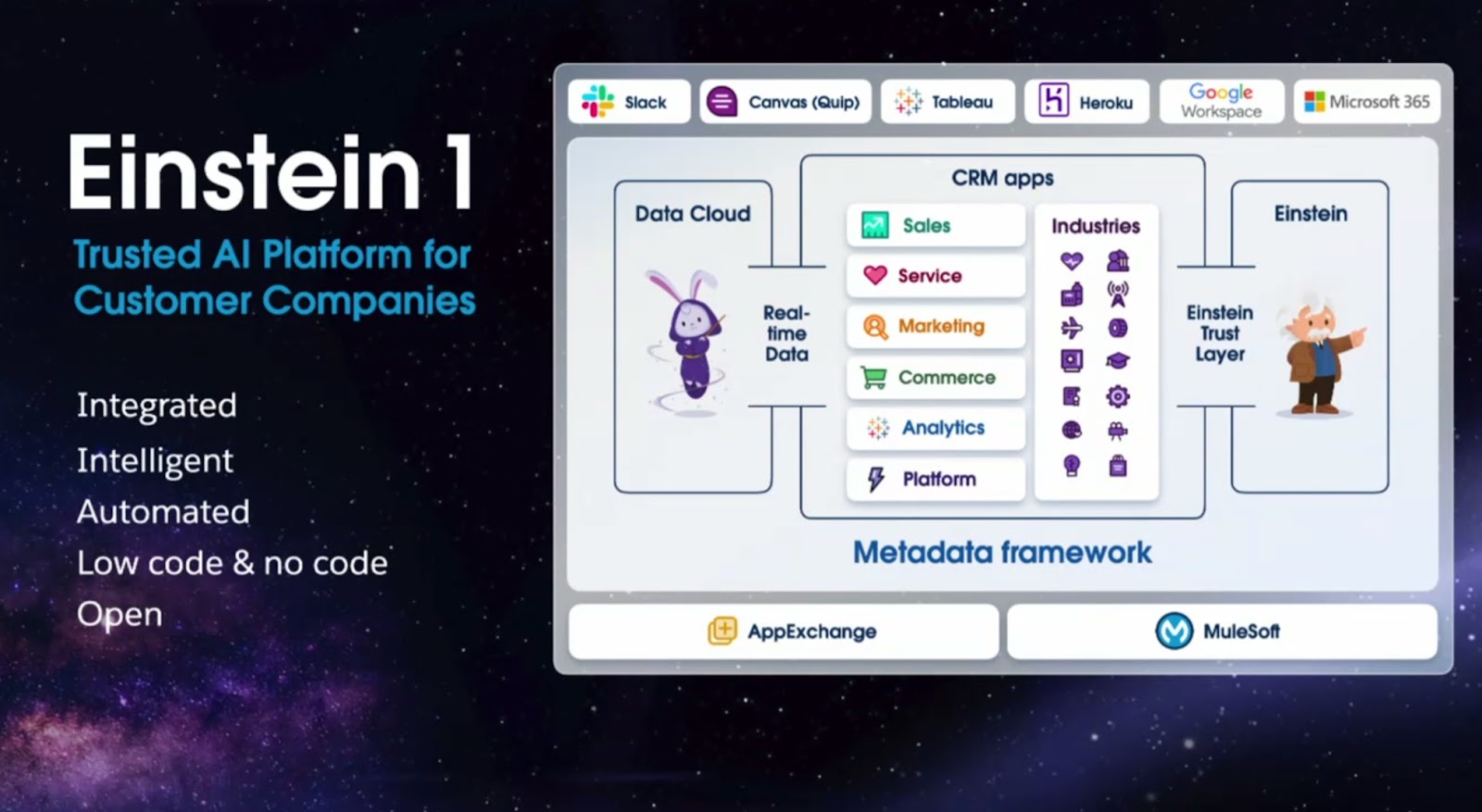 Make Conversational AI Easier for Customers 
The new Einstein Copilot and Copilot Studio is a new out-of-the-box conversational AI assistant that is now built into the user experience of every Salesforce application. With Einstein Copilot, you can customize workflows and answers to common questions based on your specific needs through prompts, Salesforce Flow, and AI modeling across all consumer and employee channels.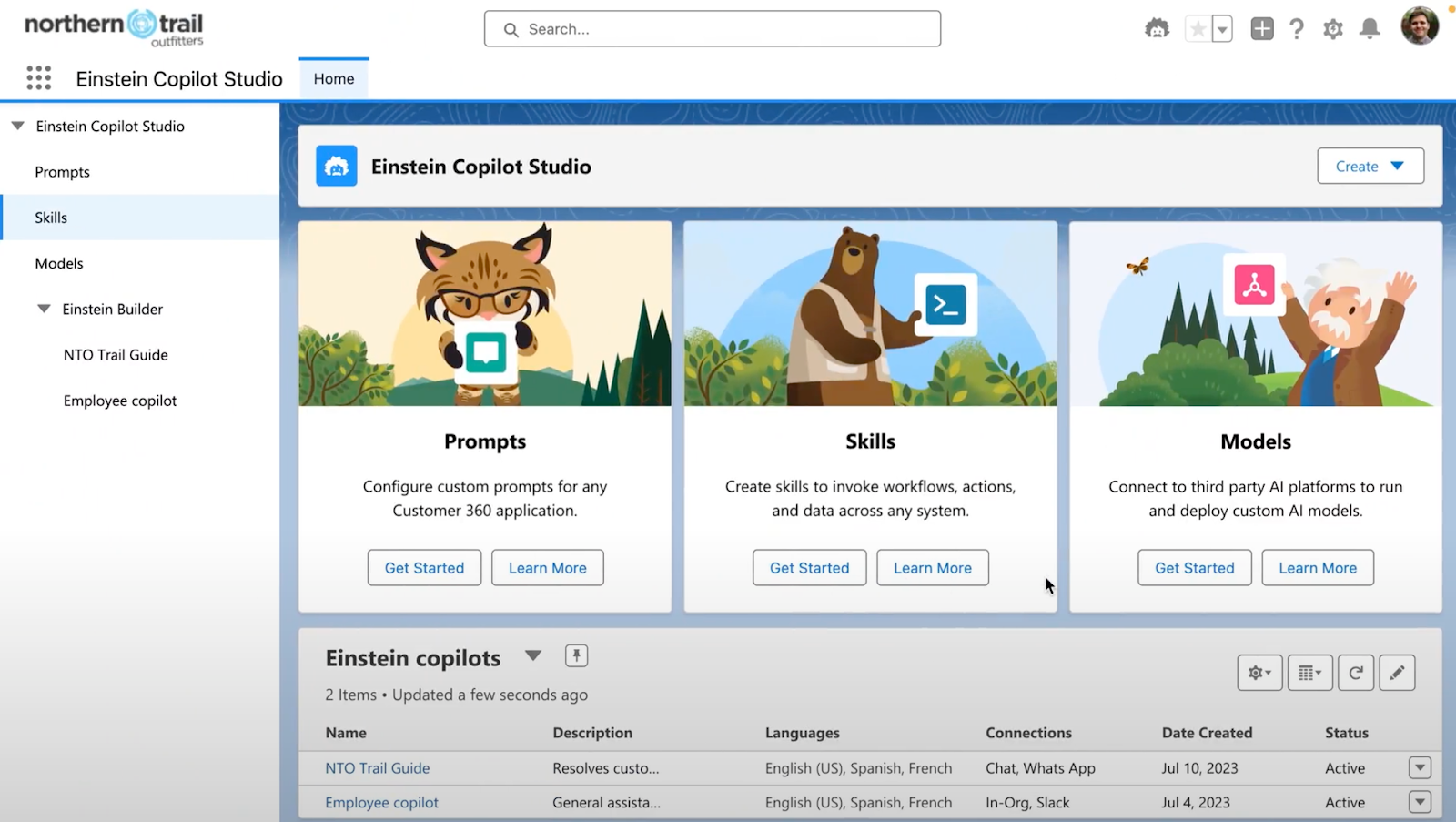 Model Builder: Integrate your preferred predictive and generative AI models, train them in Data Cloud, and use them to equip Einstein Copilot with accurate insights and content. 
Prompt Builder: Build trusted AI experiences by designing prompts that are context-rich. Empower teams to develop, manage, customize, and templatize prompts to guide the generative AI. 
Skills Builder: Equip Einstein Copilot with a menu of AI-powered, domain-specific actions that it can mix and match based on a customer's needs. 
As a Salesforce partner, we leverage continuous learning about how digital experiences—including generative AI—can drive better customer interactions and more informed business decisions. We've helped customers with Salesforce since 2007 and collectively, our team holds 250 certifications across all core clouds. Through our core Co-innovation methodology and our partnership with Salesforce, we are leaning into generative AI to help our clients solve modern challenges. 
How Accurate Was Our Bounteous Crystal Ball? 
Prior to attending Dreamforce 2023, we made a few predictions about the conference in our blog, How Einstein AI is Shaping the Future of Salesforce Marketing Cloud. Let's examine whether our predictions were correct and touch on a few other conference announcements. 
Prediction: New AI Enhancements for Messaging within Marketing Cloud 
Prior to the event, we were hoping there would be additional enhancements with Einstein GPT for marketing messaging including predictive list segmentation, content-building assistance, and more time-saving opportunities with workflows. As Salesforce continues to share, Einstein is the digital assistant to make it easier for marketing teams to reduce manual tasks and concentrate on strategy and other high-value activities. Here's what was shared at Dreamforce: 
Generative AI for subject lines and email body copy creation is now available within Marketing Cloud to help teams build unique personalized messages for customers. 
AI segment creation with Data Cloud that uses your first-party data and prompts to build segments for hyper-personalization at scale. 
Typeface partnership will allow marketers to use AI to generate images for personalized campaigns that follow brand guidelines and that will resonate with customers. 
Journey Builder now with Journey Re-Mapping utilizes AI to move customers into more relevant journeys based on their behaviors. 
Analysis: We knocked this prediction out of the park. Most of the announcements on enhancements to AI in Marketing Cloud were focused on how to create better, personalized messaging at scale and how this skill will continue to grow as marketers use the product and infuse the platform with their current content and brand guidelines. 
Prediction: Improved First-Party Data Strategy 
First-party data continues to be a hot topic as we know a cookie-less world is upon us. First-party data is valuable—but without insights, it is unactionable. As we saw at Dreamforce, Einstein harnesses the power of data with predictive analytics and optimized data strategies with the following upcoming launches: 
New Data Graphics within Data Cloud that allows teams to have a visualization of available data for Einstein to answer the prompts built in Einstein Copilot. Plus, the added bonus of understanding data structures. 
Data Cloud's native integration with Einstein 1 Platform allows you to scale data, automation, and analytics so first-party data is more impactful and actionable within your organization because you have access to rich, unified customer data profiles. 
Every customer that has a Salesforce Enterprise Edition or above can use Data Cloud at no cost! 
Analysis: We nailed this right on the head. Data is vital to your business and now with new visualization tools and an offer to get in Data Cloud for free, it's easy to see how data can grow your business. 
Prediction: AI for Better B2B Marketing and Budget ROI 
B2B marketers have a tough job, so we hoped that Einstein could deliver some help to make their jobs easier. It was shared in the Marketing Keynote that some integrated Einstein features make it possible for B2B marketers to save time and money with all the content generation tools, list segmentation options, and Journey Re-Mapping. B2B marketing was specifically discussed in terms of Segment Intelligence, which becomes available in October 2023. This provides one dashboard in Data Cloud for marketers to obtain a full view of all campaigns, segments, performance, and revenue data, which makes it easier to share key insights with stakeholders and make adjustments to campaigns that don't perform as anticipated. 
Analysis: We give our prediction a B rating. Most of what was presented was about marketing as a whole: These enhancements will make it easier for B2B and B2C marketers to do their jobs, but it remains unclear if specific AI enhancements specifically for the needs of B2B marketers are on the horizon. 
Prediction: Improved Personalization Through AI with Data Cloud 
Personalized experiences based on real-time data are the greatest benefit of Data Cloud. They show unified customer data profiles that are a single source of truth. Consequently, marketing teams can craft messaging and journeys that resonate and lead to higher conversion rates. Data Cloud and Einstein help marketing teams scale personalization. As discussed, generative AI with content suggestions, list segmentation, and image generation allows marketers to personalize every touchpoint in the customer journey. AI makes it possible to learn from users and refine messaging, journeys, and content for personalized experiences for every customer.
Analysis: We think our predictions were spot on. Personalization is one of the most exciting opportunities for AI and marketers. Not only will it help marketers work smarter and save time, but it improves the user experience (UX) and instills customer loyalty. 
Prediction: Ethical AI and Governance Strides 
Can and should we trust AI? That question continues to be an area of anxiety as we all begin to use this new technology in our day-to-day lives. Salesforce has been very clear on its investment in ethical artificial intelligence with Intentional Innovation and Ethical Use Policies. 
According to Axios, 52 percent of consumers don't believe AI is safe and secure. Trust and the importance of trust in AI were addressed throughout Dreamforce. Here is what Salesforce is doing to address this: 
Reassurance with the Salesforce Einstein Trust Layer, which is natively built into the platform, is designed to keep customer data safe and secure. 
Secure Data Retrieval that securely accesses relevant customer data to ground every generative AI prompt for best outputs.
Data Masking is used in prompts to add an additional layer of protection, Salesforce does not see your data as their product. 
Coming soon is Dynamic Grounding, which will add domain-specific knowledge and customer information to the prompt to give the model the context to respond with increased accuracy.
Analysis: This was a prediction slam dunk which helps us all rest easier. AI trust is crucial and to not have this topic go hand and hand with current innovations would be very concerning. Salesforce is committed to making sure its AI is safe, compliant, and secure. 
More Notable Announcements from Dreamforce
Marketing & Commerce Cloud is getting closer to being in the Salesforce core with a roadmap of 26 new generative AI capabilities with releases planned from now until the end of 2024. 
Slack AI that provides channel recaps, thread summaries, search answers, automation, and Slack lists. 
New Life Sciences Cloud specifically designed for life sciences with architecture to get organizations up and running fast within the Salesforce platform. 
For some here at Bounteous, Dreamforce is the peak of our year's events, and this year was no different. It's great to spend this time so focused on specific problems that we can help solve for our clients, and the tech that enables us today and will reshape our solutions tomorrow. Our team benefited from learning together and receiving certifications. 
Lastly, we were able to connect with existing clients, see our partners at Salesforce face-to-face, and talk to new companies about how they plan to embrace the Salesforce ecosystem. Through our co-innovation mindset, we are excited to empower clients by leveraging these new opportunities with Einstein AI, improving the effectiveness of the Salesforce platforms.