2021 Adobe Summit Review: Five Takeaways for Shaping Digital Experiences Through Data‑Driven and Personalized Customer Journeys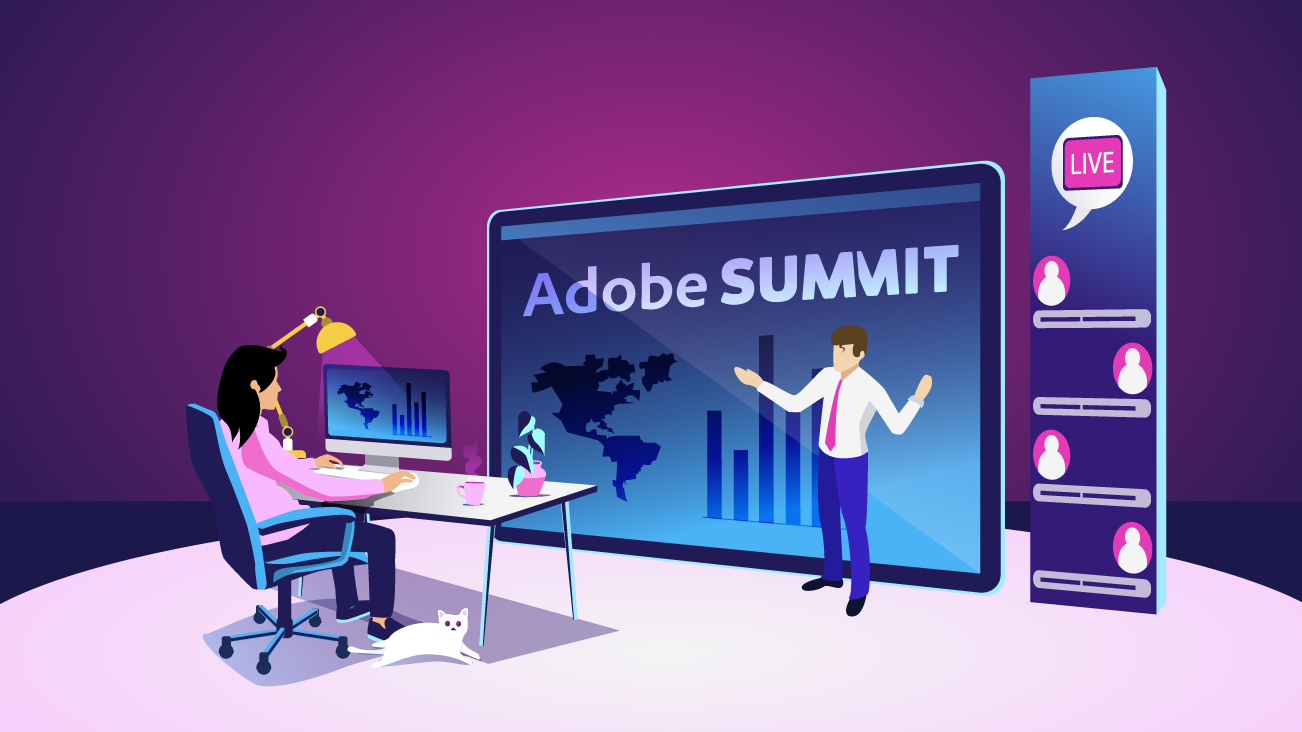 Adobe Summit 2021 was a chance for our team to connect and learn from industry professionals, engage with customers, and showcase our own experience and expertise within the Adobe Experience Cloud. Another year virtual, another year of great content, insights, and opportunities to network and grow within the digital experience space.
After this year of global transformation, every business has to have a digital presence to succeed. This was a key point through Summit with many customer success stories backing it up. Throughout Summit, Adobe introduced innovations across the Adobe Experience Cloud while unveiling new enterprise applications within their already robust line of solutions.
Creating transformative digital experiences is at the core of what Bounteous does. The Adobe Experience Cloud has transformed itself into an industry leader for providing the tools and resources for digital success. We are committed to learning, growing, and helping customers advance within their industry while staying true to their core values and mission.
With these resources and insight, we've compiled a post Summit review to showcase the takeaways and themes for shaping successful and engaging digital experiences for your customers.
Digital Experiences Have Unlocked a New World Of Data & Marketing
Kicking off Adobe Summit was a keynote session led by industry experts that inspired, brought to light innovations, and allowed attendees to realize their company's potential. The topic of discussion focused on how the digital economy runs on customer connections.
Customer connections drive Bounteous and our partners like Adobe to innovate and advance our services and solutions to provide transformative digital experiences. During the opening Keynote, Shantanu Narayen, President of Adobe said, "Every Business has to be a digital business," and after a year like 2020, this statement could not be any more accurate. Our entire world has officially gone digital, and with that comes a new avenue for data and marketing.
With third-party cookies going away, activating your first-party data is critical. Adobe Experience Platform (AEP) coupled with the other solutions within the Adobe Experience Cloud help customers deliver at scale while unlocking customer data that can be used in effective digital marketing strategies.
Real-time Customer Data Platforms (CDPs) like AEP empower marketers to activate customer data. Being able to collect, organize, govern, and enrich your data is the heartbeat of digital marketing. Creating engaging B2C and B2B digital experiences begins with unified profiles, streaming segmentation, segment matching, journey optimization, customer journey analytics, and more.
A unique B2B edition of Adobe Real-time CDP was announced at Summit which allows customers to bring together both individual and account profiles for complete intelligence and activation to help B2B companies think and act like B2C brands.
Stitching together online and offline channels into one unified view allow your team to continuously evolve while building a durable foundation for how data is collected, analyzed, managed, and activated across both B2C and B2B audiences. 
Online Spending In 2021 Was Huge & Is Growing
During The New Commerce Imperative session, Jason Woosley, VP of Commerce & Developer Experience at Adobe, supported the need for an online commerce presence. He said, "85 percent of businesses shifted their model to include commerce in 2020," and that "2022 will be a trillion-dollar year for commerce." Online spending following COVID was huge and its massive growth is expected to continue. Commerce is expanding quickly and building strategic partnerships is essential to keep pace.
During Summit, Adobe announced the official switch from Magento Commerce to Adobe Commerce and unveiled new content and intelligent commerce capabilities. This included a partnership with FedEx that will enable Adobe Commerce merchants to integrate their storefronts with FedEx ShopRunner, allowing them to offer customer benefits such as free two-day shipping, one-click checkout, seamless returns, and the ability to take advantage of FedEx's logistics intelligence to optimize their shipping spend.
Other new solutions to improve the Adobe Commerce experience and help companies drive business growth include, new Product Recommendations powered by Adobe Sensei, new Live Search which delivers fast and hyper-relevant results and search experiences on a merchant's site, and an integration between Adobe Commerce and Adobe Sign that will enable merchants to easily deploy digital signing processes as part of the customer journey.
Bounteous works hard to stay ahead of the commerce game and is continuously working to expand our capabilities within the space every day. Growing our commerce team in 2021 with the acquisition of Adobe Commerce solution partner FortyFour, creating a strong pipeline of commerce customers we value, building unique solutions, and continuing to increase our knowledge within the Adobe Commerce space through certifications and our recent specialization badge, are just a few of our commerce initiatives.
As our team expands alongside the commerce growth taking place around the world, we leverage Adobe Commerce to make meaningful engagements from the first touch to final checkout.
Advanced Personalization Is Winning
We asked Adobe Summit attendees in a Digital Solution Survey what their primary focus was for 2021. Advanced Personalization and Marketing Automation came in as the top two 2021 focuses further supporting the idea that customer experiences and strong data collection are key for creating the experiences needed to drive ahead.
Personalization drives business growth. Interacting with customers in a personalized and consistent manner means meeting them at the right moments with the right messages in their journeys time after time. Whether B2C or B2B, engaging with customers through the lifecycle of their relationship drives loyalty and growth. Adobe Experience Cloud solutions are creating real-time, innovative, and predictive customer journey management opportunities for you to create the advanced personalization your customers want.
Customers continually switch between channels of interaction so personalization needs to include automation and scalability to keep up with the constant demand. Innovation Super Session, Orchestrating Personalized B2C and B2B Customer Journeys at Scale, laid out the foundation of Advanced Personalization and how Adobe is redefining the space to help drive loyalty and growth.
People in the B2B world are also expecting a B2C experience. The goal is to deliver one-to-many campaigns that feel like one-to-one campaigns for each customer. To achieve this you need:
Specific and actionable data to segment and target your audience
Ability to share and put that data into action
Across channel experiences to meet customers at every touchpoint
Personalization is the not-so-secret ingredient for pulling together your customers to build ROI and success from your digital experiences.
Fueling the Digital Economy with Content 
As more companies realize the potential of engaging with both online and offline audiences, building relevant and effective content that meets your customers where they are is more critical than ever. This means a robust centralized digital asset management (DAM) system that can easily organize and manage all of your marketing content and assets.
Adobe focused on the Adobe Assets Essentials which is a simplified assets interface that will make it easier for people to find and use their organization's assets. With innovations like this, Adobe is creating systems that will positively affect your content strategy.
Innovation Super Session, Fueling the Digital Economy With Content Everywhere, was led by Loni Stark, VP, Experience Manager at Adobe, and included Meghan Heather, Global IT Portfolio Director at The Coca-Cola Company. This session focused on strong digital content in the digital-first landscape and how to keep up with the accelerated demand.
Siloed content operations and management across departments lead to lost opportunities to get closer to your customers while expanding your wallet share. As Loni Stark said we have to, "reimagine content, asset, and document management, in three key ways:"
Creating digital content experiences that embody our brands must be top of mind for everyone's job within the organization.
You must enable content to be adaptable and extend content across all interactions and platforms including websites, mobile apps, and any digital screen and platform.
Optimizing content for business impact with experience intelligence.
Bounteous and Coca-Cola have built a strong partnership around "Something Worth Sharing," and creating a commerce and content experience that delights and transforms the customer journey. Going back to our first takeaway of Summit focused on data, content intelligence and data must be paired together to understand the greatest impact content can have on customers to make your insights actionable. In a digital-first world, personalized content drives everything for customers from first impressions and first purchases to lasting relationships with your brand. 
Innovation Is Key to Succeeding
Adobe is continually innovating and this year's Summit Sneaks showcased several industry-changing developments and possible solutions for advancing your digital presence. Adobe also unveiled several new enterprise applications that will be the keys to staying ahead and continuously innovating your customer's experiences.
Adobe Journey Optimizer
Built on Adobe Experience Platform, Adobe Journey Optimizer is the industry's only enterprise application designed to help marketers optimize the customer journey across any outbound or inbound customer touchpoint.
Customer Journey Analytics
This enterprise application allows brands to integrate and standardize their online and offline customer data, enabling anyone – not just data scientists – to connect that data, easily visualize it in a unified view, and better understand the entire journey to better inform marketing strategies.
Adobe Experience Manager Innovations
Several innovations were announced including  Headless Content Management System capabilities, which delivers immersive content as data over APIs and brings advanced AI to content automation, and the newly launched Adobe Experience Manager Assets Essentials, which will become the default asset management capability in all Adobe Experience Cloud applications .
As your company advances in its digital marketing roadmap, utilizing new technologies and opportunities will continuously advance your ROI and customer engagement. 
Putting It All Together
Keeping the guest experience in mind includes understanding your goals, how you can accomplish them with what you have, and figuring out what else you need to reach them. Creating unique and engaging customer journeys involves a roadmap that brings together platforms, solutions, partners, and people to build your digital experience.
Adobe Summit opened up this need for digital growth and innovation. As an Adobe Platinum Partner, we look forward to evolving alongside Adobe while working to create digital opportunities for our clients to reach their customers while driving engaging experiences.