Bounteous Named to the 2021 List of Best Workplaces™ in Ontario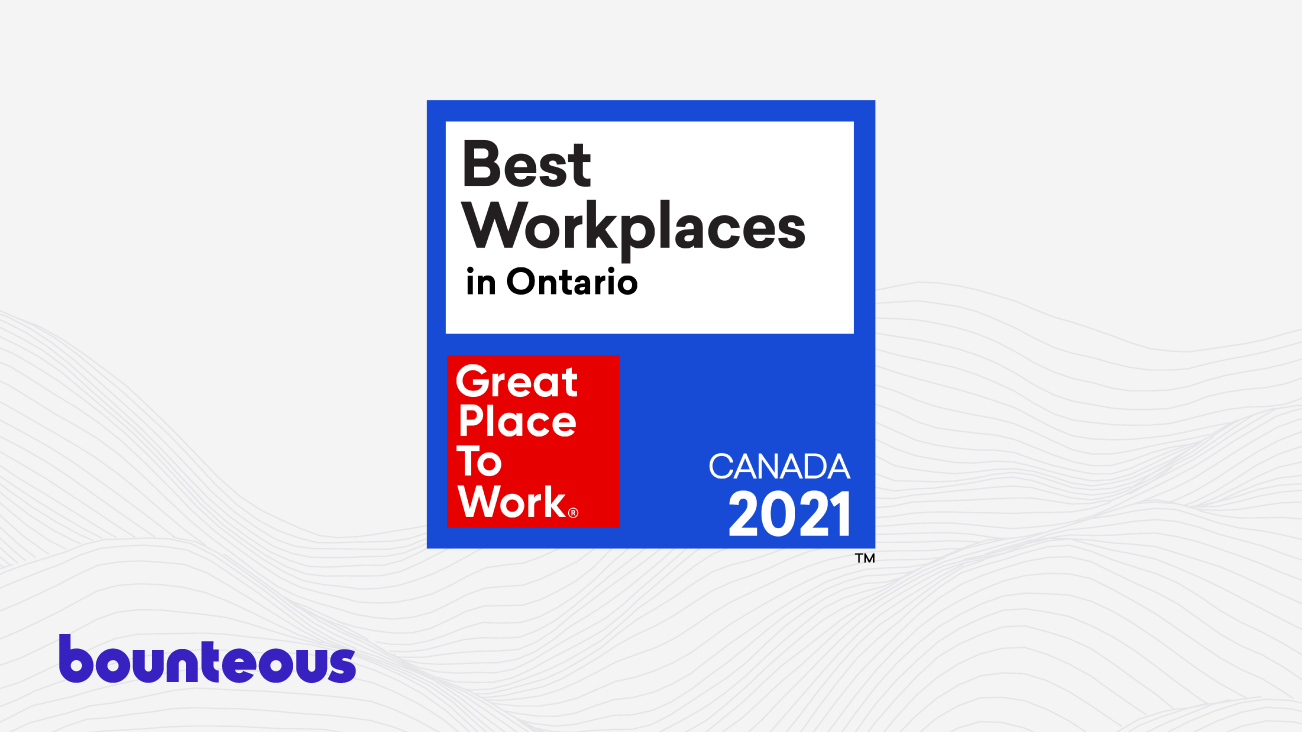 Growth and culture benchmark the consultancy amongst the top employers in the province for workplace best practices
CHICAGO—June 22, 2021—Bounteous, a leading insights-driven digital experience consultancy, has earned a spot on the 2021 Best Workplaces in Ontario list. Bounteous received this honor after a thorough and independent analysis conducted by Great Place to Work®, based on the overall Trust Index score from its employees.
"We're so proud to be formally recognized as a best workplace in Ontario for 2021," said Mike Brown, Bounteous Chief Client Officer in Toronto. "We co-innovate with the world's most ambitious brands, and are committed to investing in talent and methods to not only help our clients achieve exceptional transformative digital outcomes, but provide a highly-celebrated workplace culture in the process."
The Bounteous team in Ontario has grown over 50 percent this year to more than 150 people including its Toronto collaboration centre and remote employees across the province. Bounteous in 2020 was certified by Great Place to Work throughout the U.S. and Canada. Since then, the consultancy has been recognized on the 2021 lists for Best Workplaces in Canada, Best Workplaces for Women, and also Best Workplaces in the Greater Toronto area.
The list is based on direct feedback from employees of the hundreds of organizations that were surveyed by Great Place to Work®. Ninety-five percent of employees at Bounteous say it is a great place to work compared to 59 percent of employees at a typical company.
Bounteous is hiring in all departments for talent located anywhere. Visit bounteous.com/careers to learn more.
About Bounteous
Founded in 2003 in Chicago, Bounteous co‑innovates with the world's most ambitious brands to create transformative digital experiences. With expertise in Strategy, Experience Design, Solutions Engineering, Analytics, and Marketing, Bounteous partners with clients to envision, design, and build their digital futures. For more information, please visit www.bounteous.com. For more information about co-innovation, download the Co-Innovation Manifesto at co-innovation.com.
For the most up-to-date news, follow Bounteous on Twitter, LinkedIn, Facebook, and Instagram.
About Great Place to Work®
Great Place to Work is the global authority on high-trust, high-performance workplace cultures. Through proprietary assessment tools, advisory services, and certification programs, GPTW recognizes the world's Best Workplaces in a series of national lists including those published by The Globe & Mail (Canada) and Fortune magazine (USA). Great Place to Work provides the benchmarks, framework, and expertise needed to create, sustain, and recognize outstanding workplace cultures. Visit us at www.greatplacetowork.ca or find us on Twitter at @GPTW_Canada.