Press Release: Bounteous Selected to Inaugural Adobe Experience Manager Champion Class and adds Dom DeGustino as SVP, Digital Strategy & Solutions to Adobe Practice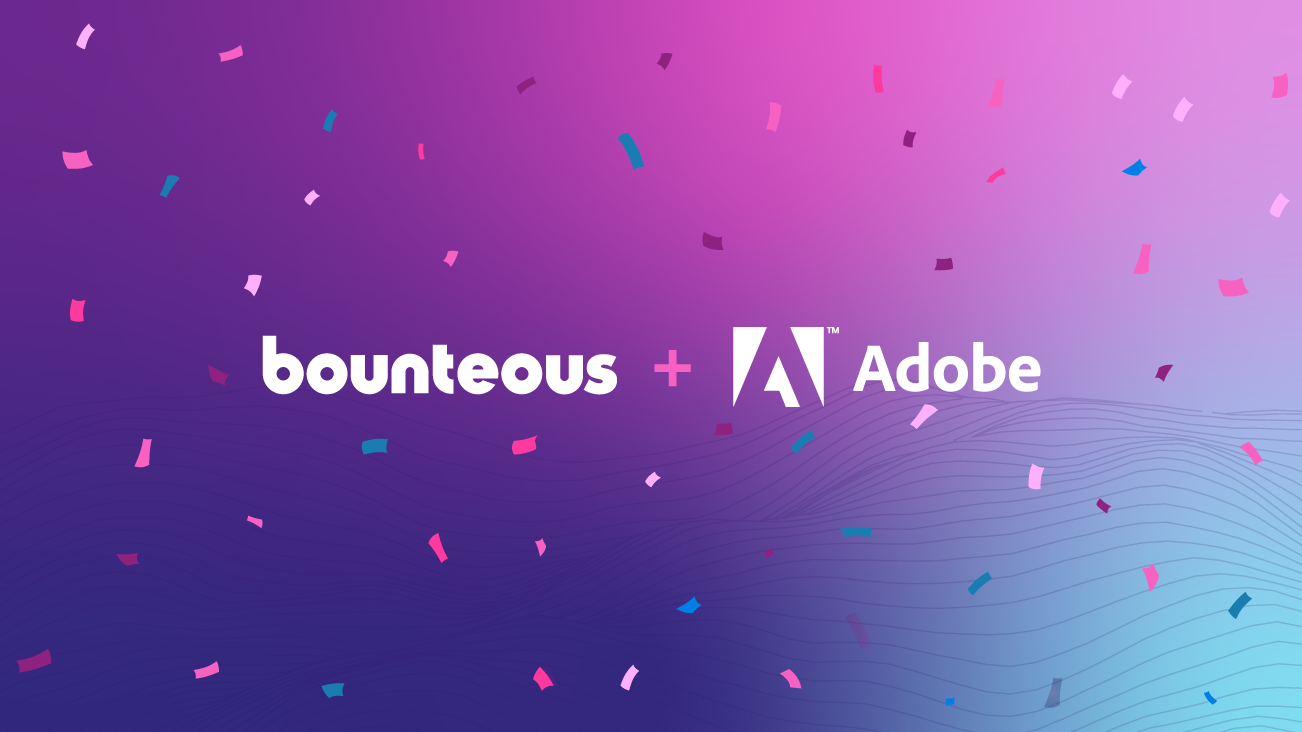 Bounteous continues to build momentum and deepen expertise and capabilities within its world-class Adobe Practice
CHICAGO — May 17, 2022 — Bounteous continues to invest in its award-winning Adobe Practice as it increasingly becomes the go-to choice for companies that use Adobe Experience Cloud to deliver amazing digital experiences at scale rapidly. Bounteous has hired Dom DeGustino as Senior Vice President, Digital Strategy and Solutions to drive the go-to-market strategy and growth of the Adobe Practice. Additionally, they announced that Brett Birschbach, VP AEM Engineering at Bounteous, was recently selected as one of only 18 members of Adobe's inaugural 2022 Adobe Experience Manager Champion Class.
DeGustino, most recently Senior Director Client Lead & Growth at Gorilla Group, has more than 15 years of experience in strategy, sales, and digital transformation services. Dom is an expert in positioning value-driven digital solutions for enterprise organizations and building long-lasting client relationships. Additionally, Dom brings over 12 years of working closely within the Adobe Experience Cloud.
"I'm excited to join Bounteous and continue to collaborate closely with clients to provide meaningful digital experiences that drive overall better customer engagement and conversion," said DeGustino. "Bounteous' co-innovation approach, focus on enhancing customer experiences, and a deeply skilled team were pivotal in my decision to join the team. I am looking forward to using my unique capabilities to continue to grow the Bounteous Adobe Practice."
"Dom's leadership will bring immediate value to the Bounteous team and take our practice to the next level," said Dave Mankowski, Chief Growth Officer at Bounteous. "His approach to expanding enterprise relationships and expertise in Adobe Experience Cloud will drive growth and be a significant asset within our rapidly expanding Adobe Practice."
As a member of the Adobe Experience Manager (AEM) Champion Class, Birschbach joins a prestigious group of 18 IT leaders, engineers, consultants, solution architects, marketing operations professionals, and business administrators worldwide who were selected based on their demonstrated expertise in Adobe Experience Manager, and their commitment to the broader Adobe community. Bounteous is one of only four solution partners honored with this recognition.
This year-long program affords champions the unique opportunity to collaborate first-hand with Adobe teams to influence Adobe Experience Manager innovations. By sharing best practices and strategies, champions will showcase their expertise and share knowledge with the Adobe Experience Manager community.
"I'm looking forward to co-innovating with Adobe to keep Adobe Experience Manager and related technologies ahead of the competition and recognized as the best in the world," said Birschbach.
As an award-winning Adobe Partner and recognized industry thought leader, the AEM Champion Class selection is the latest recognition of Bounteous' highly decorated Adobe Practice. Bounteous' global team of Adobe experts holds over 100 certifications across Adobe Experience Cloud and are specialized in seven Adobe Experience Cloud solutions including AEM, and AEM Run & Operate. Bounteous is the sole creator of AEM Component Generator and Activate for Adobe Experience Foundation and its AEM experts contribute their expertise to the Adobe Ecosystem through ACS Adobe Experience Manager Commons. Bounteous was awarded the 2021 Adobe Experience Maker Award Winner in the "Experience Maker of the Year" category and was a 2020 Award Finalist in the "Transformer" category.
About Bounteous
Founded in 2003 in Chicago, Bounteous is a leading digital experience consultancy that co-innovates with the world's most ambitious brands to create transformative digital experiences. With services in Strategy, Experience Design, Technology, Analytics, and Marketing, Bounteous elevates brand experiences and drives superior client outcomes. For more information, please visit www.bounteous.com. For more information about co-innovation, download the Co-Innovation Manifesto at co-innovation.com.;
For the most up-to-date news, follow Bounteous on Twitter, LinkedIn, Facebook, and Instagram.