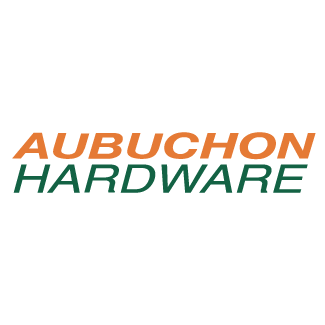 Omnichannel Solutions Build Brick-and-Mortar Growth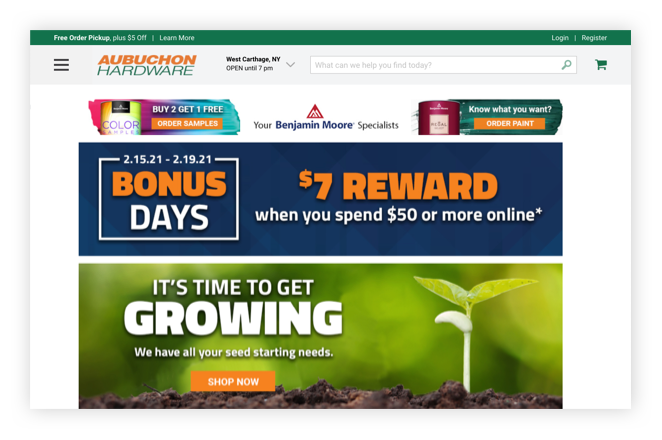 Summary
Aubuchon is a family-owned operation with over 100 paint and hardware stores in the Northeast. As a thriving brick-and-mortar in an industry where a few major players dominate online, Aubuchon wanted to find ways to use digital to help their stores reach their local audiences. Aubuchon turned to Bounteous' full-service commerce team for end-to-end support.
Challenge
When Aubuchon came to Bounteous, they had an online catalogue but lacked the technological support to turn it into a fully operational store. Aubuchon has always had a vision for how they could better serve their clientele with elevated shopping experiences and a seamless customer experience across digital and brick-and-mortar.
In order to deliver the intuitive and seamless customer experience it wanted, the retailer would need a 360-degree view of inventory, and a centralized system for customer information. Their vision led them to invest in a robust commerce solution in 2018 that continues to pay dividends into 2020 and beyond.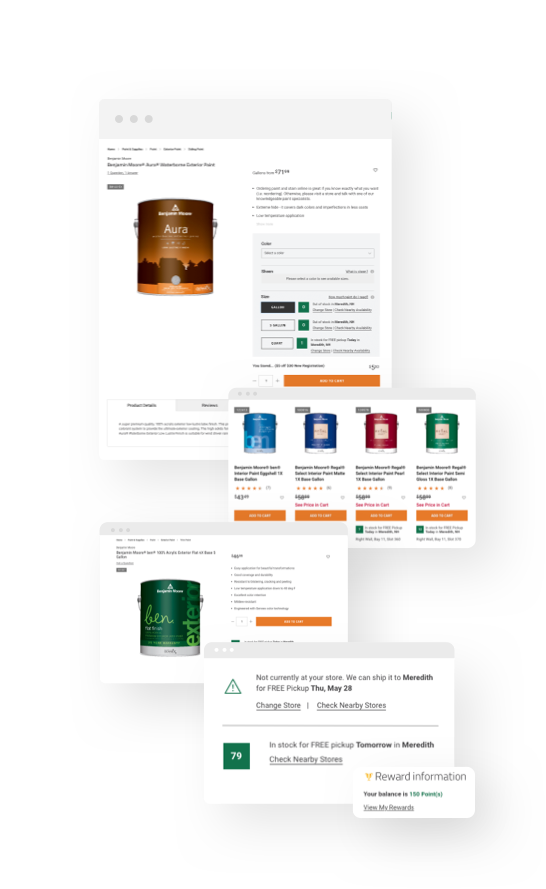 Solutions
Using Adobe Commerce Cloud, we built a powerful online storefront that allows customers to shop online, browse products available at their preferred store, and place orders for pickup or home delivery. Aubuchon can now track in-store and online sales through a custom implementation of an inventory master table, enabling a better understanding of customer purchase habits and trends.
Digital marketing efforts and acute attention to data analytics played a major role, helping create a curated customer experience and increase overall sales. Our marketing team created targeted product ads and monitored which ads received the most engagement and where. Based on that information, we were able to market the right products to location-specific audiences.
Results
Bounteous has continued to improve the e-store over time, adding features that have enabled Aubuchon customers to pick up their orders in designated areas, depending on the store, and enhancing the paint and stain shopping experience by allowing customers to choose from thousands of available color options online, then have their paints and stains mixed in-store before pickup.

When unprecedented times hit globally in 2020 and other brick-and-mortars scrambled to pivot to digital solutions, Aubuchon's foresight paid off with a dramatic increase in revenue by 1,200%: $663K in 2019 to $1.7MM in 2020.
Overall traffic volume YoY