The London Eye Shopping Cart
I'm going to London on Thursday for five days with my teenage daughter. We've been doing the research online in an effort to pick and choose among all the great things there are to do.
She insisted that we do the London Eye, so we bought tickets online. I am somewhat amazed that I succeeded in giving my money to them.
Despite the fact that they have a six page shopping cart, it wasn't that bad until I got to the credit card page. Here's a screen shot that shows all the things I did wrong: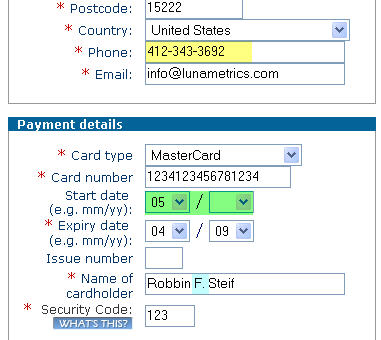 After I hit "confirm booking," I got an error message. The shopping cart was unhappy with the telephone number because I had included dashes. Well OK, I thought, they could have told me ahead of time or better yet, teach that field to ignore dashes, but I can handle this one, I deal with that one all the time.
So I fixed it and tried to Confirm Booking for the second time. This time the error was harder and probably cultural. Notice how the credit card number field is followed by two date fields – see the green highlighting. The first one is Start Date. The first time that I filled out the form, I just began to put my expiration date there. When the year's options didn't go past 2006, I realized that something was wrong, and then saw that whatever Start Date meant, it wasn't mandatory. (If it isn't mandatory, and it doesn't cut across all cultures, and this is a really touristy thing to do, why do they include it?) Anyway, the error message yelled at me for including a month and not a year, so I dealt with the drop down box to get rid of the month. [I still have no idea what Start Date means.] I tried to Confirm Booking for the third time.
The final one was ridiculous. It is in blue highlighting, where they ask for my name again. I gave them my name, Robbin F. Steif, and the error came back disallowing special characters. In other words, I wasn't allowed to put a period after my middle initial.
I confirmed my booking for the fourth time and finally, they took my money.
London Eye's site, however, doesn't win the award for the Worst London Tourist Attraction WebSite, just because they have such a crummy shopping cart. That "honor" is reserved for Madame Tussauds Wax Museum – London. More later.