The Top 5 Social Media Developments Of 2010
This year 700 billion YouTube videos were watched, a record 700,000 new members joined Facebook every day and Twitter grew by 100 million new accounts. Social media has changed the way the world shares information in the last few years, but never as drastically as it has in 2010. It's transformed from its humble beginnings to an up-to-the-minute exchange of information that alerts us about everything from a user's exact location to the the type of shoes they "Like." Let's take a look back at the biggest developments and innovations of 2010.

1. Social Plugins: Social plugins have been picked up by hundreds of thousands of websites as a means of sharing their content on various social networks, whether it be Facebook, LinkedIn, Twitter or elsewhere. These buttons are beneficial to users because they can see what their friends, followers and connections are liking, reading, buying, listening to and doing at all times. Websites benefit by spreading their brand name, articles, products and more to large networks of people. These social plugins have brought about a never before seen connection between the social media realm and the rest of the web.
2. Location-Based Service: Location, location, location is what Foursquare, Gowalla, Yelp and Facebook Places do best. A long time in the making, location-based social media has been making its way through the masses for the last few years via the mobile revolution. Ever since the creation of Facebook Places this past August, the competition has really heated up.
Having users just check in at various specific geographical locations isn't enough anymore and each service has moved on to getting users to complete different goals once they've checked in. Gowalla offers rewards for visiting specific places, Foursquare awards points and badges, and Facebook has recently begun to offer deals for the completion of certain tasks at a location. When users check in and complete secondary goals via their mobile devices, the process connects the online space with the stores, restaurants, attractions and various locations users are visiting.
3. Daily Deals and Coupons: Services like Groupon and Living Social took the idea of clipping deals from local coupon books onto the web, but this time, aimed at international audiences. People like using coupons to save money and doing activities with other people, something both companies have profited from greatly. Google even tried to acquire Groupon in a 5.3 billion dollar bid, but Groupon decided to turn down the deal. How ironic is that? Now accessible even through mobile devices, this local coupon industry can't be stopped. Who knew that a seemingly old idea could be recycled and be instantly successful? Social media truly works wonders.
4. Social Games and Activities: FarmVille was one of the most popular games played on Facebook, the iPad and the iPhone with over 80 million users as of February 2010. FarmVille, Mafia Wars, Café World, CityVille and other social games allow users to interact with friends in their network, keep the game play simple and are easy for the user to put aside. This low level of commitment is entertaining for most, especially during work, after school or anytime in between. The ability of users to connect with others of similar gaming interests and partake in simple social game play is what helped change the way people play games online, making it an important social media development of 2010.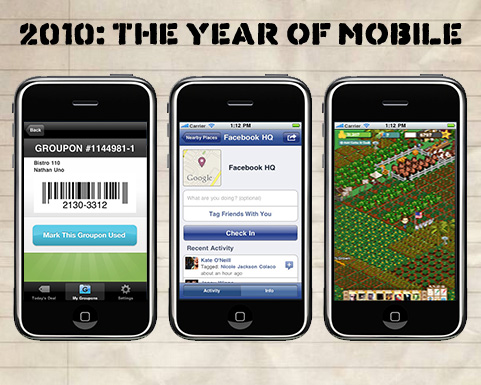 5. Mobile Innovation: One common factor between 3 of the 4 categories above is mobile. Without the explosion of the mobile industry, the success of many aspects of social media would not be as far reaching, especially in location-based developments. Mobile is slowly evolving into the latest marketing channel of the 21st century. Facebook developed a mobile version of its website in 2007, which highlighted to many how important incorporating a user-friendly online interface is for your store, brand, publication or whatever you're trying to make accessible to users.
Websites like Fandango, MTV, American Express and others have transformed their online presence into a mobile-friendly version accessible by all the latest devices. Advertisers have never been able to connect to audiences through so many channels before, which has made keeping up with the latest developments difficult. Through mobile channels many companies have been able to combine social plugins, location-based services, daily deals and social games reaching audiences never before reachable without the assistance of social media.
By nature, humans are social creatures. When companies utilize social media and act more like humans and less like a brand, the results are astonishing. Looking ahead, what does 2011 hold for the future development of social media? Share your insights on what you think the next big thing in social media might be.