GoalCopy Updated For Firefox 6
If you're not familiar with the Goal Copy Firefox extension, read the original post.
To stay informed of future updates to the GoalCopy Firefox extension, join this email list for a notification of when to update your extension.


Firefox's new rapid release schedule means new versions every couple of months. Now 6 is out, and you know what that means: a new GoalCopy!
If you've upgraded to Firefox 6, just download the latest version here and get to copying! You might encounter a weird glitch where only the Find/Replace toolbar shows and the Copy/Paste options are nowhere to be found. Just re-enable it through the new Firefox menu as shown below: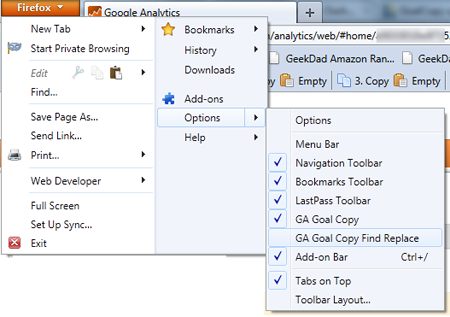 Note: GoalCopy currently only works with the old version of the Google Analytics interface.