Google SSL Search: Update On (not Provided) Keywords
Now that Google's SSL search for signed-in users has been in place for a while (since October 18), I thought I'd take a look at how things have been affected so far. If you don't know what I'm talking about, first crawl out from under your rock. Then, go read Christina's post (Google Analytics Keyword Not Provided) from a few weeks ago. I'd also highly recommend this insightful piece from Danny Sullivan, which dives into Google's real reason for doing this.
Google only started rolling the SSL search out to users on October 18. From the graph below (which others have also seen for their own sites) you can see that the first two weeks didn't see much action. Most sites were in the 1-3% of Google organic search visits being affected, and I actually let myself begin to believe that maybe it wasn't going to be so bad after all. Then reality kicked me in the teeth. On Monday October 31, the number of logged-in users who got the default https search page started to sharply increase, finally plateauing on Thursday of the same week. It's held steady there for the past 8 days.

As you can see from the graph above, things are looking a bit grim for LunaMetrics' organic keywords report. We're currently missing about 25% of the keywords from people who get to us from a Google organic search result. However, our numbers are bound to be higher than average, right? After all, you (our valued reader) are most likely signed in to a Google account right now (you probably even have your Google Analytics up on your second monitor, don't you?).
To get a more complete and less biased look at the overall effect of Google's SSL search, I took a look at a number of sites in a wide range of industries. Here are the details:
Timeframe: Nov. 2 – 9, 2011 (this is the past 8 days, which have seen relatively stable numbers)
# of Web Properties: 117
Total Google Organic Search Visits: 13,564,118
Encrypted Google Organic Search Visits (keyword not provided): 1,238,297
Average % of (not provided) keywords: 9.13%
Highest % of (not provided) keywords: 28.33%
Lowest % of (not provided) keywords: 3.82%
The graph below shows the distribution of how the 117 sites I looked at were affected (click to enlarge):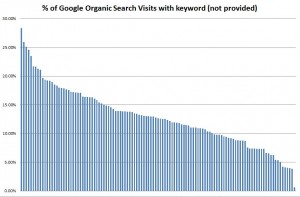 So Matt Cutts' estimation that SSL search would only affect single-digit percentages of searchers is still holding true (in aggregate). But as you can see from the numbers above, the number of signed-in Google users that reach your site will vary greatly depending on your industry. The silver lining in this is at least we're able to easily measure the effects of SSL search using Google Analytics and a couple of advanced segments.