On Tuesday, Google made the announcement that they would be making yet another update to their AdWords sitelinks format, and it looks like a great one to me – Happy Valentine's Day to advertisers! The new format is called Enhanced Sitelinks, and in a nutshell, it allows advertisers to not only show additional links to various pages throughout their website, but also allows the advertiser to show additional ads! Below is the example Google put up on the Inside AdWords blog:

This format greatly increases the amount of real estate one advertiser can have on a page, further increasing the chances of stronger click-through rates. In fact, Google reports that when testing ads with enhanced sitelinks, clickthrough rates were much higher than those with traditional sitelinks.
How it Works
It's pretty simple – when you have a traditional sitelink with text that closely relates to an ad within your account, Google will display the description lines of that relevant ad, with the sitelink text displaying as somewhat of an ad header above the description lines. Google has shown up to four of these displayed at one time, in addition to the actual ad itself that appears above the Enhanced Sitelinks.
How to Prepare Your Account
Interested in your sitelinks being displayed as these new Enhanced Sitelinks? There are few steps you should take to ensure you are eligible:
•Get your ads to show in the top positions. Just like other sitelink formats, in order to be eligible, an ad must show above the Google search results (not along the side rail). Also remember that sitelinks are set at the campaign level. Therefore, as you would do to get any sitelink format to show up, ensure keywords in a given campaign have strong Max CPCs, click-through rates, and quality scores so that they can show in top positions (but only for those keywords are working well for you! Don't simply crank up the CPCs on all of your keywords without first evaluating their performance!)
•Compare your sitelinks to your ad copy. If you haven't given your ads a thorough evaluation lately, now is the time to do it. Google says that as long as the sitelinks in a campaign relate to ads within your account, they will be eligible to show the Enhanced Sitelinks. Matching your sitelinks with ads in your account will be easier than having to match them with ads within that specific campaign (thanks, Google!), so carefully compare each of your sitelinks' text with your account ads to determine if new ads should be created. Here is a Google example of a closely related traditional sitelink and ad that would be eligible to trigger an enhanced sitelink. It uses the sitelink text "Order Online Now" paired up with an ad which has "Order Online" in the headline and details of what you can order in the description lines.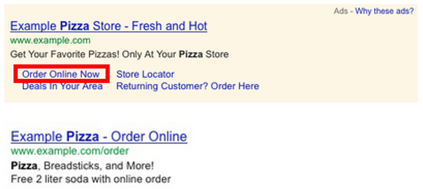 The Enhanced Sitelink would use the original sitelink text as the headline link, and show the description lines from the relevant ad below it.

•
Use text in your sitelinks that appears in your ads' headlines (or vice versa).
This builds off of the point made above. When trying to decide if you have ads that are closely enough related to your sitelinks, keep the ad headline in mind! Use key terms in your headline that are included in your sitelink to help steer Google in the right direction, and to give yourself more control over when enhanced sitelinks will show up/what they will look like.
Who Should Use Enhanced Sitelinks
Everyone should be updating their ads and sitelinks to become eligible for Enhanced sitelinks. After all, we know from Google that even the use of traditional sitelinks provides an average 30% increase in ad clickthrough rates, and the hope is that the increase from Enhanced Sitelinks will be even better! These new Enhanced Sitelinks can be especially beneficial to advertisers experiencing low average positions throughout their account, such as nonprofits using Google Grants. Because advertisers using Google Grants often see low average positions (due to Max CPC constraints), these new sitelinks provide them with the opportunity to use keywords/campaigns that do have strong positions to trigger enhanced sitelinks – which is practically like displaying additional ads! By ensuring keywords with strong average position are in a campaign with sitelink text that relates to other ad copy throughout the account, this gives advertisers the opportunity to show certain messaging at the top of the page that might not have a chance to show in an ad on its own, or at least not in a good position.
It looks like enhanced sitelinks could be a win-win for Google and advertisers, in all types of industries. I'm excited to see these new sitelinks in action and continue measuring the sitelink results. Do you have any experience with Google's new Enhanced Sitelinks? Please share! We'd love to hear your opinions!