Four Essential Rules To PPC Remarketing
This post was originally published on the Trada blog, and has been updated to reflect recent changes to Google AdWords.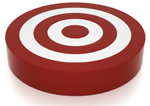 If you work in Paid Search, you know that the term "Remarketing" (often referred to as "Retargeting") is all the rage right now.  What often happens when buzz-words take wind, however, is misuse by marketers.  Advertisers are often so anxious to take advantage of these new tools or offerings that they don't truly polish off the effort, and therefore get results that are less than desired.  This has become commonplace with remarketing – advertisers see, advertisers implement, and advertisers love; but they forget that they should set limitations to their remarketing efforts.  Don't abuse Remarketing!  Here are 4 Rules (and a few how-to's) to follow when implementing remarketing in your AdWords campaigns.
1.Does this Apply to You, or are you 'N/A'?
Let's face it, remarketing is exciting and with the constant evolution of Google, it's become easy to both set up and measure.  Advertisers love the idea of getting their ads in front of someone who has already visited their website, automatically assuming it's right for their business – but is it right for yours?  On top of capturing potentially lost sales, remarketing is great for use in cross-selling and up-selling products, to name a few;  but before implementing remarketing in your account, make sure it applies to your ultimate goal(s).
2. Exclusions Exclusions Exclusions!
The key to remarketing is to remarket to those people who have not yet made the purchase/conversion/lead you are ultimately hoping for.  There are obviously issues that can arise here, such as not being able to appropriately exclude those customers who converted in person; however, it's essential that marketers do what they can on their end to exclude to their best abilities.  Consider the following scenario:
Company A sells shoes.  Company A has remarketing campaigns running to target those who have reached the athletic shoes page.
What happens more often than not in this situation is that this is where Company A will leave their remarketing efforts, in an almost "unfinished" state.  This scenario needs to be completed, by implemented another factor known as exclusions:
Company A excludes their remarketing ads from showing to those people who have already purchased shoes.  How is this done?  It's rather simple – you'll create a remarketing group for those people who have reached the Purchase 'thank you' page (generating a code to be placed on that page), and then take the effort a step further by setting this remarketing group as an excluded audience, ultimately telling Google NOT to remarket to them.
a. Set up a remarketing list as you normally would through one of the options AdWords offers on the Display Network tab, by clicking on the Display Network tab, clicking "Interests & Remarketing," then "Change Display Marketing."  The original option is to generate one tag to place on an individual page, but Google now offers the chance to generate one code to place across your entire site.  Once the tag is placed, advertisers can "define lists" based on URLs that contain/include or do not contain/include certain characters or words.  Choose the campaign and ad group in which you want to apply the exclusion.  This time, however, setup will be different because you are setting the list for those people you do not want to market to (i.e. those who have reached the conversion 'thank you' page).  Be sure to name it something easily identifiable, such as "Purchased – Exclude" or something of the sort.
If you generate one code, this will be placed on the thank you page of the conversion you want to exlude.  If you place a code across the entire site, you can define a list based on URLs containing the words 'thank you,' or 'confirmation,' or whatever phrases apply to your site.
b. Next, we will set this remarketing list as an excluded audience.  On the Display Network tab, click "Exclusions" at the bottom, followed by "Interests and Remarketing." Select the appropriate ad group and campaign, then choose 'Remarketing Lists' from the drop down box.  The remarketing list/group you created for your site's 'thank you' page (to be excluded) will appear in the list.  Add this list and click "save."  Note: I recommend setting exclusions for this purpose at the campaign level.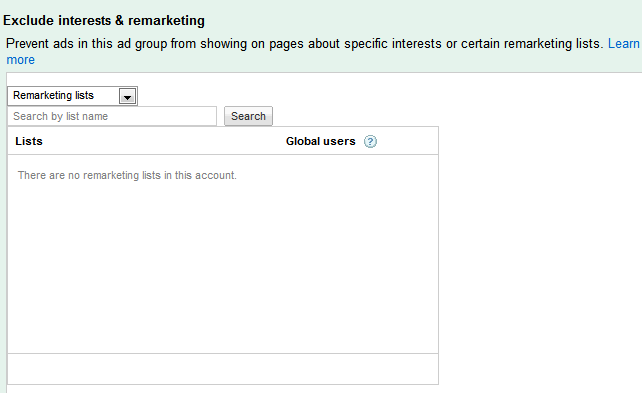 c. Remember that for any remarketing (inclusions or exclusions) to work, you must add the Google-generated code to the appropriate page on your website!
For advertisers that are using remarketing to cross-sell products, exclusions may not be an option, but confirm this before simply not trying it at all.
3. Use Frequency Capping
Regardless of whether or not you are using exclusions, frequency capping should be used as well; in fact, I have run into almost no situations in which frequency capping shouldn't be used.  If you're not familiar with frequency capping, it's the ability to limit the number of times a unique user sees you ad.  This can be set at the campaign level, ad group level, or ad copy level, and can also be set by number of times per month, week, or day.  If you do not set any frequency capping, one user has the ability to see your ad hundreds of times a day (or more), which will bring terrible results!  I like to set my frequency capping at around 5 times per day per individual ad, but this can vary greatly based on the number of ads you are running, etc.  Frequency capping options can be found on the Settings tab.  Under advanced settings, click "Ad delivery: Ad rotation, frequency capping."  Here is where you'll be able to set your frequency parameters.

4. Don't be afraid to limit that traffic!
Utilize contextual targeting to have your ads show to those who previously visited your site while they are actively showing interest.  This means that your ads will only show on sites that Google thinks are relevant to the keywords you are contextually targeting.  (For example, remarket to someone who viewed the athletic shoes page while they are viewing a page on the Google Display Network that has text around athletic shoes, working out, etc.)  Use placement targeting in the same way, to define pages on the Display Network that are relevant to the product or service you are remarketing for.
Remarketing provides advertisers with amazing capabilities to capture potential conversions that could have once been lost.  It's important, however, to make sure you do not abuse the remarketing tool by scaring off past visitors.  Take the time to set some boundaries for your remarketing efforts, to capture clicks and sales as efficiently as possible.
Has your business utilized remarketing in your online campaigns, or have you experienced in first hand? Let us know your thoughts in the commments.