The beginning of 2012 saw the conversation around local search rankings crawl on – not sluggishly – but perhaps redundantly. The same questions. The same answers. And a healthy dose of pro tips from local experts. There's nothing wrong with reaffirmation, after all. In fact, the majority of the local search ranking factors – I believe – are set in stone. Local search is a golf course. The hole locations are subject to slight change, but we can be sure that they'll be somewhere on the greens. We're more concerned with the approach. And just as the approach – in golf – requires the right iron, our approach – in trying to achieve local rankings – requires the right tools and resources.
As of late, things have heated up considerably. With the transition of Google Places to Google+ Local, the news that Bing will integrate Yelp reviews into its local search results, and the implications of Apple Maps a hot topic, the industry has been abuzz with talks of local SEO. For my money, David Mihm couldn't have planned the release of his annual industry survey (linked above) any better. One can only ponder how weight will shift from one factor to the next in the coming year. Anyways, back to the ever-important approach – specifically, our approach to building structured local citations. Let us enlist the help of GetListed.org.
Getting Started w/ GetListed.org
When I first came across GetListed.org – another David Mihm brainchild – I was smiling like a butcher's dog. When it comes to local search rankings, the presence of consistently structured online local citations has always been of the utmost importance. Some citation engines – like Yelp, Google, Bing, Yahoo, CitySearch, HotFrog, etc. – carry more weight than others, as well. The tool at GetListed.org provides us with an easy way to make certain that our business listings are live on these major local citation websites, and also that the information provided is consistent. The feasibility of use is what's really impressive about this tool. Whether you're a tech-savvy marketer or a brick and mortar business owner, you'll find the GetListed.org interface incredibly user-friendly. Start with a business name and zip code, click "Check My Listings," and then crack open an Arnold Palmer. Don't forget this last step – it's completely necessary.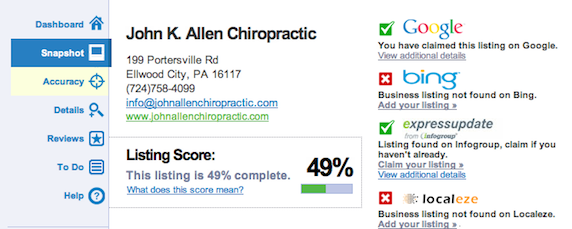 Once your listing data has been crawled and collected, you'll be greeted with a listing snapshot (like the one above). The first area of concern should be the name, location, and contact information displayed at the top of your snapshot. Make sure that the business name, address, phone number, email, and website that show up are consistent with the information that you'd like to purvey across the web. Next, you might notice the "Listing Score," complete with a percentage and progress bar. While this is a decent reference for benchmarking, it should by no means be your end-all-be-all KPI for local citations. Take it with a grain of salt, perhaps. Beyond Google, Bing, ExpressUpdate, and Localeze, you'll be able to see whether or not your business listing is live and/or claimed for Yelp, Foursquare, Yahoo, SuperPages, YellowPages, CitySearch, HotFrog, and Best of the Web.
Tip: In partnership with Whitespark, GetListed.org recently published "The Best Citation Sources by U.S. City." This features a list of 93 U.S. cities – 20 small, 20 medium, and 53 large – along with the citation websites that correlate positively with higher local rankings in each respective area. Find your city (or a city nearby), and add any newfound citation sources to your must-obtain list. In Pittsburgh, for instance, we see Manta, the Post-Gazette, ServiceMagic, and Angie's List, in addition to the popular sources that we've mentioned above.
Checking for Consistency
After you've ascertained on which local citation engines your business is present, you'll want to check the accuracy of the information provided by each listing. Click the "Accuracy" tab on the left-hand side of your listings snapshot to reveal the "Local Business Data Accuracy Report" (shown partially below). This report will outline the discrepancies in information provided on each of the aforementioned major citation engines. While the report is generally pretty accurate, there will be cases in which you'll be better served by recent memory. New and updated listings take time to review, publish, and propagate; it's guaranteed that not every report will be an exact representation of reality. Multiple listings on a singular citation source can skew things, as well.
Aside from this minor caveat, the accuracy report is typically spot on. In perusing the clearly defined discrepancies in business name, address, phone number, etc., you'll be able to pinpoint exactly the changes that need to be made under each respective citation engine account. If different individuals have permissions within these accounts, you'll be able to provide them with clear-cut instructions that are specific to their citation source. If – on the other hand – one person controls the accounts for all major citation sources, you'll be all set.
Tip: Before you embark on the adventure that is cleaning up, filling out, and verifying local citations, it's best that you're prepared with the text-based information and image resources that most listings recommend/require. I like to prepare five to six square images (including a logo or cover image) before the listing bonanza begins. Additionally, you'll want to maintain a shared document that outlines definitively the business name, address, main phone number, contact email, and website URL. This information should be implemented exactly as is within the document across all of your online citations and your website. Consistency is key.
Find Customer Reviews
In this year's Local Search Ranking Factors industry survey, "Quantity of Native Google Places Reviews" ranked seventh overall. With Yelp reviews' emergence/integration with both Bing Local and Apple Maps, we can guess that the quantity of native Yelp reviews is a top-20 ranking factor, as well. If it isn't now, it will be. The importance of reviews for local rankings aside, the ability to quickly view and respond to your business's most recent online reviews is integral to your reputation management efforts. Fortunately, GetListed.org provides us with a "Reviews" tab dedicated to the aggregation of recent online reviews posted on major citation sources. Your review summary will look something like this (with a few more reviews, ideally):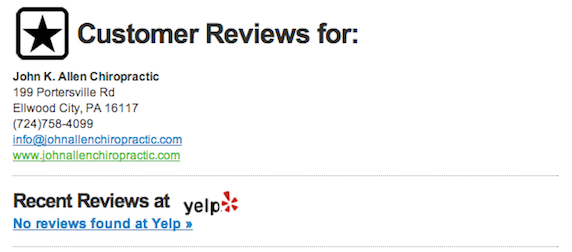 From here, you can assess your contentedness with the volume of recent reviews, the most popular review engines for your customers, and to which reviews you'd like to respond. Online reviews are the lifeline – the vitality – of your business's online presence. That said, don't let a string of negative sentiments bog down your marketing efforts. Instead, work even harder to supplant those negative reviews with the blessings of satisfied customers. It isn't easy, but it's more than doable.
Tip: "The customer that has a negative experience is more likely to leave a review than the customer with a positive experience." Is this really the case? Maybe. And, honestly, you can't satisfy absolutely everyone. You can try your darnedest, but occasionally, extraneous circumstance finds its way into a customer's negative review. If you're offering an awesome product or service, though, you will earn positive reviews. To exhort the review process, consider implementing review links in email signatures, on testimonial pages, or on postcards that employees hand out in person. GetListed.org provides some other great tips for managing your business's reputation online.
~
In retrospect, the month of June had a lot in store for local search. Moving forward, some things will shift and shake, while other ranking factors will be much less dynamic. For now, it's a safe bet that building structured, consistent citations on major local engines will not only help your business's local rankings, but also its overarching online presence. Resources like GetListed.org make this often tedious process a little more palatable.
Have you used GetListed.org, Whitespark, or a similar tool to oversee your local citation progress? Have any questions about using these tools more effectively? Ask away in the comments below!