4 Ways To Use Bing Webmaster Tools For SEO

On June 6, Bing announced significant and awesome upgrades to Bing Webmaster Tools. This may be news to you, as Bing has a tendency to fly under the radar. Indeed, it seems these exciting, free features are hardly getting the attention they should at the moment. Which is a shame, because Bing Webmaster Tools has a hell of a lot to offer.
Below are four specific ways you can use Bing Webmaster Tools to improve your SEO endeavors.
Use SEO Reports to Monitor On-Page Best Practices
SEO Reports is a tool that scans your website every other week and automatically reports on compliance with 15 SEO best practices for on page optimization.
The SEO Reports tool is located in the dropdown under the "Reports & Data" tab on the left nav. Below is a screenshot of LunaMetrics SEO Reports. Note that not every page was crawled, but the tool still examines a large enough quantity of pages to be extremely useful.
Now I must admit that we've been so busy tending to the SEO of our client's sites that the SEO of our own site has become an afterthought, and this SEO Report makes that painfully obvious.  When I clicked on the fourth suggestion, "There are multiple <h1> tags on the page," I received a list of some of the non-compliant pages.  When I clicked on the first link, I was brought to SEO Analyzer feature for that page. I then viewed the page source, and was able to click thru and view highlighted code snippets where for each of the SEO suggestions, as seen below.

You see that? The extraneous h1 header tag is coded into the logo image and links to the home page, which exists on the top nav of every page on our site. Ouch. Well, that was humbling.
Sometimes it's easy to miss issues like this right under your nose, but this tool makes them extremely easy to find, with minimal work. The tool also explains the issues rather well. Thus, the SEO Reports feature is useful to everyone from time-constrained veteran SEOs to wearing-all-hats webmasters with minimal SEO experience.
Use Link Explorer to Find Backlinks
One of my favorite methods of identifying potential targets for inbound link acquisition is examining the backlink profiles of competitors. This is a great way to find individual sources of backlinks as well as seeing what kind of link building tactics are working in a particular niche. The new Link Explorer feature replaces the sorely missed Yahoo Site Explorer and is probably the best free tool for finding which urls link to a particular URL or domain.
The Link Explorer tool is found under the Diagnostics & Tools dropdown. Notable features include the ability to filter by keyword ("additional query"), anchor text, and referring domain ("Filter by site"). One impressive aspect of Link Explorer is the speed in which it indexes and reports the backlinks. Below is a screenshot of a query I ran on a URL that was less than a week old: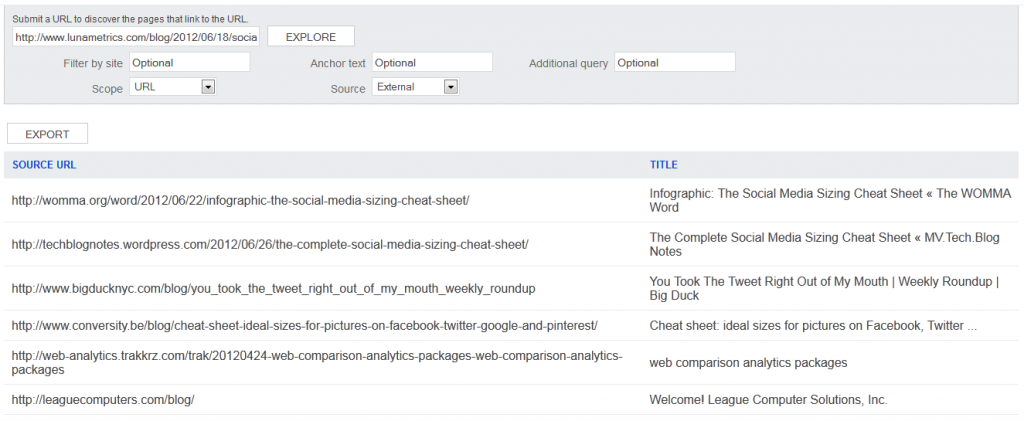 While a paid version of Majestic SEO was able to find backlinks for this new page, neither Open Site Explorer nor Google Webmaster Tools had any data yet. Thus, Link Explorer is handy for seeing what links have been generated by new content; enabling you to examine link bait effectiveness and identify linkers in a timely manner so you can make connections and give thank-yous.
Plus, unlike Google Webmaster Tools, Link Explorer enables you to examine backlinks to pages you do not own.  Link Explorer is also as fast as any backlink tool I've used. Finally, the anchor text filters and additional query filters are great for quickly finding the niche backlinks of a broader site, as demonstrated below.
One of the downsides is that you can only see up to 1,000 links currently, and, even for smaller backlink profiles, the quantity of results is typically less than that of the paid tools. Furthermore, Link Explorer does not provide any statistics or information regarding the power of a given link.
Link Explorer may not be my go-to for competitive link research, but I certainly find it useful on occasion for certain types of research. For individuals who don't want to spend $50/month or more on premium tools, Link Explorer is my top recommended competitive link research tool.
Augment your Keyword Research
Bing's Keyword Research tool recently got a major upgrade, and is definitely worth playing with. Like Google AdWords Keyword Tool, the Bing Keyword Research tool is free, will suggest key phrases related to the terms you enter, and will indicate the search volume of those keywords.
One key difference is that the numbers Bing gives are the numbers of actual organic search queries, whereas the AdWords Keyword Tool only tells you how many queries trigger the keyword if it is used in Google's paid search. This is notable because the algorithm used for Google AdWords is not the same as Google organic. Because AdWords Keyword Tool's default broad match setting will typically indicate inflated volume for organic search, organic keyword researchers would be wise to look beyond the default broad match and into phrase and exact matches, and then compare the volume for all three match types. Examining this much data at once can be daunting and time consuming. Plus, it's still not organic search volume figures.

The Bing Keyword Research tool does have its drawbacks, however. For one, the data is for Bing searches only (I believe Yahoo is excluded), so the data pool is 15% of all searches versus Google's 65%. While the highest volume keyword in a group of ten on Bing is likely to be the highest volume keyword for that same group on Google, this may not always be the case. Another major drawback is that the Bing Keyword Research tool is simply more time consuming. The AdWords Tool enables you to save the keyword ideas to a list in one click, but the Bing tool lacks such a time-saving feature.
Thus, I find it useful to build a list of potential keyword ideas quickly via the AdWords Keyword tool and then paste it in Bing Keyword Research to quickly compare real search volume. Sometimes two tools are better than one.
Disavow Shady Inbound Links
Just recently, Bing announced that it had added to BWT the ability to "disavow" inbound links. Found in the "Configure My Site" dropdown, webmasters can use the disavow links feature to add urls, subdirectories, or domains that link to them that they do not want to be associated with.
Disavowing the link could be useful in several ways. For example, suppose you have committed spammy link-building practices in the past — this is a way to say to Bing, "Hey I've changed, baby – I don't want anything to do with those bought links anymore." Maybe, you're trying to clean up someone else's mess after they built a ton of unnatural links. Or, if you're a victim of a negative SEO attack where someone has pointed tons of shady links at you in an attempt to get your link profile and site red flagged, the disavow feature may finally provide you a way to at least attempt to partially negate. While it is not clear exactly how much shady links can negatively affect rankings on Bing, I for one think the evidence shows that Bing does penalize for egregious link-spam. It is not clear how much the disavow feature would help, but if you're trying to fight the effects of shady links, it's worth trying this feature—it's quick and does not take much effort. At the very least, it's comforting to know a disavow links feature is available.
The disavow feature is the latest recent example of Bing Webmaster Tool's stance to ally with the SEO world. My stance is that webmasters and SEOs would be foolish not to take advantage of these free tools.