E-BOOK: Getting Started With Google Analytics Custom Alerts
Although lots of folks aren't out there leveraging Custom Alerts as well as they should be (and if you think you are, take a gander at Sayf Sharif's excellent list of 55+ Custom Alerts and enjoy the "of course!" feeling of your palm hitting forehead).  However, still other folks have NO IDEA where to begin with Custom Alerts, or what value they might hold.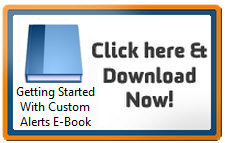 Well, we're happy to provide that audience segment with a short e-book to get them started. Titled simply "Getting Started with Google Custom Alerts", it's available for download in our Resources section, here. For some of you this might seem familiar – that's because this e-book is just one example of the pieces of subscriber-exclusive content we send out every month as part of the LunaMetrics newsletter. What newsletter, you might be saying – I'm glad you asked. You can sign-up anytime you're ready with the subscription form on the right-hand side of the site.
What questions do you have about custom alerts? Let us know in the comments below!