My Fifteen Minute Weekly SEO Health Check
Every Monday, I run through a checklist for each of my SEO clients. The goal is to discover issues that don't warrant same-day response time, but should still be addressed in a timely manner. There's slight variations from client to client, and I sometimes use paid tools, but below is the basic template, featuring my 3 favorite free SEO tools: Google Webmaster Tools, Bing Webmaster Tools, and Google Analytics.
SEO Health Checklist

Google Webmaster Tools: Check Crawl Errors, Index Status, and Messages.
Bing Webmaster Tools: Check Site Activity Screen, Crawl Information, and SEO Reports.
Google Analytics Reports: Review Keywords, Landing Pages, Sources, and total SEO traffic.
Google Analytics Alerts: Review Custom Alerts and Automatic Alerts. Review other reports as needed.
A disclaimer: This checklist is best used in proper scope in conjunction with other intelligence-gathering methods. Other recommended methods include: Google Custom Alerts, Webmaster Tools notifications, and Daily peaks at Google Analytics Dashboard.
The main purpose of this checklist is to fill as much remaining insight as possible in fifteen minutes. It helps me catch SEO problems and opportunities earlier, and informs me on how I need to adjust weekly SEO workflow. It really makes my job easier.
It might take a bit of time to set things up and get used to finding everything, but once you have it down, and you know what your metrics should look like, you'll soon be gettin' her down to 10-15 minutes on average.
Below are details on each step.
1. Google Webmaster Tools
I've said it before, but if you're not using Google Webmaster Tools (and many don't), you need to start. If you're unfamiliar with how you can use GWT for SEO, here are some tips (including 404s).
Crawl Errors
GWT will send you a message if you if it has severe issues accessing your site, but I like to keep tabs on all crawl errors. Below is the Crawl Error screen.


You'll want to look for increases in any type of error, and see if the error represents a real concern to user-experience or SEO. If so, try to diagnose right then and there. Very recently, when a client took down several moderately trafficked pages and neglected to redirect them, this enabled us to catch it and redirect users and link juice from the 404 pages to better pages.
Index Status
Index bloat is one of the most common problems SEOs deal with. When Google has way more pages indexed then deserve to be organic landing pages, the consequent dissipation of link juice and constrained crawl budget can have a significant impact on SEO traffic. The converse of index bloat, when pages that should be indexed are not, is an equally important problem. There's no shortage of horror stories of a site's organic traffic dying because indexation was blocked via misuse of robots.txt, Meta robots, rel=canonical, nofollow attribute, etc… Often, when these indexing issues are in their early stages, the impact on traffic is not yet apparent.
Check the Advanced Index Status report and examine total pages indexed, the number of pages removed, the number of pages blocked by robots, and the number of pages ever crawled. (I like to run the "ever crawled" separately since it often dwarfs the other numbers and makes their movement harder to visualize.)

If any numbers move in a way you didn't expect, investigate immediately.
Messages
Google will sent notifications for many issues including, but not limited to: problems accessing the site, increases in server errors, increases in not found errors, increases in soft 404s, unnatural link warnings, malware alerts, and more. If you haven't already enabled GWT message forwarding, make sure you do so (here's how). I like to double-check and review all messages during the health check, just to make sure nothing important has fallen through the cracks.
2. Bing Webmaster Tools
Bing Webmaster Tools might be the best free SEO tool you've never heard of. If you're like most, and haven't used BWT, read this.
Site Activity Screen
Just as we monitor indexation in Google, we'll want to do the same for Bing. Bing's indexation practices differ quite a bit from Google, and – given the Bing powers Yahoo and thus powers around 26% of searches – you definitely want to keep an eye on Bing's index.
When you're in the BWT dashboard, click the "See Reports & Data Graph" link, which is at the bottom of the first section, titled "Site Activity." This will bring you the "Site Activity Screen", screenshot below:

Increases in Crawl Errors and unexpected increases or drops in Pages Indexed are worth further investigation.
Crawl Information
It can also be a little helpful to see dig further into Bing's crawl and see the crawl error breakdown, to see if there is anything you didn't know about.
SEO Reports
This is my favorite feature of Bing Webmaster Tools, and will give you the breakdown on your compliance with on-page optimization best practices, including keyword optimization issues with title tags, Meta descriptions, alt text, and header tags.
I like to take a screenshot of the SEO report once a month (which I do during my monthly SEO deep dives), and then I'll just compare the numbers from the weekly check-up with the numbers from that screenshot. If I see any substantial increases in error counts or anything unexpected, then I'll investigate further – otherwise I'm moving on.
3. Google Analytics Reports
If you're reading this blog, chances are you're familiar with examining traffic counts, conversions, engagement, keywords, landing pages, and sources. I like to use custom reports to get the metrics I need readily available on the reports, and to have my advanced segments for organic non-branded traffic applied on the keywords and landing pages reports. This way, I have less reports I need to look at.

I also like to pull the reports for the last week as well as the last month, so I can compare week to month to see if anything has changed. Having two monitors helps.
Keywords
I quickly compare this weeks' keyword report against last months, sorted by unique visitors, goal completions, and/or revenue. Obviously, comparing the visit and conversion counts isn't useful, since we're not dealing with apples to apples. Instead, I'm just seeing if the main keyword mix has changed by looking for changes in position. For example, if the number one keyword drops to out of the top ten, maybe someone changed the page title or other content without me knowing (it's happened). If a new keyword jumps to the top, and it has nice engagement/conversions, I'll want to see why, so I can keep it there.

vs.
Landing Pages
For landing pages, I'm pretty much doing the same thing by comparing this weeks' mix of top landing pages to last month's. If a good landing page drops in proportion of SEO traffic earned, then I'll investigate to see if there's anything I should do to help it recover like adding internal links to the page, winning some backlinks, or adjusting content. If a landing page suddenly starts drawing visitors, then I want to make sure we're doing the most we can with that new traffic.
Source/Medium
I also find it helpful to see if the traffic source mix has changed. There's a slew of potential SEO problems or opportunities this could tip off. For example, a drop in Bing and Yahoo Traffic could indicate fixable Bing-specific problems. A sudden increase in Bing Traffic could actually mean Bing/Yahoo ads traffic is mis-tagged.
Other traffic sources impact organic traffic as well. A spike in traffic from a referral site could mean a popular article features your site – you might want to find the author, thank them, and begin a fruitful relationship. Maybe you see a spike in social traffic because some content is getting some buzz – you might want to increase efforts to amplify that buzz. A big drop in advertising visitors might result in less backlinks earned, so you might need to compensate. Good SEOs pay attention to more than just Google organic traffic.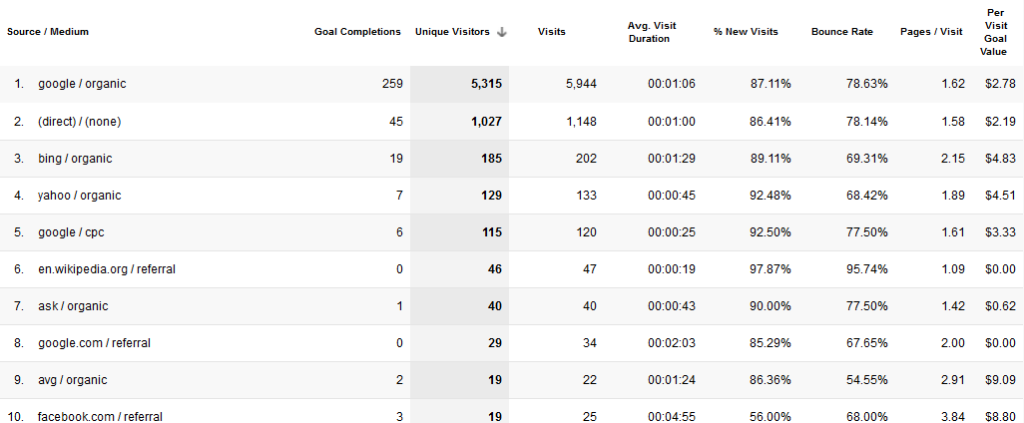 Other
There's a few other SEO-related things you might want to regularly check in GA, depending on your preferences and site specifics. Below are a few ideas:
Metro areas or Cities, if your concerned with location-influenced SEO traffic.
Regions, if your site gets valuable international traffic.
Product performance, for e-commerce sites.
Important custom segments like your best regions, keyword groups, or product families.
4. Google Analytics Alerts
The last thing to review are alerts, which catch a lot of hard-to-find issues.
Custom Alerts
Custom Alerts are notifications that data behaves in a certain way that you define. Few people have time to constantly look at all the important data in Google Analytics, so it's good to have Custom Alerts let you know when there's something you need to check out.

If you're new to Custom Alerts, below are some resources:
For instructions on setting up Custom Alerts, check out our e-book.
Sayf has an excellent post on important Custom Alerts in multiple categories that most websites should have.
I wrote something on Custom Alerts for SEO specifically.
While Custom Alerts can send you emails or text alerts on issues, I still review them weekly for 3 reasons.
I set a few weekly alerts to catch trends on metrics too volatile to monitor daily. These reports come in on Mondays. One of best reasons to the weekly check-up on Mondays is to be able to review weekly alerts at the same time.
I set daily alerts on some non-emergency issues that I can't always deal with same-day, but provide great historical insight. I review them weekly to see if they mean anything.
It's good to review the custom alert screen periodically to make sure you didn't miss anything important, and to see if individual daily alerts aren't part of a bigger trend.
Automatic Alerts
You can't catch everything all the time. Automatic Alerts can help you discover issues you didn't think to check on. I like to take a quick peak a week.

Almost there…
The second to last thing to do before closing out all the tabs is to ask if there's anything else worth looking into, and check around as needed.
The last thing is to take a sigh of relief knowing you've got a handle on the SEO issues this week.
—And that's it. I hope this checklist helps you. Let me know if you have any questions, and feel free to share any tips on how you monitor your own SEO endeavors.