How To Find The Right SEO Training Course
Interest in SEO training has soared over the past five years as optimizing for search climbs from the Desired Skills section to Required across marketing job boards. Dan Wilkerson recently created a graph on Indeed.com that illustrates employer demand for SEO and social media.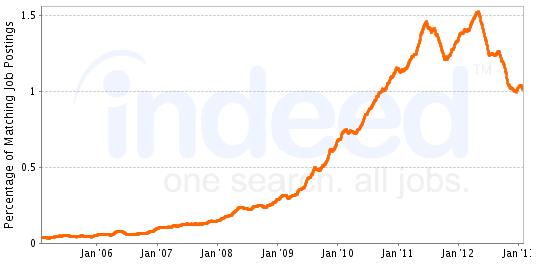 The marketing generalist is alive and well, but tool kits are expanding. Marketers must be able to drive traffic to websites and they need SEO to do it.
Enter SEO training. It's a bridge that must be crossed so the only things left to consider are where to study, what to study and from whom to study.
Where to Study: Online Training or In Person
The choice between online or in-person training depends on preferred learning style. In-person SEO training is best for people who desire a more interactive experience or dedicated time to study. Like learning a language, it can be easier to make time and focus with someone sitting across from you.
Sometimes flexibility is more important. Online training might be best for someone who needs to understand SEO by next week or has to contend with a busy schedule. Here is a list of options for online training. It's a bit outdated so you might also look into SEO Book and Distilled U.
What to Study: What is SEO 101?
The goal of any SEO training should be to walk away with the resources to optimize a small- to mid-sized website for search and craft a basic strategy for audience expansion. For the optimization side, find a course that answers these questions.
How do search engines crawl and rank websites?
What is keyword research?
What are the free research tools and how are they used?
Where should keywords be placed on a website?
How do links influence SEO?
How does a website's architecture influence SEO?
Optimizing a website to play nicely with search engines is the first and most important role of any (aspiring) SEO professional. But that's just the beginning. After completing your training, you should also be able to expand the reach of your website and brand. For that responsibility, the course should answer these questions.
What is link building?
What are the free link building tools and how are they used?
What is internal linking and link bait?
What is a content strategy?
How do social media influence SEO?
Training that addresses these issues should provide a solid foundation in SEO. Even the basics from a 101 course can take a website from nothing to something, which is a larger step than it might seem. It is amazing what optimized meta data and a few technical corrections can achieve.
From Whom to Study: Finding the Right Educator
There are lots of SEO coaches out there and finding the right one might be the hardest part of the process. For better or worse, there is not one method for SEO. Sure, most people approach the basics similarly, but everyone has their own processes and priorities. Aside from the obvious, like price and proximity, it is always a good idea to look at reputation. Here are some final questions to ask.
Is the trainer experienced?
Does the trainer have a reputable client list?
Does the course provide theory and hands-on practice?
Don't be afraid to ask the questions. All of them. You are investing in your career and need to find the best possible match. If you think that in-person training is the right choice for you, visit the training section of our website and find the right course for you.