Three AdWords Features To Test & Try In Q1
It seems like just yesterday I was writing about my favorite and most earth-shattering AdWords changes of 2013. Now, we are more than halfway through January (where does the time go!?) and it's time to think about your AdWords goals, or evaluate the new things that you've tested this year, if you haven't already.
Originally, I started writing this article about features to try in 2014, but then immediately thought, "Alyssa – you know that there probably be thousands of changes in 2014." Thus, the title of this blog changed from "features to test & try in 2014" to "features to test & try in Q1." Ready, set, go!
#1: Copy & Paste Functionality (and another nifty button that I found)
In case you haven't noticed, AdWords has rolled out more and more opportunities to perform bulk edits in the UI. I've tried a handful and have to admit that these new features caused a decline in my use of AdWords Editor. While I have a hard time believing that AdWords Editor will get phased out given the offline ability, I'm curious if there are any statistics out there that show a decline in usage overtime. I digress – let's get back to copying and pasting!
Do you want to create a duplicate campaign to change Match Type or test different geo-targeting? Now, you can do a simple copy & paste right within the AdWords UI. FYI this feature is available at all levels: Campaign, Ad Group, Ad and Keyword.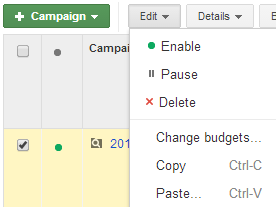 Select your Campaign (or whichever account element you want to copy & paste) and either:
Use the "Edit" dropdown -OR-
Ctrl-C & Ctrl-V
Viola! You've just duplicated a (insert account element here) to the account. Pretty easy, right? Additionally, this morning I came across a button that seems pretty new to me. First, click on "All online campaigns" and then move your way over to the "Settings" tab. Anything look new?
Oh hello there, "Copy locations to…" button – you seem new to the game. One of my biggest gripes is copying & pasting location settings in AdWords Editor – now I can do this within the UI? Fantastic. I highly recommend all of these copy & paste features if you haven't tested them already, as they are huge time savers. Anything else that you'd recommend that I haven't mentioned? Please share your thoughts!
#2: Increase your Exact Match Impression Share
If you haven't evaluated how much Exact Match Impression Share your account captures, devote some time to understanding where you may have missed opportunities. Why is it so important to capture as high of a percentage of this traffic as possible? Well, it's likely cheaper than other match types, yields a stronger CTR, converts more often and at a cheaper cost. To analyze impression share (for all campaigns) click on the following:
Campaigns tab > Columns > Customize Columns > Competitive Metrics
Then add "Search Impr. share" and "Search Exact match IS" to your view. I'd recommend saving this view because these are metrics worth evaluating at least once a week. It's difficult to give a solid benchmark to work with as each account is so different, but if your campaigns have less than 50% Exact match IS, they definitely deserve some attention. To increase your Exact match IS, consider performing any of the following:
Breaking out match type into separate campaigns (i.e. all exact match keywords in one campaign and all phrase or modified broad in another). This is a surefire way to increase Impression Share (and likely Quality Score and CTR, as well)
If you can't (or don't want to) break out campaigns, pull historical data to see which keywords rack up a lot of impressions and few clicks, or spend a significant amount of budget without converting. Don't be afraid to pause. You can always resume these keywords in the future.
Pull a Search Term Report and implement more negatives to increase relevancy
I recently inherited an account that needed some AdWords love. Campaigns aren't broken out by match type (yet), so I made a few tweaks using the steps above. Since taking over in January, overall Exact Match IS increased from 35.8% to 74.3%. Budget also increased, which helped to improve IS, but this, coupled with the recommended changes from above led to more relevant ads serving to searchers.
#3: Test a New Ad Extension
Ad Extensions are the best way to enhance PPC ads, improve performance and give searchers even more reasons as to why they should click through from a text ad to your website. This quarter, try something that you haven't tested with Ad Extensions. Looking for ideas? Here's a few:
Extended Sitelinks: Have you tested this feature? It allows you to add an additional 70 characters of ad text to your sitelink. As one of my coworkers coined, "It's like an ad, within an ad." We've implemented this acrosss a few accounts and the CTR improvements are in the double-digit percent increase.
Call Extensions: Does your business place importance on phone calls? If so, and you haven't implemented Call Extensions, then you are missing out! Google gives you the option to serve a Google-provided phone number that forwards to your business (which gives you access to more reporting) or you can serve your business number. One of my favorite features of Call Extensions is that they can be scheduled, eliminating any worries about potential customers calling when nobody is available to answer the phone.
Review Extensions: AdWords announced the Review Extensions beta in June, and a few months later (October, to be exact) Review Extensions were rolled out for all to use. First – I'm pretty surprised at how quickly an Ad Extensions went from beta to the general public. That aside, this extension provides advertisers with the opportunity to show others that their business is highly regarded. You can either paraphrase from a source or pull an exact quote. Check it out:
There you have it! Hopefully this gives you a few ideas of things that you can try to expand your Paid Search knowledge and improve your account in Q1. Has anybody else tried some new features or revisited older ones and seen success? Let's hear what you have to say…