Prep Your PPC For The Holidays
It's that time of year again. We're only a few short weeks away from the official start of the holiday season. Are your PPC accounts prepared? Check out these quick tips to jumpstart your online sales to this quarter.
Start Working on PPC Campaigns Right Now
Consider this fair warning. Sadly, if you haven't begun planning for 2014 you're already a step behind the game. Start putting together some killer promos that are sure to give the competition a run for their money. The sooner your promotions and special offers for the holiday are set in stone, the sooner you'll be able to get to work developing a PPC campaign strategy to match.
The concept of "Black Friday" or "Cyber Monday" has transformed over time for holiday shoppers. What was once a one-day extravaganza has become a month-long endeavor. Customers are starting to research and shop earlier and earlier. Be prepared and visible right out of the gates. So, get to work right now!
Develop a Mobile PPC Strategy & Invest
The 2013 holiday season was a huge one for mobile shopping. Cross-device "window shopping" is expected to grow to new highs this year. Do you have a mobile strategy in place?
Make sure to invest time and money in the mobile AdWords tools to maximize your potential this season. Mobile reach will be more important than ever this year, so think about putting these tools to use this season to maximize the potential of your holiday PPC campaigns:
Set mobile bid adjustments to target the most valuable ad positions on mobile devices.
Use mobile ad & sitelink preference settings to customize your advertising experience for mobile users.
Optimize your landing environment for mobile use and create mobile-specific content with user experience in mind.
Leverage phone calls and call tracking tools like call extensions and website call conversions to enhance usability and generate more leads.
Take advantage of app promotion tools where applicable.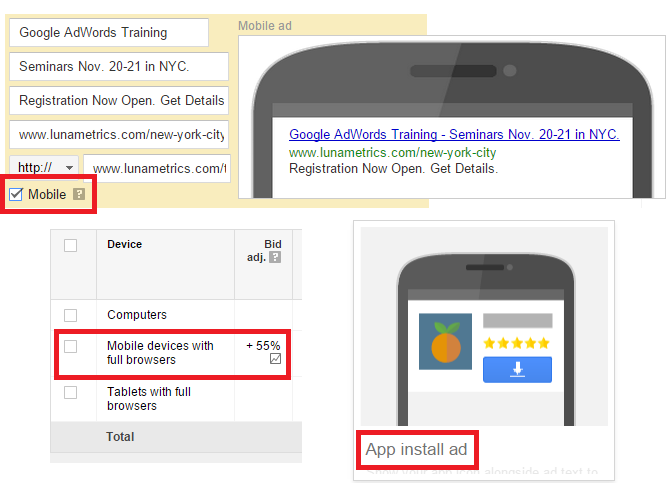 Leverage Ad Extensions & Copy to Stand Out
Every other advertiser in the world will be vying for the same customers. This is where you really need to step your game up. A targeted message with just the right offer will make or break your campaigns this year. Evaluate and update your current ad copy or ad extensions with these points in mind:
Boast about biggest benefits and make customers take notice.
Be competitive with your offers to stand out in the crowded search listings.
Show a variety of offers using sitelinks to get ALL of your best deals in front of the user.
Use callout and review extensions to dominate the SERPs
Take advantage of location extensions to drive in-store conversions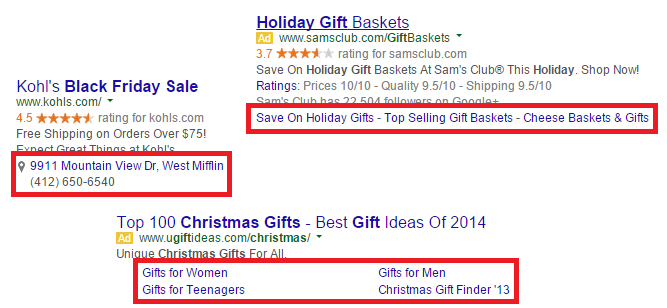 Maximize Your Impression Share for Full Reach
Probably one of the most under-appreciated metrics in an AdWords account is impression share. Review your impression share metrics to ensure that you are maximizing your ad reach. You want to make sure that your ads are displaying when potential customers are looking, so be aware of budgeting or ranking issues to optimize for your best performing keywords right now.
Include Relevant Keyword Modifiers
Finally, review your keyword list. Make sure that you are targeting relevant queries that include key phrases like gift ideas, wish list and black friday deals.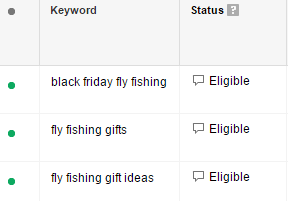 The logic is clear: someone searches for a holiday-related deal, and you provide them with a hyper-relevant offer. Make sure you check your PPC account for these types of keywords to provide the best message at the best time.
—
Now you're all set to watch the dollars come pouring in this holiday season, right? I thought so. As always, leave any feedback in the comments below. Happy optimizing!