Stay On Schedule With AdWords Management Calendar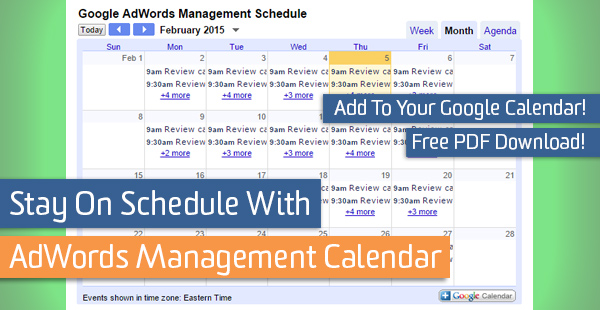 Optimizing and managing an AdWords account takes a lot of time. There are a lot of moving pieces in the AdWords puzzle and getting them to work together as a well-oiled machine takes regular maintenance.
In fact, one of the most common questions we get in AdWords training is, "how often should I perform certain tasks in my account?" Which is always quickly followed with, "what should those tasks be?"
Don't fret! We're going to help you prioritize your day-to-day management and get you on the right track fast by breaking down the bare necessities and providing you with an AdWords management calendar.
Use our AdWords management resources: Jump to Calendar Now
Daily AdWords Management Tasks
Review campaign budgets
Review your account-level spend and individual campaign budgets. Check to ensure that you are pacing currently for your given quarterly/annual budget and look for areas of optimization.
Review top performing keywords
You should take the time to label your top performing keywords. These will be the ones that most regularly meet your KPIs, so it's a good idea to keep a close watch on these to guarantee that you are receiving adequate impression share, traffic, and conversions.
Do you notice any swings in performance? Take action!
Check average positions & CPCs
Take a look at where your ads are serving in search results and at what CPCs. You should ensure that you are being competitive enough and at the right price per click on a daily basis to stay a step ahead of the competition.
If you notice declining positions, then take action so long as the new bid is one that you are comfortable with.
Take a few minutes to learn
One of the most important tasks that an AdWords account manager can do is simply keep themselves educated about the latest trends, features and tools available in today's marketing sphere.
Research more strategies and tactics that can be useful in managing your account. Read cases studies from companies similar to yours.
You're already on our blog, so it looks like you're well on your way to success. Check out the Inside AdWords blog, too. This is where Google makes all of its official AdWords product announcements.
Weekly AdWords Management Tasks
Conversion analysis
Take a look at a week-over-week or year-over-year conversion comparison. Are you on pace or are there changes in performance that require a deeper dive into the data? Make edits when applicable or begin to ask other questions about what may have caused performance changes.
Impression share analysis
Take a look at your impression share at a campaign level. Are your ads displaying every time they are eligible or do you have budgetary or ad rank-related restrictions? You can't drive conversions without garnering impressions first, so remember to take a look at the reach of your ads frequently.
Conduct competitive analysis with auction insights
Staying one step ahead of your competitors is instrumental in achieving your goals. Use the built-in features provided by AdWords to gain insight into your competitor's activity.
View the Auction insights report to see how your ads stack up. Is there one competitor that tends to outrank you every time? Are there competitors that you wouldn't expect to see in this report? Use these insights and evaluate your keywords.
Deduplicate keywords
It's important that your account is organized correctly to maximize performance. Duplicate keywords across campaigns with similar targeting can cause unwanted conflicts with how your ads serve.
Take a few minutes to identify these areas of concern using the built-in duplicate keywords tools in AdWords Editor.
Bi-Weekly AdWords Management Tasks
Keyword match type cleanup
This starts by reviewing your keywords, then running a search term report. Do you see a lot of your broad match keywords being triggered for their exact match queries? If yes, this means you have some work to do in order to improve the structure of your account.
Start thinking of keywords as "targeted queries" and add those relevant search terms to your campaigns as exact match keywords. This is a simple and great way to boost the quality of your account.
Expand targeted keywords & refine campaigns
Let's continue to look at that search term report…
Keep your eyes peeled for new concepts and opportunities to refine your campaigns even further. It's important to stay on top of the language that your searchers use to find you, so take any concepts you might have found in the long-tail of search queries and run these through the Keyword Planner.
Also, take this as an opportunity to review how your keyword concepts are organized within an ad group. Do you see a lot of overlap between keywords at the search query level? Maybe it's time to restructure and breakout your ad groups into more thematic groupings to improve the relevancy of your ads.
Research new negative keywords & review funnels
Still looking at that same search term report…
Add new negative keywords to your campaigns and/or ad groups as you see them. The last thing you want is to spend precious ad dollars on irrelevant clicks. Also, take another look at how search query concepts overlap. Are there particular queries that should be triggered by a keyword located elsewhere in your account? Take this opportunity to create "negative keyword funnels" to ensure that you are serving the most appropriate ad at the most appropriate time.
Reporting on your tests
At this point, you'll have made a considerable amount of edits across your campaigns. It's time to take a few moments to compile a report and compare your changes versus the previous period. Always remember to review your performance following optimizations because you may need to backpedal on your previously made assertions.
Monthly AdWords Management Tasks
Ad copy testing
Always be testing and only make decisions based on significant data. Ad copy and landing page testing is one of the easiest ways to optimize for CTR, conversions and quality score.
Review the performance of your ads. Does one ad clearly outperform the others?
Pause your worse performing ad and write a new rendition. Remember to test only one part of your ad – the headline, the description, the call to action – in order to maintain control of the experiment.
Ad extension analysis & optimization
Just like ad copy testing, review and optimization of your ad extensions, like sitelinks, call extensions, callout extensions and more, can be an easy way to improve your campaign performance. Remember, ad extensions directly impact your ad rank.
If your ad extensions aren't contributing to positive performance you need to take action. Think about how you can improve your ad extensions. For example, you could improve your sitelinks by reviewing which pages on your site are typically interacted with on the path to conversion in addition to your landing page.
Review bid strategy & adjustments
Take a deeper look at your bidding strategies. It might be time to test performance and make the switch to ECPC or CPA bidding (given that you have enough conversions to do so). You might also choose to experiment with flexible bid strategies to add an element of automation.
Also take a look at the bid adjustments applied to your geographic targets, mobile targets, ad schedules, or audiences, if you're using these targeting methods. If you notice areas of poor performance apply a reduction to your bid adjustments or vice-versa for positive performance.
Reporting & analysis
Wait a day or two to collect all of the data. Now pull campaign performance from the previous month. Compare performance against the previous month and/or previous year. Look for areas of optimization, then dig into your campaigns in the UI to gain greater insight.
Ask yourself: Which campaigns outperformed the rest, and why? Where did campaigns suffer the most, and why?
Quarterly AdWords Management Tasks
Review mobile tactics
It's no secret that mobile traffic has grown significantly over the past several years, and there are no signs that it will be stopping any time soon.
Take a few moments to evaluate your AdWords account and your website. Does your site utilize adaptive design? Are you taking advantage of mobile bid adjustments in your account? Have you applied mobile preference ads and sitelinks?
There are a lot of opportunities on the mobile front, and you should regularly review and update your account and website accordingly.
Understand search funnels & MCFs
AdWords and paid search is just one part of your marketing equation. Don't forget that!
Remember to take a look at your search funnels reports in AdWords to gain a better understanding of how your keywords and campaigns work with one another. Then jump into Google Analytics Multi-Channel Funnel reports to gain a better understanding of how your paid search campaigns with your other marketing channels.
You may be surprised what you find out from viewing these reports. Maybe AdWords, more often than not, assists conversions from other sources. With information like this in hand, you might strategize your account differently.
Landing page optimization
Testing and optimizing your landing page is just as important as optimizing your AdWords account itself. The destination page is what ultimately transforms a searcher into a customer, so you should strive to make your conversion points as fluid and painless as possible.
Make sure your content supports the keywords you're targeting. Remove any unnecessary content and present only the information a user needs to make a decision. Test different page layouts and how they affect conversion rates.
Finally, remember that the experience of your landing page is one of the key factors in your overall quality score.
Quality score analysis
Quality score is important to understand in the sense that it reflects the overall quality of your ad experience. Don't harp on it, but review it regularly to see how the changes you have made over time affect your campaigns.
Consider prioritizing your keywords around this to find areas of improvement. If you have high CPCs, maybe it's due to poor quality keywords. How might CTR optimizations like match type additions or ad copy testing affect those quality scores? How might landing page improvements affect those lower than ideal qualities scores?
---
If you need some assistance getting all of these tasks organized – you're in luck! We've created a calendar linked below to help set you straight.
We've also created a free PDF download that you can use as a bookmark or tape to the side of your monitor!
Use our AdWords management resources:
What tasks do you do most often? Think about setting up a few automated rules to help out!