5 Reasons Your Clients Need The Google Analytics App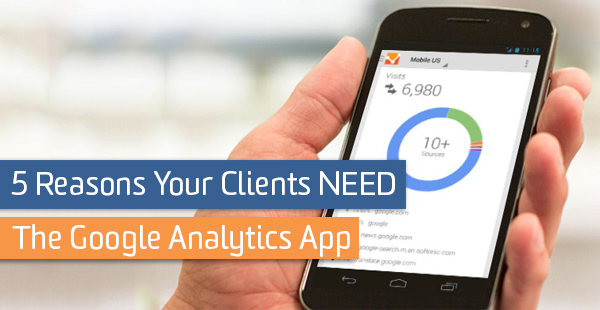 After 5 long happy years with my iPhone 4, I finally upgraded to an iPhone 6 last month. Getting my old phone to send a text message was hard enough, so I didn't even bother to download the Google Analytics (GA) app when it was released in 2014.
Well, it's a new year with a new device and I've finally downloaded the mind-blowing GA app.
The mobile app has only had 1.3 million lifetime downloads at the time of writing, despite the fact that there are over 10 million websites using Google Analytics. To put that into perspective, Candy Crush Saga has 97 million downloads, according to xyo.net.
I'm out to roundup all the stragglers who haven't downloaded the free app yet, and to get their clients using it too!
Download the Google Analytics App:
1. It's SO User-Friendly
As a search consultant, reporting is one of the most important things I do for my clients. It's been a challenge to get some of my clients to become comfortable with using the desktop version of Google Analytics. They either feel intimidated or don't have the time.
However, the simpler design of the app takes those issues out of the equation. Starting the app takes you to the overview screen where a default set of reports are displayed (Real-Time, Audience, Acquisition, Behavior, Conversions).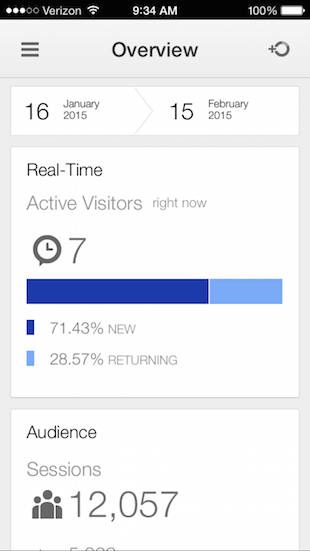 The app is designed in a way that makes the user feel comfortable exploring the data. If a report interests the user, he or she only has to tap on it to be taken a level deeper into the data! Once you're deep enough into a report, you can usually select a specific dimension or metric from a drop-down list. Reading reports has never been easier.
If you can get your clients to open the app and take a look at the default overview reports regularly, they'll benefit from having a big picture idea of how their site is performing. Once they get acquainted with the overview screen, it's inevitable that they'll start to explore.
2. It's a Great Learning Tool
When a user comes face to face with the desktop GA user interface for the first time, there can be a lot of feelings. Acquisition? Behavior? What does it all mean!?
The app's navigation only contains six options vs. the desktop version's eight choices, making the app feel easier to navigate.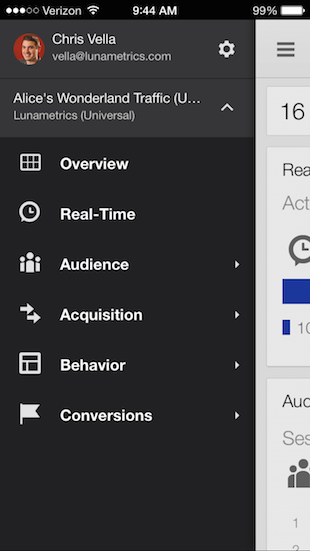 If your client is just starting to use GA, the simplicity of the app makes it a great learning tool when getting familiar with the basic reports, dimensions, and metrics that are commonly used in GA. When your client has terms commonly used in GA in their working vocabulary, it can make the consultant-client relationship much more effective through stronger communication.
3. It's Ready to Use Out of the Box
Assuming that you have already implemented Google Analytics tracking code on your web property or properties, using the app requires very little admin work once downloaded. You simply have to log in to your Google account, and data for all web properties that you have access to is available to view.

The user is not shown an empty shortcuts or preset dashboard screen, but rather an overview report summarizing activity for the selected date range. This eliminates the pressure on your client to customize the reporting interface, and makes them much more likely to take the first steps towards analyzing their data on a more regular basis.
4. It Has Unique & Attractive Data Visualizations
The GA app features data visualizations that either aren't shown by default or just aren't available in the desktop version. Having a variety of data visualizations is a valuable asset when analyzing web traffic, and the colorful and attractive unique reports in the app provides the user with exactly that. See below for some examples of what you'll find in the app.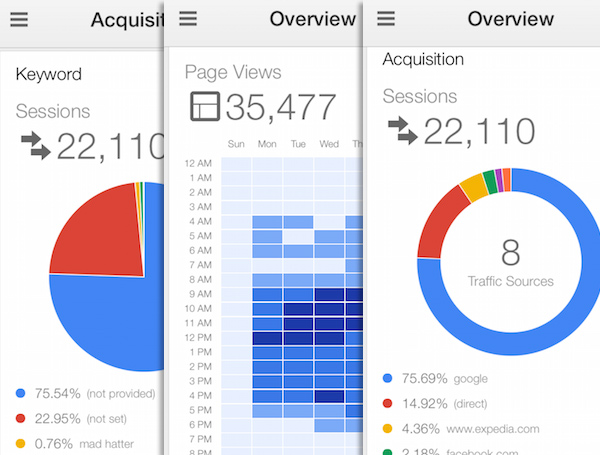 5. You Can Take Your Data With You
Without having the GA app, analyzing your web property's data is on the go is quite a to-do. First, the user has to log in to the desktop user interface either from a tablet or mobile device to access the data. If the user is on a mobile device, it can be difficult to manipulate data because the desktop version of GA doesn't translate well onto mobile devices' browsers – and don't forget about all of the pinching, zooming, panning, and scrolling that is required from the user to navigate the interface.
Already, accessing your data without the GA app is burdensome and makes analyzing your traffic on the go a tedious task. Below is what the desktop version of GA looks like when viewing from a mobile device.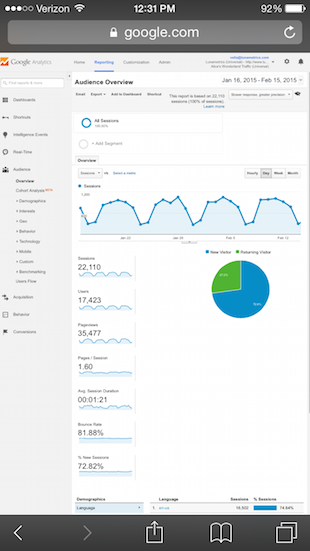 With the GA app, you can begin analyzing your data as quickly as you might read an email or text message. Simply open the app and away you go! This is great for commuters and anyone who is always on their phone in their free time. Have ten minutes to kill? Use it to check up on your conversions this month and take away an actionable insight to improve the conversion rate on your site.
If I've convinced you that it's time to get the GA app, click here to download the app. You'll be happy that you did!