3 AdWords Ad Extensions Every Account Needs (And 4 Business‑Specific Extensions Too!)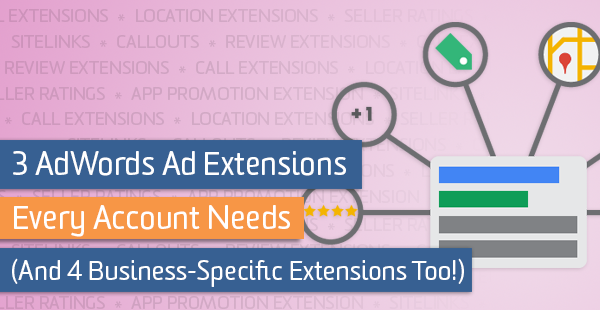 We now know that Google includes use of Ad Extensions when calculating your Quality Score at auction. Ad Extensions make your ad more likely to be clicked on, and expected clickthrough rate is one of the factors of Ad Rank (which informs Quality Score). Still with me?
In short: Ad Extensions help your ads perform better & can raise your Quality Score, so use them!
Because Ad Extensions are served algorithmically, you should use more than one and let Google choose which ones will show. You shouldn't worry about overlap as they each serve a unique purpose, which we'll discuss below.
Extensions for Every Account
The following should be in every AdWords account across the land. These will help drive clicks no matter what your marketing goal or business model. Expect an increase in CTR once extensions are enabled.
Sitelinks
Why You Need It: Google has claimed enabling sitelink ad extensions alone can boost your ad clickthrough rate (CTR) up to 30%, so let's start here. These let you provide additional doorways into your site without wasting precious character space in your original ad.
Example Usage: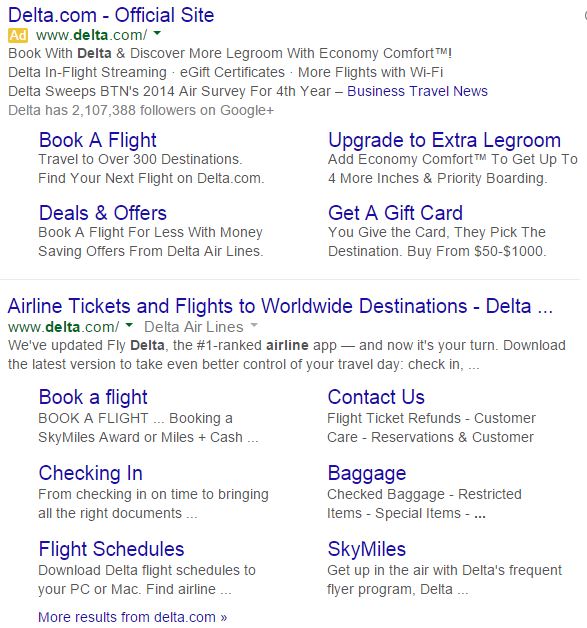 Strategy: In the example, Delta Airlines is taking advantage of Sitelinks for branded search.  The lower portion is Delta's normal Organic listing that Google displays. This includes pretty functional options like "Checking In."
The sitelinks contained in the AdWords ad unit tell a different story. These are promotional links written by marketers. You are in control of this space. Delta is offering customers the chance to "Upgrade to Extra Legroom", a terrific offer that a user might not have found otherwise.
Similarly, you can use sitelinks to provide promotional entrances into your site for branded search.
Callouts
Why You Need It: Displays basic, boring business or service info while freeing up valuable ad space. Callouts are 25 character (or less) bullets of brochure-style business data.
Example Usage:

Strategy: StoneTileDepot® did a pretty good job leveraging the Callout extension. They could have reclaimed even more precious ad character space by removing "Shipping in 24-Hrs" from their ad copy line, since they mention it in their Callout as well. Remember, Callouts are for plain-jane factual tidbits and your ad space is for the really convincing, creative copy.
Review Extensions
Why You Need It: Everything in a standard AdWords ad involves you telling potential customers why you're awesome. Review Extensions let a trusted third-party source endorse you! Every business has been written up in an online trade publication, a local paper or magazine. Use it to your advantage!
Example Usage: 

Strategy: GoPro knocked it out of the park with this one. They paraphrased a review from Techcrunch (a prominent gadget blog) that spoke highly of their 4K camera model and it really creates trust with the user. A click on the Techcrunch link would take a user to the review article where then can learn more.
Extensions for Local Businesses
In addition to the extensions above, take advantage of the following extensions that relate to your specific business model.
Call Extensions
Why You Need It: Provides a shortcut for mobile users to reach your business.
Example Usage: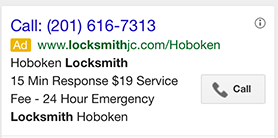 Strategy: Here's a locksmith taking full advantage above. This is a great way to entice a mobile user to act. This becomes extra powerful when combined with Call Tracking Metrics in AdWords.
Location Extensions
Why You Need It: Offer your customers directions to your closest location when they need them most. This requires your business to have a valid Google My Business account.
Example Usage:

Strategy: Effective at capturing mobile users by triggering a mobile map program for quick directions. The goal here is driving in-store visits and walk-in traffic.
Extensions for Retailers – Online and Offline
Don't have a physical location? No problem. These next few extensions can help business with or without storefronts.
Seller Ratings
Why You Need It: Let your customers know about your stellar track record.
Example Usage: 
Strategy: Stand out from the pack in crowded industries by demonstrating positive store ratings. Requires a number of criteria to be met. Build trust with new customers quickly by letting unbiased reviews do the convincing.
App Promotion Extension
Why You Need It: Driving shoppers to your app is a great way to stay in touch with them. If your app uses Push Notifications you can keep in touch with your customers as often as you'd like and incentivize them to shop via your app. Takes users directly to the relevant mobile app store (ios or Play).
Example Usage: 
Strategy: Focus these extensions towards branded search and existing customers to increase total number of app users.
---
If you've made it this far and thought "that was awesome, but it sure wasn't very cartoon-y", here's AdWords' quick video on ad extension usage: