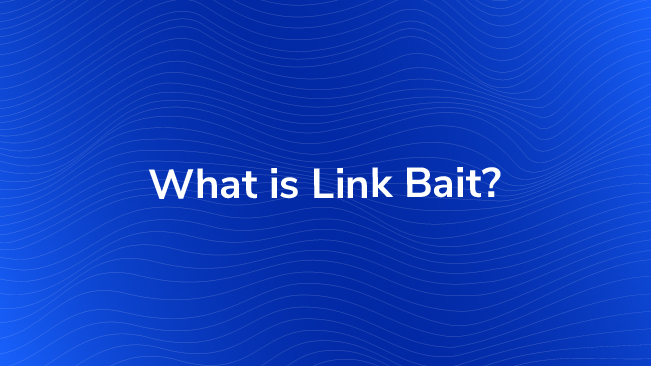 Link bait is content on your website that other sites link to because they want to, not because you ask them to.
Whether it's an evergreen blog post, a helpful eBook, or a viral video, the linkable asset comes in many forms. Let's take a look at the types and a few examples of link bait and discuss how proactive content marketing can help your website garner more links. Shall we?
DISCLAIMER: We've had this information published on our site for quite some time and it was due for an update. Although this is not a groundbreaking post, its significant impact on the success of your SEO strategy stands.
Types of Link Bait
Great content always serves as link bait. This is important to remember. When creating a blog post or revising copy on top-level pages, think about whether or not the content is link-worthy. Had you come across it in your daily perusal of the web, would you be likely to link to or share it with friends via social media?
Remember that while a social share doesn't carry the same weight as an anchored link, it does get your content in front of more eyes. After all, users can only link to your content if they've discovered it.
There is no sure-fire formula for creating great content that your visitors will see as linkable. For example you could spend hours writing a helpful and informative blog post, but acquire no links from it. Meanwhile, your competitor posted a picture of a cute cat that fetched 24 links in a day. Ultimately, link bait is an attention grabber.
The goal is to engage your audience so much so that they can't help but tell everyone about what they've just seen. This might be a unique insight on a hot topic, an attractive display of useful information, or just a video of a funny cat. The key is in knowing your audience.
Breaking news is the link bait of timeliness. When writing an article in reference to a particular event, product release, or software update, it's highly likely that you'll link to relevant news articles that support the information you're dictating. For instance, if we're covering the release of a new iPhone we'll seek out timely resources (and link to them) to provide users with additional material to reference. This sort of supportive linking happens all the time. Essentially, if you are the source or purveyor of timely content chances are that you'll get links!
Social sharing plays an important role when creating timely content to gain links. It's rare for a popular event or topic to stay relevant, so getting your link bait in front of your audience while they still care is vital. The news cycle is fast and furious and the window of opportunity to engage users is brief. Getting involved in the conversation happening over trending topics on Twitter or Facebook is the most effective way to capture an audience.
Timeless content is lasting link bait. While timely content is in most cases ephemerally valuable, we're not going to be covering the release of the iPhone 6 years down the road. Timeless content, or evergreen content, has lasting value. Whether it's a piece that's timeless in nature like an eBook on the fundamentals of Regular Expressions, or something that's frequently updated like Moz's search algorithm update history, always-relevant content is always link-worthy.
During the brainstorming phase of the creation of evergreen content, there are many qualifiers to consider before selecting an idea to pursue. Ask yourself these questions:
Are people searching for this? (Google AdWords Keyword Planner)
Is this a topic that is growing in popularity? (Google Trends)
How likely is it that this content will be obsolete in a year?
If this idea has already been materialized on the web, can I do it better?
Specific Examples of Linkable Assets
Widgets and gadgets make great link bait in that they provide a great deal of use and value to others on the web. There are countless examples of these sorts of things generating hundreds and of links in a relatively short span of time, and thousands in the long-run. Examples include:
Industry-specific calculators (e.g., a energy-efficiency calculator for home buyers)
Embeddable sidebar widgets (e.g., a feed of upcoming events in your industry)
Daily deals widgets (e.g., Groupon's embeddable deal widget for referrers)
There are countless others as well. Remember, simply creating a widget won't suffice. The challenge is to come up with something that provides real value to other websites' users. If the widget you create is only useful for your users, or worse yet not useful at all, you can't expect it to attract many embeds (links). Quality is key!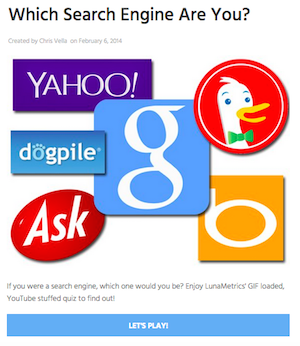 Quizzes and games are another great link baiting avenue to explore. While you have to be careful with your implementation, this is a strategy that can yield massive returns. One popular methodology (made infamous by the Oatmeal) is rewarding quiz takers with an embeddable "badge" that displays their quiz results and also links back to your website. Creativity goes a long way here. Given that this is a method that is largely played out, you'll have to consider different ways that you can add a unique twist. Originality is everything.
This is a fun quiz built with PlayBuzz for people in the industry to waste a little time on a Friday afternoon. It's targeted to a niche audience that will appreciate and enjoy the quiz, increasing the chances that they'll share the quiz and their results with their hyper-relevant network. Speaking of that, which search engine are you?
Images and infographics attract references and links from many industry publication links and social shares. Time and time again, we've seen that, for a visual learner, an image can be worth well over a thousand words.
While SEO for images is an animal in and of itself, utilizing your images and infographics to attract links is something that merits your concentration. It's quite easy to find a designer who can craft a good-looking infographic, or use an infographic tool like Piktochart to create your own. What's difficult is making that infographic truly unique and compelling. The infographic is all too often used to convey a message that might've been clearer if written. It is important that, before creating a visual, you consider whether or not the information in that visual is best presented graphically. If not, you probably don't have a good case for an infographic.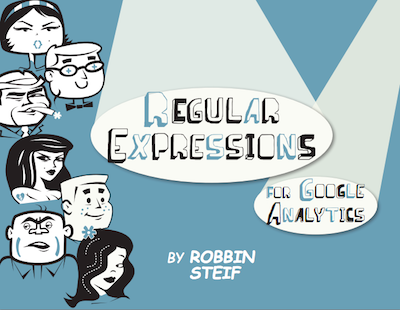 Whitepapers and eBooks, along with other downloadable resources, can make great link bait as well. In providing members of your industry with a valuable resource, you're also providing them with something that they're likely to share with their community. This is the definition of 'linkable asset.'
This is Robbin's (Owner and CEO of LunaMetrics) renowned Regular Expressions eBook, on which LunaMetrics built its brand many years ago. When your goal is to create content that will have lasting value, it's essential that ample time and effort are dedicated to the quality of the finished product.
Video content can also be an incredibly effective means through which to attract links. Think about how many times you've linked to or shared a YouTube video. The viral nature of this type of content is what makes it extremely valuable. While links to your YouTube video are valuable, links to your web page (with the same YouTube video embedded) are even more valuable. Always embed, and the links will come!
Contests, especially ones that feature user-generated content, provide users with great incentive to link to your page. Your audience is invested simply because they want to win. If the winner is chosen by accumulating votes, entrants are compelled to share and link to your contest's page. Never doubt the power of competition! If you have more than one winner, follow The Oatmeal's lead by creating badges that your winners can embed on their site, linking back to the contest results page.
Instating a branded scholarship, even if only worth $500, is an excellent contest idea. If you plan to award it annually, the scholarship also acts as evergreen content. The added bonus is that universities are always looking for scholarships to link to as a financial resource for their students. Generally speaking, sites on a ".edu" domain are highly trusted and their links are coveted.
Marketing Your Link Bait
You might be thinking, "Wait, link bait is all about obtaining natural links, right? Why do I need to think about marketing my linkable assets? Won't people just link to them?"
Sadly, the answer is no.
Marketing your link bait is essential to its success, in fact. Whether it's sharing your content via the appropriate channels, planting your links in the right message boards, or even creating a press release, the initial steps you take play a pivotal role in the discovery and rise of your content.
Think about your favorite viral YouTube videos or Internet memes. Would they have been such earth-shattering hits had they been simply published on an individual's blog or a semi-frequented message board and left dormant? Doubtful. The lesson is to put your best content will others will find it.
Often times, this might mean publishing to your own blog or website, and then sharing via other outlets – like Reddit, YouTube, Facebook, Twitter, Pinterest, etc. Ensure that your social post is as attractive as possible. Take advantage of preview images, twitter cards, GIFs, and other forms of media and social features. If your intent is to attract links, it is very important that the content exists on your website. However, the act of 'link baiting' doesn't preclude you from sharing! Why waste all that time creating something great if you can't even share it?
But remember, success begets success in link baiting. As you build an audience that anticipates great content, marketing your link bait gets much easier.
Putting It All Together
So, what is link bait? It's anything and everything that you create that garners links for your website. Remember, you're not necessarily creating awesome content to generate links. You're creating great content because that's what industry thought leaders do. If you're truly creating something great and marketing it effectively, the links will undoubtedly come. With great content comes great links – or something to that effect.
Want help creating content, marketing link bait, and managing your SEO efforts? Check out LunaMetrics SEO consulting services!