Putting The "Universal" In Analytics: Best Practices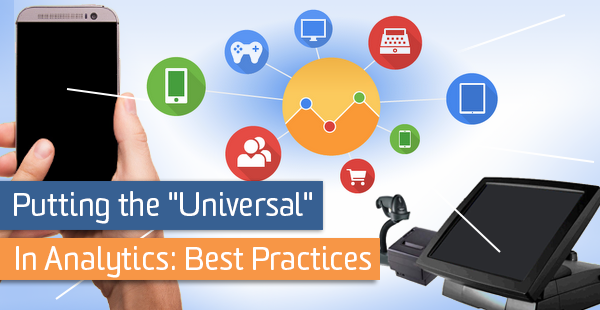 Google Analytics' newest generation, Universal Analytics, is so-named because it goes beyond just the web, opening up new possibilities to bring together measurements across customer interactions in many environments.
The overall drive is toward a more holistic and complete view of our audience, whether it's by rolling up data across sites, seeing behavior across devices and from web to mobile apps, or tracking non-web data using the Measurement Protocol for interactions such as offline transactions or email tracking.
All of this is great. But if there's one guiding principle we can recommend, it's this: In the quest to unify data, don't lose sight of the particulars. We still want to be able to answer simple, straightforward questions like "How many visitors came to our website?", and if we lump all of our data—web and non-web—together, that could become more challenging. It's important to think through the issues of how we want to incorporate this data into Google Analytics before we just jump in.
Account structures
How you divvy up and organize the data in your Google Analytics account is one of the most important choices about how you'll be able to use the data later. The exact details of how to structure your account(s), properties, and views in Google Analytics depend greatly on your organization, the number and types of websites you have, and how you need to deal with the data. For example, we'd take different approaches for each of these scenarios:
A single site example.com (Are there different departments or business lines? Do they control their own parts of the site and operate independently?)
Multiple brands or country sites like example.com, example.co.uk, and example.fr (Are the sites the same, just with localized content, or are they different? Are there different teams in each brand or country responsible for the sites, or is this function centralized in the organization?)
A software-as-a-service site with many similar sites all operating off a standard template (What are the needs for customer-specific data vs. platform-wide data?)
And that's just the web. Layer on top of that with mobile apps and other data via the Measurement Protocol, and these questions become critical. To whatever extent possible within the limitations that exist, we want to make sure there's a view in Google Analytics at the lowest reasonable level (for an individual site/app, or sometimes even a portion of a site).
A dedicated view allows us to easily use off-the-shelf reports in GA to answer questions for that site or app, without involving segments, custom reports, and other tools. Although those tools could also answer the questions we have, they require more expertise to use, are susceptible to sampling when large datasets are involved, and require the effort of recreating reports that essentially come for free if we have an appropriate view in GA.
Additionally, such a view gives us something comparable to our historic data: as we layer in new kinds of data (apps, offline, etc.), how do we make an apples-to-apples comparison for just the website? For instance, if we track our email opens and website visits into the same Google Analytics property, we'll see in an increase in sessions. This makes complete sense as our sessions now include both web sessions and email sessions.
For all of these reasons, a dedicated view is preferred.
From there, we can use properties (including roll-up properties) to create higher-level views across sites. This allows us to continue our quest to unify data, without losing sight of the basics.
Tools to help
Some of the useful tools in separating and consolidating data in Google Analytics you may find helpful in structuring your account and data in meaningful ways:
View filters: We can filter views by portions of the URL such as hostname or subdirectories, as well as the (recently added) ability to separate web and app data.
Segments and Custom Reports
APIs: Although this is certainly additional, custom work, the Google Analytics reporting APIs can pull together data across multiple accounts, properties, or views as well. This is especially useful for existing data that may predate a more proper account organization.