How To Keep Your Search Rankings And Stay Out Of Prison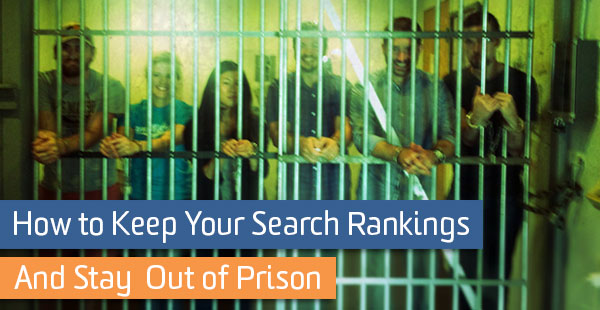 We all know that having well written, quality content for our websites and blogs is very important, not only for SEO, but for business in general. By doing so, we can increase our level of authority, traffic to our site and even sales.
But how far would you go to get that great content? Would you steal someone else's work?
I hope not, because someone worked hard to create whatever it is you want and, at the very least, you could owe that person a lot of money for civil damages. Your ranking in search results might decrease, too, and you don't want to deal with either of those problems. So, the safest way to proceed is to learn the copyright laws.
Before I get too far into this, let me provide a disclaimer: I am a search analyst and have experience with and have researched copyright laws. However, I am not a lawyer, so this isn't legal advice.
Now, let's cover the basics.
How does Copyright Work?
When someone constructs a creative work, that person automatically owns the rights to said work. That means the copyright holder has the right to:
produce it
distribute it
display it
perform it
derivative works (which is work based on or derived from existing work)
What Is Copyright Infringement?
Put simply, copyright infringement is using someone else's creative work without permission.
What Types of Work Are Protected by Copyright Laws?
Literary work
Musical work
Dramatic work
Visual work
Audio work
Architectural works
Computer software
That includes blog posts, websites, infographics, videos, sound bites, PowerPoints and anything else you might want to use to promote your business. So, if you've used any of the above, you might want to double check that you got permission.
Common Misconceptions About Copyright
There are many misconceptions regarding copyright, which is probably why the laws are frequently violated. Let's discuss them.
Misconception #1: You Have to Register Your Work to Prove Your Ownership
Explanation: Contrary to popular belief, you are not required to register your creative work to show ownership. When someone creates any of the creative works listed above, they automatically own the rights to said materials.
The only circumstance that requires registration is if you decide to take someone to court for copyright infringement.
Misconception #2: You Need a Copyright Symbol on Your Work
Explanation: False. The second you make any creative work, you own it. End of story.
Before 1988, copyright laws were different and if you didn't have the copyright symbol and creation date on your work, you were out of luck. Thankfully, today, the US recognizes that people work hard to construct creative materials and, in response, works hard to help us protect it.
Misconception #3: You Can Change Someone Else's Work to Make It Your Own
Explanation: Making small changes to someone else's work and calling it your own is risky because the work you just "created" is known as a derivative work and you don't exclusively own the copyright. You share it with the original creator. That means you still need permission to use what you've made.
What Happens If I Steal Content?
Copyright infringement is a federal offense and the copyright holder can sue you in federal court if you steal their work. It won't be pretty.
There are a number of penalties you can face:
Compensatory damages– It's hard to determine how much money the copyright holder could have made from a work of art, so the court might order you, the infringer, to turn over any profits to the creator.
Statutory damages– Federal law allows copyright holders to collection between $200-$150,000 per instance of infringement. (Wow!)
Criminal Charges– If the owner of the copyright has previously warned you that you're violating their copyright (via a cease and desist letter from a lawyer), you can be criminally charged and face five years in prison plus be required to pay a $500,000 fine.
Injunctions– The court will instruct you, the infringer, against committing additional acts of infringement
Seizures– Courts will take all illegal copies of the copyrighted work. This can occur with allegedly infringing work as well.
I don't know about you, but I'd rather spend a year writing a single, awesome article or creating my own perfect infographic than dealing with any of that.
Exceptions to Copyright
Now that I've scared the pants off of you, let me provide some relief. There are exceptions to every rule, and copyright is no different.
In some cases, you can use other people's work, but it has to meet one of the following criteria:
Facts
You can't copyright facts. That's why Google can use the knowledge graph to pull snippets, images and links from other websites and not get fined for copying their content. However, you should still give proper attribution via a link.
Work Licensed Under Creative Commons
The Creative Commons (CC) organization created a license that enables you to share, use, and build upon the work of others.
There are hundreds of millions of works that you can legally use including songs, videos, academic materials, paintings, etc., but you must abide by the copyright holder's terms ("All Rights Reserved" to "Some Rights Reserved"), which will be disclosed with each individual work along with how to properly attribute that person.
Click the image below to find work under the CC license.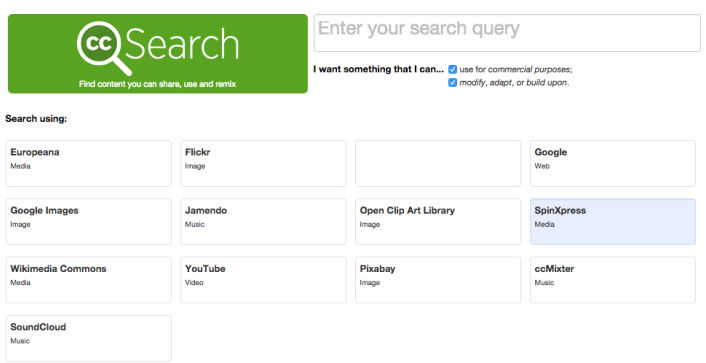 Creative Work Dedicated to the Public Domain
There's some work that doesn't have a copyright, so it's available to share, use and modify however you'd like.
Work with No "Rights Reserved"
There are people out there who create work just for you to legally build on, improve and reuse for any purposes without any copyright restriction. These people have chosen to dedicate their work to the Public Domain, which basically means they've forfeited any rights to said work.
Work with Expired Copyright
Some work has been dedicated to the public domain because the copyright has expired. These are very old materials like the works of Beethoven or Shakespeare.
Government Work
Any creative work made by the US government (and many other governments) is excluded from copyright law and is dedicated to the public domain.
Want to find work in the public domain? You can use the same tool used to find resources under the Creative Commons license.
Fair Use Work
Work falling under the Fair Use category consists of one of the following situations: to comment on, criticize, or parody someone else's work.
Beware of this one, though.
Millions of dollars have been spent in and out of court while people try to define what constitutes Fair Use. The creators wanted to keep the rules general as not to limit people's options. As a result, the rules are vague and hard to define.
Can I Use That?
Just to be safe, if you're ever unsure of whether something is available for use, you should always ask for permission. I know it's a pain in the butt to track down the creator, email them and wait for a response, but it's much better than spending five years in prison and paying upwards of $150,000 in fines.
Free Image Resources
You didn't think I'd write a whole blog post on why you can't use other people's work without giving you some legal, free resources, did you?
First, skim through Sean's blog post on free resources. He shares a ton of reputable websites for finding everything from artwork to pie charts to code. If you read through the comments, you can find some other goodies as well. You'll find the following:
Photography
Vectors
Data visualization

Presentation charts
Infographics makers
Image makers

Colors generators and converters
Web Fonts
Presentations
HTML and CSS generators
If you still want more, keep reading!
Some of My Favorite Free Image Resources
Make Your Own Images
Some people rule out image creation as an option, but digital tools have made it seriously easy to create your own. As much as I love Photoshop, you really don't need it to make a blog post image. Although, it's still my go-to software.
Snap your own image or use a relevant photo you may already have, like our image above from our recent company outing to Escape Room. Add text if needed, then go to print without any concerns!
Screen Shots
Sometimes the easiest way to show people what you're talking about is by taking a screenshot. You don't need some ambiguous image.
Gyazo – I highly recommend Gyazo screenshots. It not only takes the picture, but it stores it on the website, forever and ever. You'll never lose a screenshot again.
LICEcap – You can use LICEcap to transform screen shots into GIFs.
Snipping Tool or Grab – Most PCs and Macs come with built in screenshot software to help you grab an image. Editing the image is another story though!
Image Creators and Editors
Pic Monkey – As a former graphic designer, I'm on the fence about this one, but people seem to love it, so it's worth mentioning. Pic Monkey is similar to Cava in that you can create and edit imagery, but it is all template based. However, Pic Monkey gives you more editing options and incorporates Google Fonts. So, between the two, this one has my vote.
Gimp – If you really want to get into editing your own imagery, but Photoshop just isn't an option (I understand, it's expensive), then take a look at Gimp. This program is a free download that includes general tools that let you edit and enhance imagery.
Quick Images
Buffer's Pablo – I made the image above in about 30 seconds with Buffer's Pablo tool. So, if you're short on time, type a statement, statistic or fact and plop it into Pablo. Pick one of their images or upload your own, pick a layout, size and font and you're finished.
Fotor – Fotor is a great collage maker. You can upload images from your desktop, Facebook, Flickr, Dropbox or from any URL on the web (be careful with that!) and organize them neatly into a ready-made collage template. You can also create your own templates, if you're feeling artsy! Did I mention they have an app, too?