Ways To Incentivize Website Log Ins For More User ID Data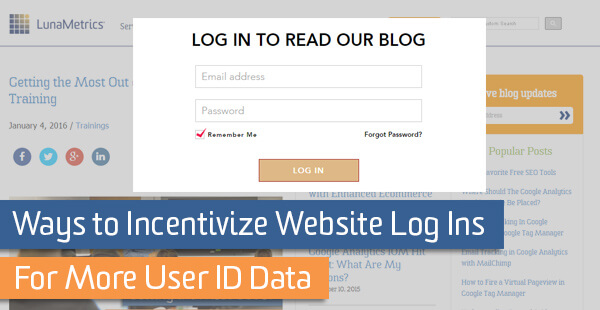 I'm sure you've all visited a website where you're instantly bombarded with "Log In Now!" popups, perhaps even before you've had time to assess whether the site will provide you with any value. Maybe you've already logged in previously, but you couldn't see any benefits – why log in ever again? Unfortunately, many websites poorly incentivize the login process for users, which means a major missed opportunity for deeper analytics insight based on User ID.
As Amanda discussed previously, the User ID feature in Google Analytics provides more accurate measurement of user behavior. Enabling User ID provides you with the ability to tie sessions together as users migrate across devices, allowing for more targeted conversion attribution and segmentation. In addition, a User ID view also provides unique user reports within the Google Analytics interface.
Not every site can or should ask users to log in. For instance, you wouldn't log in to a site that you only ever visit once in your life. But for sites that have a steady stream of return visitors, asking someone to log in would allow tying different devices back to the same user. If you're interested in truly capturing user-level information, consider your website login process part of your strategy and leverage it to gain better insight into your loyal users.
Get your users to log in by considering what features and promotions incentivize you to take the extra step and consistently log in to your favorite websites. Using the right popups, promotions or calls-to-action will encourage your users to log in immediately, every time, from all of their devices.
These are just a few examples – there are many sites out there using unique ways to get visitors to want to log in!
Zero Access without Login
Some sites don't allow visitors to access any content without logging in. While this method definitely provides more accurate user data across devices, it also can deter some people from signing up. Typically, sites with very valuable content, exclusive sales or high-demand products can effectively use this model. For instance, several "flash sale" sites require users to log in before they can view any of the available items.
Both Zulily and RueLaLa completely block users from viewing any content until they log in. However, they make it easier and quicker by offering multiple ways for users to sign in with either their email or social media accounts.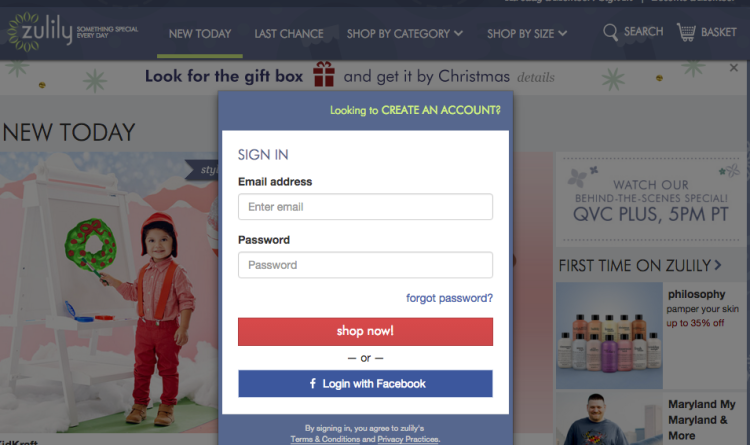 Gilt is a similar type of site, but instead of immediately blocking users from viewing any content with a popup, they use a less restrictive banner along the bottom of the page. Users can still scroll through the available sales on the homepage, but will see a popup if they try to click through to any of them. This allows existing users to decide whether they want to log in to view a specific sale, which may actually encourage more logins from users with an intent to purchase.
Exclusive or Personalized Content with Login
There are many websites that don't restrict access to all content, but provide higher-value incentives for logged-in users, such as access to additional sections of content or interactive features. For instance, they may give users the ability to save products, collect points, set up auto-shipments or view exclusive articles/videos.
This model extends beyond the retail examples and can also apply to content or news sites.
Sephora's Beauty Insider program allows logged-in users to leave reviews, get personalized recommendations, "love" products, collect points that be can exchanged for free gifts and track orders. In addition to featuring a link to the Beauty Insider program at the top of each page, they also encourage new users to sign up by featuring promotional specials and promotions that are exclusive to program members.
Similar to Sephora, The North Face incentivizes users to log in every time by providing additional benefits and rewards. Users are asked to log in to save favorites to a wishlist, and can also enroll in the VIPeak Rewards program, which allows points to be collected for purchases and social media engagement.
In the financial industry, iShares provides exclusive content and tools for users who log in (note the use of the lock icon to differentiate login-only content). When website visitors click on the gated content, they're taken to a login/registration page. Different types of content can be accessed depending on what type of login the user creates, allowing for further segmentation of logged-in users and their actions.
Connect with Friends
Social media sites typically require that users log in if they want to engage with other people. Since most of us are constantly using social media to connect with friends, relatives or coworkers, sites like Facebook and Instagram are excellent examples of how logged-in user data can be combined from sessions on work and home computers, as well as on mobile devices.
Quora is another site that allows logged-in users to engage with others by providing answers to publicly-asked questions. When logged in, users can also view additional content and personalize their topics of interest.
Faster, Easier Ordering & Checkout
While most retail sites allow users to save payment information for future purchases, sites like Amazon incentivize them to log in during every visit, before they get to the checkout process. From streamlining the checkout process to recommending related or previously-purchased products, these are a few examples of how ease-of-use and time saving features can influence users to log in to a website.
Logging in to Amazon gives users access to several additional checkout and purchasing options. Their 1-Click ordering lets people skip the shopping cart and the Subscribe & Save option provides automatic delivery. While Amazon requires a log in at checkout, there are so many additional elements (buttons, features) throughout the site that it's hard to stay logged out.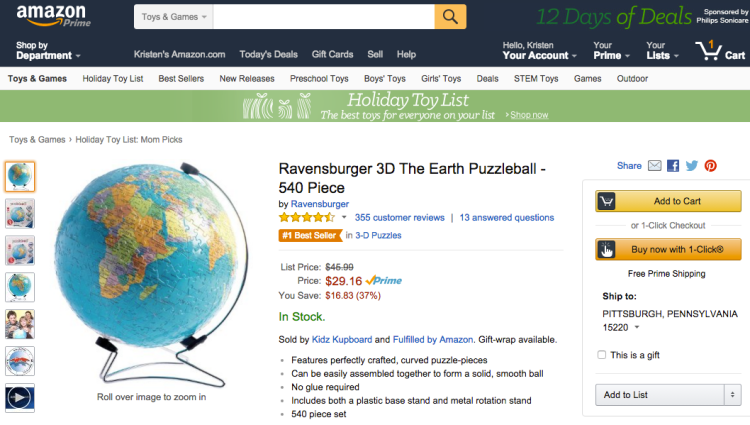 Soap.com (site no longer exists; used to promopt users to Soap.com where you could order household items.)
Signing in to Soap.com allows users to access the Easy Reorder feature, which provides a list of favorite essential household products. In addition, Soap.com is affiliated with several other websites that carry other types of products, from pet supplies to kids' clothing and logging in allows users to shop and checkout on any of the 10 websites.