How and Why To Get Your Google Analytics Individual Qualification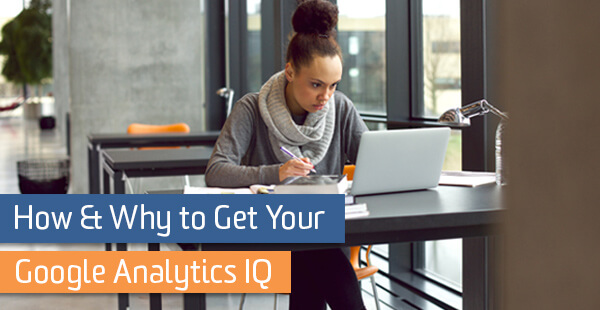 Have you taken the Google's Analytics Academy courses or attended one of LunaMetrics' trainings and are now starting to explore all of Google Analytics' great features?
Are you working on implementing Google Analytics on your site with Google Tag Manager? Or maybe you're just constantly on the quest to become a Google Analytics champion and learn everything you can about it? (By the way, have you considered a career at LunaMetrics?)
If you answered yes to any of those questions, you're probably ready to get your Google Analytics Individual Qualification (GAIQ).
Take the GAIQ Exam!
That might not sound appealing, but to get your GAIQ, you will need to pass an exam. Passing the GAIQ exam does not mean you will be recruited for a top-secret task force or imparted with a subconscious skill set like Jason Bourne, but it does show that you've taken the initiative to better understand the importance of digital analytics and how Google Analytics can be leveraged for collecting actionable data.
Plus, the GAIQ exam only takes about 90 minutes, is relatively easy to pass, and is FREE. Google also provides a valuable GAIQ study guide to help you prepare for the exam: Google Analytics IQ Study Guide.
Once you've reviewed the study guide and are ready to actually take the exam, you'll need to take the following steps:
Become a "Partner"
Sign up for Google Partners and create a profile to access the exam. Don't worry about the fact that Google Partners is presented for agencies – you'll need to click the 'I'm an Agency' button even if you just want to take the test as an individual. There's a support doc if you have any questions!
Start the Test
After you've created your profile, you can start the exam from the Certifications >> Analytics page.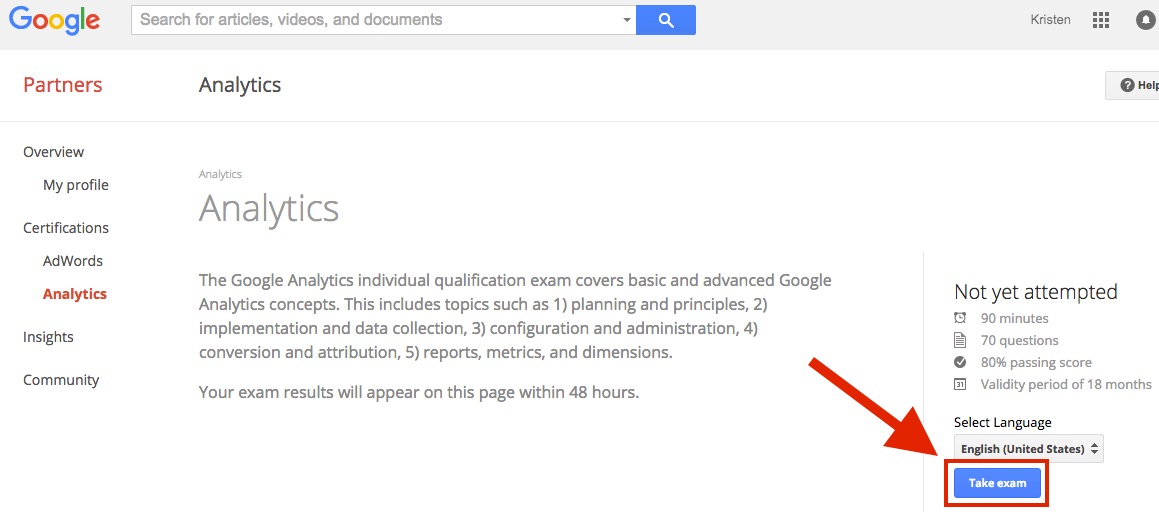 You'll have 90 minutes to answer 70 questions and you need to get 80% correct to pass, but you won't have to take the exam again for 18 months.
GAIQ Exam Tips
The exam is multiple choice, but there are a few 'all of the above' questions thrown into the mix, so make sure you read through all of the options.
There are no back or previous buttons, which is slightly different than in the past. If you've taken the GAIQ exam previously, you may remember being able to mark skip questions and review them at the end, but this doesn't appear to be a feature anymore.
You'll need to have some knowledge about all Google Analytics reports and features, from AdWords to Measurement Protocol, as well as a familiarity with goals and conversions (including Ecommerce).
There are also a lot of scenario questions, which are really great for helping you think about actual use cases, but there are also several definition questions, so make sure to at least study the most common Dimensions and Metrics.
Now That You Have Your GAIQ…
While there's no official badge for the GAIQ, Google does give you a nice certificate; feel free to print it out in color and frame it! On your profile page, click on the link below your profile picture (Analytics certified) and the certificate should open in a new browser tab. Go ahead and update your LinkedIn profile!
Don't forget to put a reminder in your calendar to retake the GAIQ exam in 18 months, but in the meantime, continue using the study guide as a reference and exploring all that Google Analytics has to offer!