Research Confirms Partnerships Are More Effective
Executives recognize the potential of better partnerships, especially when it comes to innovation, culture, and performance. That's why world-class enterprises partner with Infield Digital's team of great engineers.
Let's start with the facts: In a recent survey by McKinsey, 76% of 700 executives believe their initiatives are best completed by partnering with an outside agency, as opposed to partnering with consultants and suppliers. While consultants and suppliers provide input and services, partners collaborate, develop broader strategies, and act proactively.
Interestingly, just 27% of the respondents' companies work with partners while 22% work with consultants and 49%(!) with suppliers. That sounds like a lot of fluffy, impersonal IT relations. There's obviously a need for better partnerships, and executives recognize the potential. Well, that actually confirms the evolution we're seeing at Infield Digital. Partnerships become increasingly appreciated because enterprises profit from partnerships and talented engineers on-site.
What are the benefits of partnering with a technical agency? According to the research, IT partners are about 2 to 3.5 more effective than the other options in various areas. Those areas include, for example, the implementation of innovative ideas, the creation of a healthy IT culture, and the delivery of new projects on time and within budget (see graphic below).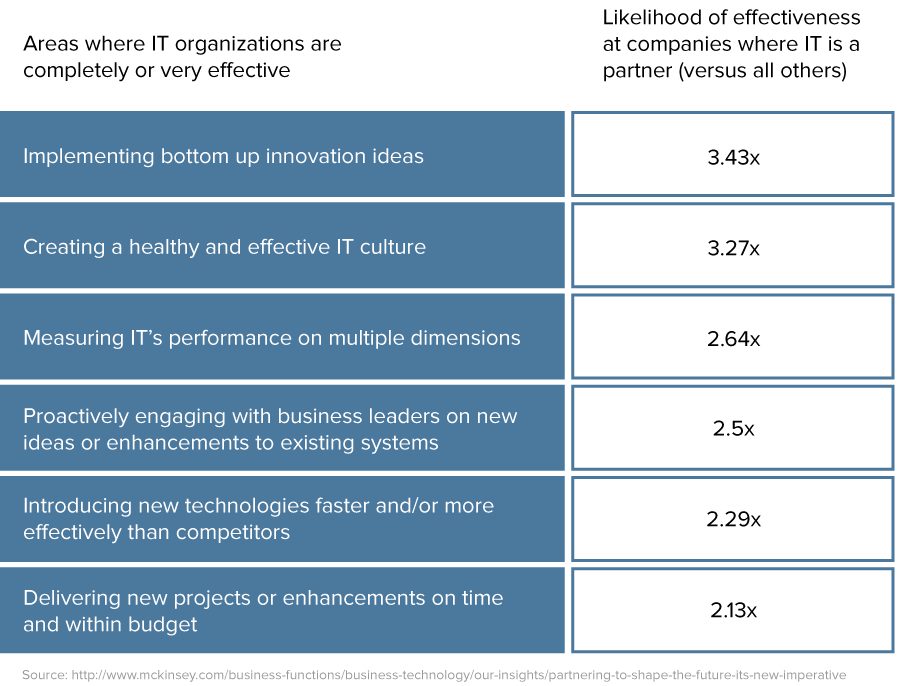 Moreover, being an engineer (note: I'm one of them) and partnering with other enterprises is exciting. The "partner model," which is part of our roots at Infield Digital, allows engineers, data analysts, and project managers to work on-site with our partners, where we meet great people and get the details we need quickly. Depending on what is more effective for each of our partners, we also initiate new projects and maintain existing ones from our offices.
We know that when people are talking about partnerships, a partnership can be interpreted in various ways. But we at Infield Digital see and handle a partnership as the most effective way to empower our partners. We ensure effectiveness by truly caring about our partner's business, top-class engineering, and the resulting long-term relationship.