Experiment And Learn With The Google Analytics Demo Account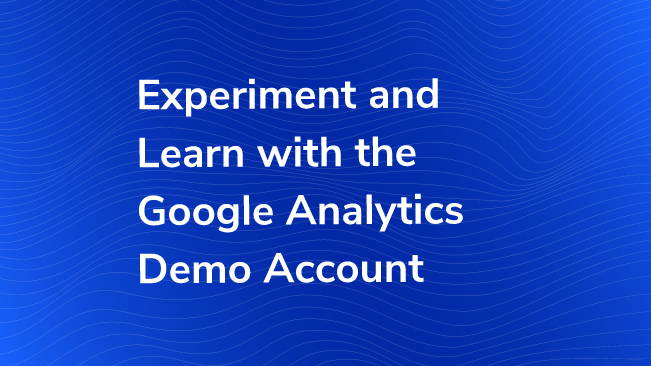 Learning how to use Google Analytics just got a lot more interactive!
In this article my colleague Kathleen Harvey outlined exactly how to learn Google Analytics (GA). Specifically, she talks about Google's Analytics Academy, which is a collection of free videos and quizzes that teaches the basics about everything GA.
Back when I took this course, I wished there was some way I could play around with an actual Google Analytics account. I even set up my own account to track my personal blog (the only thing online whose code I had access to) in order to click around inside the actual GA interface. But I wanted to play with a lot of data (my blog had close to none) in order to see how GA really works firsthand.
That wish has become a reality! Google has made it easier than ever to begin experimenting with Google Analytics and learning how to tool works with a free Google Analytics demo account, available to everyone and ready to use immediately.
The Demo Account
Google's demo account is linked to their online Merchandise Store. It's a real, live website! Go and click and around! Buy some cool Google swag!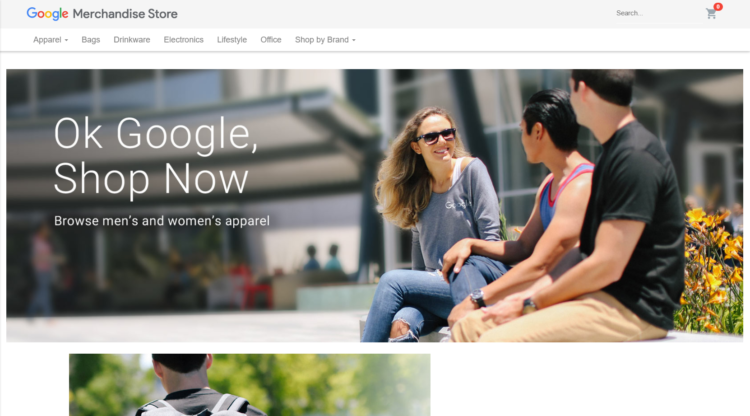 The data in the demo account gives you a look at what data should look like coming from an active website.
Why Use the Demo Account?
It's free and goes hand-in-hand with the Analytics Academy
If you're a hands-on learner like me, having a demo account with data will make learning easier.
You don't need access to code in order to gain access to the GA interface – you can learn how to use Google Analytics even if you don't have a website!
You can see how different aspects of the demo account are organized in order to get a better understanding of how your account should be set up.
You can see how the more advanced custom features are set up and how you can report on them – like custom dimensions, events, and ecommerce.
Use the demo account during our Google Analytics trainings and follow along with our examples and group activities.
Getting Access To the Demo Account
The only thing you need to access the account is a Google log-in. All of the details are explained by Google, but here's the general process:
Click on this link
Read about the Demo Account and how it works
On that page, click the big link that says

––>ACCESS DEMO ACCOUNT<––
How to Learn From the Demo Account
Beginner Material
First, if you're thinking about setting up your own Google Analytics account, you should read this awesome post by my colleague Jon Meck. The default installation gives us many great reports inside of Google Analytics, and a well-thought out implementation will add power to your reporting. This post explains both the basic and customizable aspects of GA and stresses the need for strategy before implementing GA, which is incredibly important.
After you read that post:
Focus On The Reports
Along the left side of the interface is a menu that allows you to navigate between the different reports. This is the best place to start learning about what information Google Analytics contains because once you understand how it's organized, it's much easier to know exactly where to look for different information. There are four main categories of reports: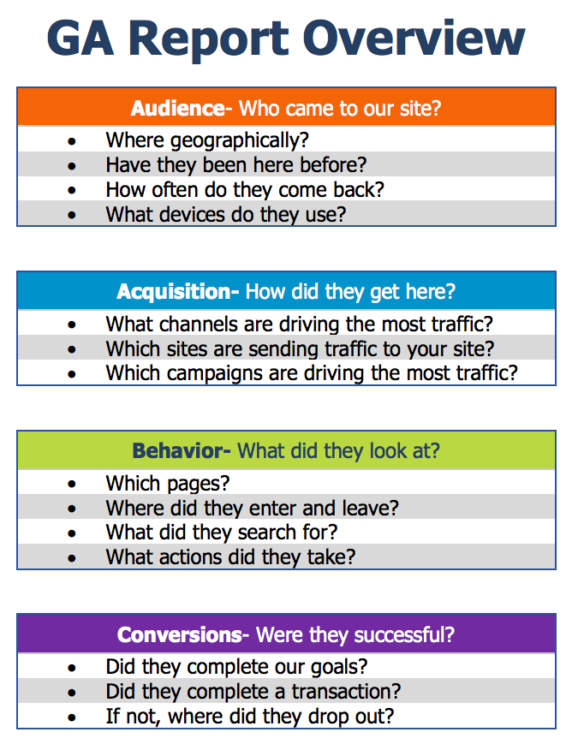 Need help remembering these? We've got you covered. Here's our Google Analytics basics cheat sheet you can download!
Click around these reports and look at what information is readily available in GA. Learning this first can definitely save you time in the future, as you'll begin to get a feel for what data you can easily look up in the interface versus a more time consuming custom report.
Learn the Basic Dimensions and Metrics
My colleague Jim Gianoglio explains what dimensions and metrics are in this blog post. Take the time to learn exactly what all of the basic dimensions and metrics really mean and what information you can derive from them.
Some key ones to focus on:
After learning this, you can begin to decide which dimensions and metrics are most important to your unique website. It's too easy to glance at what information is available and immediately focus on something like the number of pageviews as the most important metric. This may actually be the case – but maybe there is something else in the interface that can give you a better understanding of the success of your website.
Notice the Setup
This account has a lot of features already set up for you, as you'll see below. For starters, take a look at how Google Analytics data is organized into Accounts, Properties, and Views. Data is collected at the Property level and Views are used to help organize and clean the data.

Notice the three different views, which is exactly how we recommend everyone set up their own Views. Check out this post about basic filters and account organization.
Practice Pulling Reports
Think about what reports (dimensions and metrics included) would be most important and useful to your website. Using the demo account, practice finding this information. Think about what decisions you would make based on the data if the demo account was tracking your own website.
Advanced Material
One of the great things about this demo account is seeing how more advanced, customizable aspects of GA are set up. All of the following take a little extra effort from you to set up, but can make all of the difference in reporting.
Site Search
Setting up site search allows you to see reports based on what keywords and phrases people are searching. In this article, my colleague Sam Barnes explains how to add site search for your site.
Question: From July 17-23, 2016, what was the most popular site search term?
Answer: The term "gopher" had 14 total unique searches during this time period. Dont ask us why!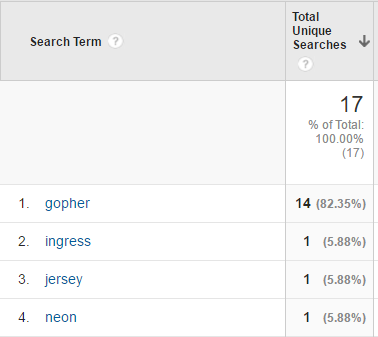 Events
It takes a little extra effort to set up events. They can be hard-coded into your on-page code or added through Google Tag Manager. While the demo account can't show you how to set up events, you can view the reports for the ones they already set up. Playing around with these reports might give you a few ideas for what you would want to see as an event within your data.
Question: From July 17-23, 2016, what was the most popular way to contact the Merchandise store?
Answer: There were 86 Email events and 42 Phone events.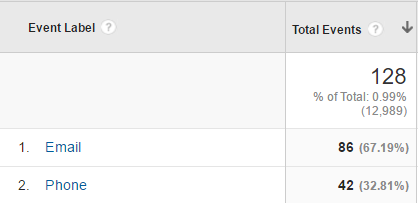 Secondary Dimensions
Secondary dimensions are a simple way to segment your data. They can be added to reports in order to analyze the data in a different light. For example, if you want to find the page on which an event occurred, you can add the secondary dimension 'Page' to your Event Category report.
Question: From July 17-23, 2016, which page drove the most number of "Email" Contact requests?
Answer: The home page drove 24 email contacts during that time period.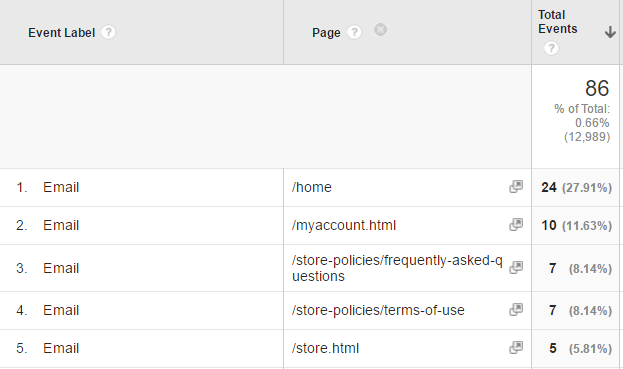 Custom Reports
Custom reports give you more flexibility within the interface. They allow you to create reports that are not readily available with the existing reports in GA, like combining different dimensions and metrics, filtering to a specific subset of data, or accessing custom dimensions or metrics.

Custom Dimensions
We can use Custom Dimensions and Metrics to make Google Analytics more personal to our website, pushing information about our users, their sessions, or the pages they're looking at. The Merchandise Store has a few of these stored for us, so practice using them in reports. Here's a great post talking about how to access Custom Dimensions within the GA interface.
You can see how to set up Custom Dimension under the Admin settings:
Question: From July 17-23, 2016, how many sessions came from the "North America" sales region?
Answer: There were 7,501 sessions from the North America sales region during that time period.

Ecommerce
Similar to events, you have to set up a few extra things in order to gain access to the Enhanced Ecommerce reports. However in the demo account, you can see what the final results look like and what reports you get in return for taking the time to set up Enhanced Ecommerce. Here are some posts on setting up Enhanced Ecommerce, tips, and FAQs.

Question: From July 17-23, 2016, which product brought in the most revenue?
Answer: The "26 oz Double Wall Insulated Bottle" ranked number one with $1,249.39 in revenue!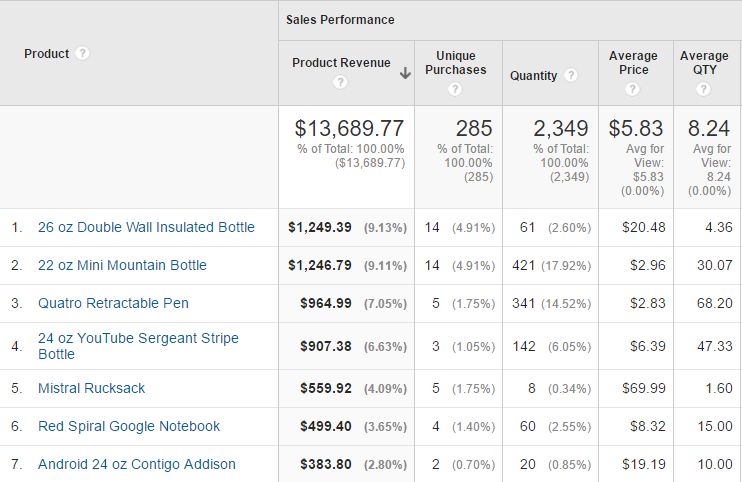 Content Groupings
Content groupings are a great way to add extra detail about the pages on your site – sorting them into logical mutually exclusive groups (this OR that) and roll up their metrics. We've used Content Groups before to talk about certain blog attributes and comparing them to custom dimensions, and luckily this Demo Account has them already built for us!

Question: From July 17-23, 2016, what was the Avg Time On Page for products in the Electronics product category?
Answer: The pages within the "Electronics" Product Category Content Grouping had an avg. time on page of 00:00:46.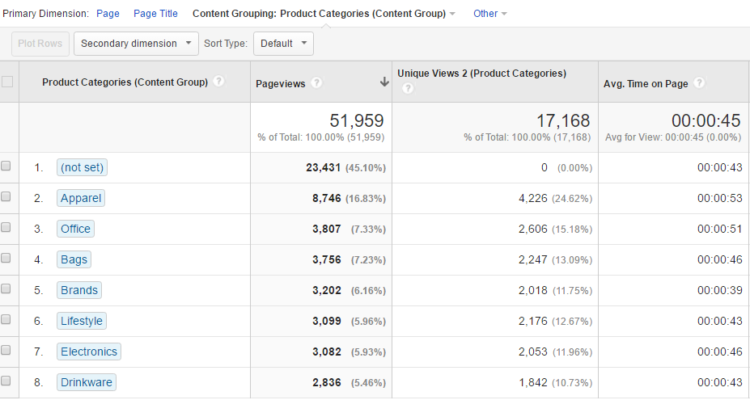 Advanced Advanced Material
After you've got a handle on moving around the reports, digging for insights, and answering questions – it's time to step up your game. Practice working smarter, not harder. Export data from the interface and visualize it in Google Drive or Data Studio.
Regular Expressions
Use regular expressions to filter reports in GA. Here's a post explaining how and when to use them in depth.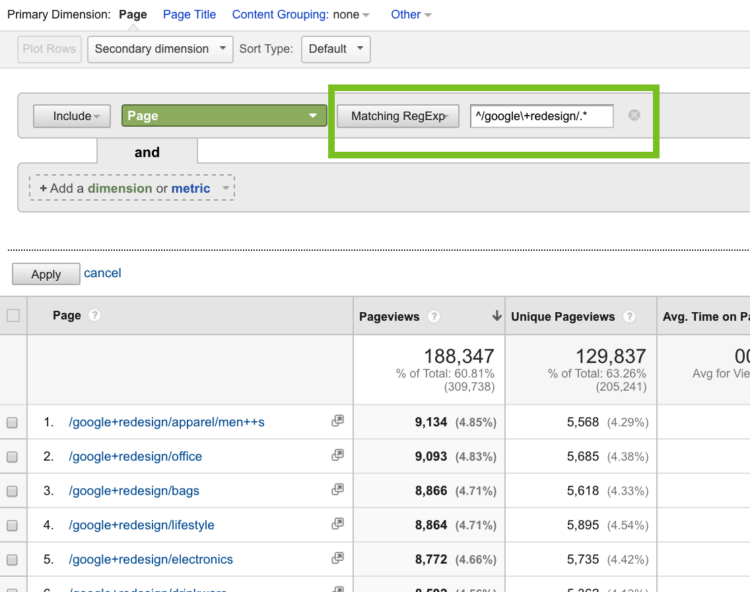 Segments
If you want to view all of the reports in GA while looking at a specific slice of your users, segments are for you! LunaMetrics owner Robbin Steif explains why you might use segments instead of filters here.
Shortcuts
Learn how to use these useful shortcuts in GA to become even more efficient while using it!
The Google Analytics API
Unfortunately, even though you'll have the ability to view the data in the Google Analytics interface, it doesn't appear that you're able to use the API to query and create reports. If you're interested in using the API with your own data, check out these posts by Sam that explain how to bring Google Analytics data into Google Sheets and how to tailor the information for your reports.
Data Studio
You've got the data, now visualize it into something awesome! Take a look at your five free reports inside of Google's Data Studio and connect to the Demo Store to start creating visually appealing and dynamic reports!
---
Way up there in the Beginner Material section I mentioned the importance of strategy. If you're setting up your own GA account, strategy is the most important step. Don't skip over this as it can lead to some disorganized, unhelpful data! In my opinion, the best part of having this demo account is seeing the actual structure of a functional GA account and being able to experience how it should run before diving in and setting up your own. So go wild and use the demo account to your benefit!
Don't forget about Kathleen's post that I mentioned at the beginning! Here's the link again. Use the Demo Account with her syllabus and you'll become unstoppable!