Meet Seth Dobbs: Tech in Motion's Best Technology Manager Nominee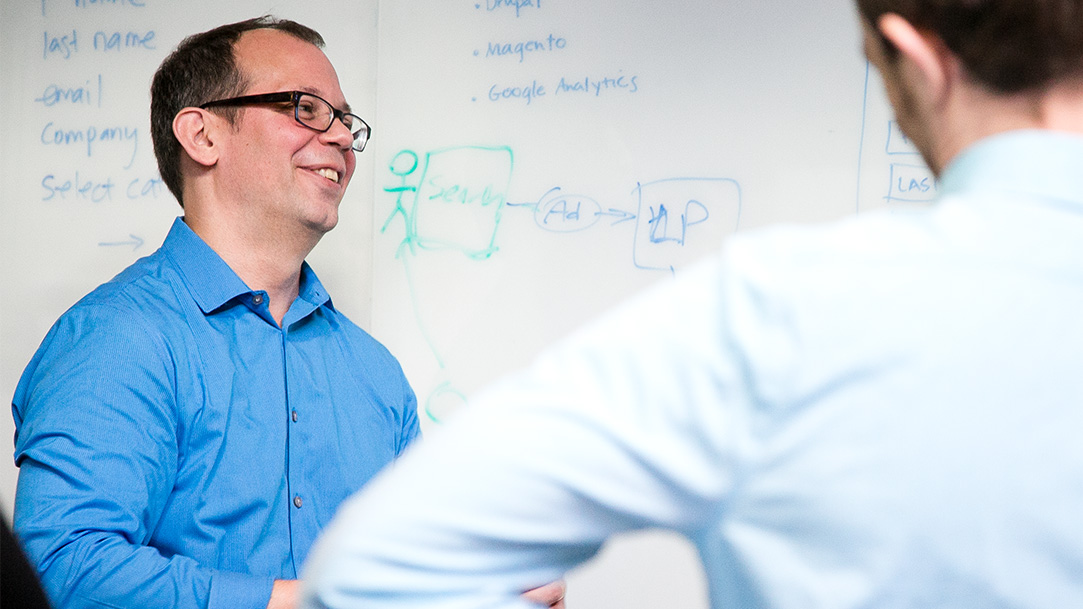 Tech in Motion is an international events series that brings the local tech community together to connect, learn, and innovate. Organized by Jobspring Partners and Workbridge Associates, Tech in Motion is hosting its second annual Timmy Awards recognizing the best places for technology professionals to work. We are proud to announce that Seth Dobbs, HS2's VP of Engineering, has been nominated for "Best Technology Manager" in Chicago and we couldn't agree more!
Seth exemplifies the qualities of a good leader. He not only strives to know and foster growth in each HS2 team member, he firmly believes in and follows Lao Tzu's philosophy: "The great leader is he of whom the people say, 'We did it ourselves.'" Because Seth is able to replace "me" with "we," he has created a culture of team building and camaraderie by organizing frequent competency roundtables, lunch and learn sessions, career mentoring, study groups, subject-based book clubs, community meetups, and annual hackathons. Skill building isn't always easy, but Seth is incredibly effective at nurturing competent, energized, and motivated team members. He has continued to influence a culture where people are constantly challenging each other to work smarter, be more nimble, and grow.
Seth's part in the process? He is involved in a team member's career prior to a date of hire. Because he actively participates in the recruiting process, he is able to handpick team members who thirst for knowledge, never settle for mediocrity, and are eager to innovate. Seth firmly believes that there is no one-size-fits-all career path, but an individual who hungers to grow is always propelled to deepen or expand skills no matter the role, competency, or level. If a team member is energized by being a heads-down developer, Seth provides the staffing opportunity to learn a new technology, dive deeper into an existing technology set, pair with a seasoned expert, or prep with a training session. Likewise, if a team member is inspired to lead people, Seth creates opportunities to cross-train with Project Managers, work on projects where newfound leadership skills can be applied, or actively participate in skill-building workshops or roundtables. Seth doesn't care which career path you take, but he wants you to commit and grow. He is driven to help everyone around him become better at what they do, from mentoring team members to helping clients solve complex business problems: Seth believes in the power of technology to make the world a better place!