HS2 and Wilson Bring Home Acquia Engage Commerce Platform Award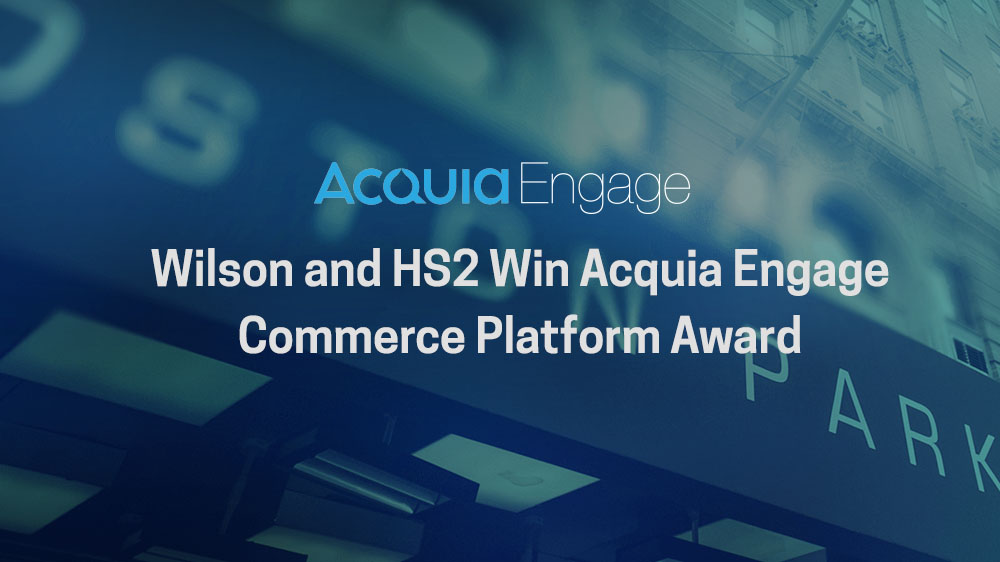 We are excited to announce that HS2 Solutions and its partner, Wilson Sporting Goods, have won the Commerce Platform Site of the Year Award at Acquia Engage. The new wilson.com platform was one of four finalists in this category. Team members Chris Greatens, Solution Architect and Drupal Practice Lead, and Lesley Guthrie, Director of UI, were keynote speakers at this two-day event, sharing the details of the build, from design to launch.
Wilson Sporting Goods, a world-class American icon and global sporting goods manufacturer, is based in Chicago and has been in business since 1913. Wilson offers products for many sports including badminton, baseball, basketball, football, golf, pickleball, racquetball, softball, squash, tennis, and volleyball. Wilson and HS2 combined to build a new wilson.com platform as an experiential commerce website. Experiential commerce websites seek to replicate the shopping experience that customers have come to expect from a brick-and-mortar store, where they leave with an emotional allegiance to the brand and product in their hands.
To bring this experiential commerce website to life, the project team tightly integrated Drupal and Magento. The Drupal and Magento marriage allows content from both systems to be displayed seamlessly to the consumer, ensuring that the commerce and editorial content can be mixed to maximize marketability of Wilson's products. The new platform has an easy-to-use content admin interface that allows the marketing team to build new pages as needed to announce and launch new products, as well as provides consumers the information they need, when they need it, and how they want to consume it.
Congratulations to the Wilson and HS2 teams that made this award possible!