Consider Acquia for Enterprise‑Ready Drupal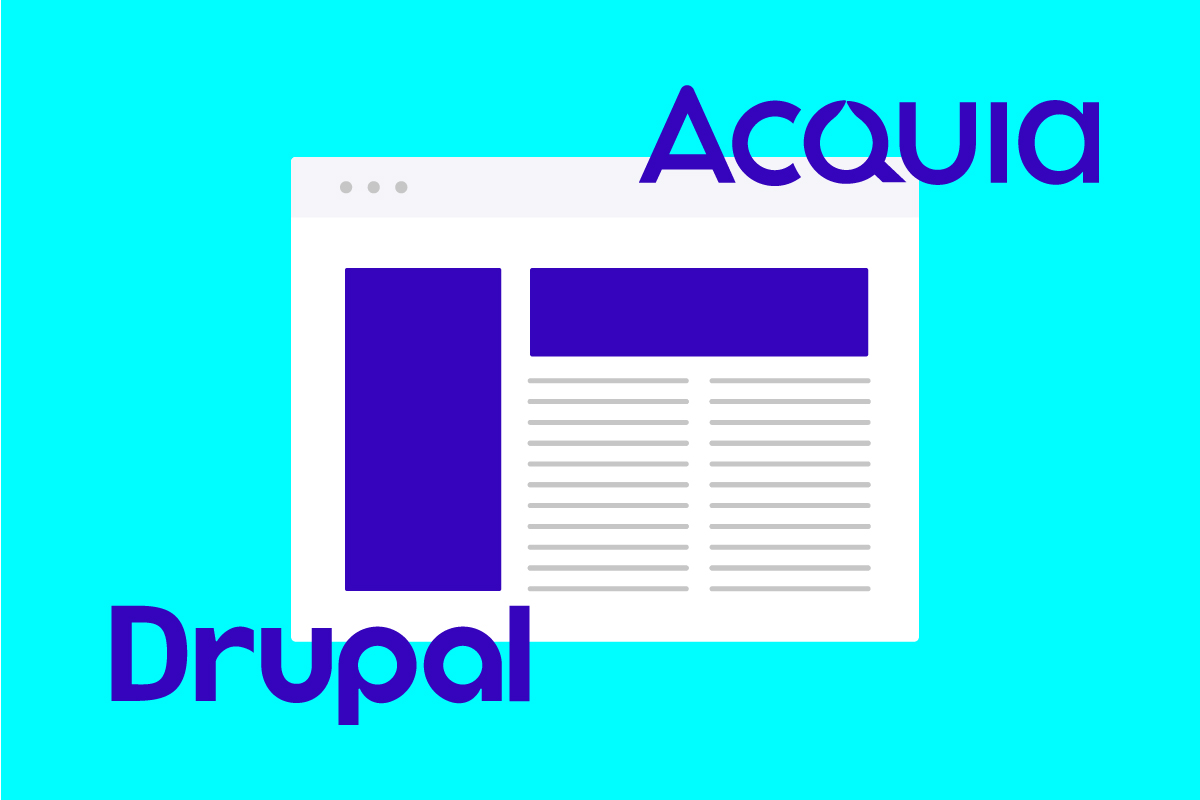 Drupal is a powerful open-source content management system (CMS) that can be stood up quickly and cost-effectively for companies that are getting started on their digital transformation journeys or have a small digital footprint. However, when combined with Acquia, a Drupal implementation becomes enterprise-ready with world-class scaling capabilities.
We have a long heritage of working with Drupal, starting with our first project over eight years ago implementing a multi-site instance to support 70+ hospitals in a healthcare system. We have used various hosting and cloud providers throughout our implementations, but over time have grown to lean heavily on Acquia as a partner to help our clients get the most out of Drupal.
Acquia & Drupal: Origin Stories
After creating Drupal in 2000, Dries Buytaert co-founded Acquia in 2007 to be the premier hosting environment for Drupal, providing customers with the services and support they would need to scale successfully with open source software.
The depth of Drupal understanding shows in their offering; Acquia tunes their instance to optimize end-user performance when you use Acquia instead of your own instance in a cloud-hosting environment.
Most content management systems are just that - geared towards managing content, not optimized rendering. Acquia Cloud provides all the caching and tuning required to get the most out of your Drupal instances, and once again designed specifically for Drupal. Their Cloud hosting also makes it easy to migrate code and data between environments to make sure you are testing and deploying exactly what you want to.
Additional Enterprise Tools
Acquia is much more than just a cloud-hosting company - they provide offerings that enable Drupal to become a true Digital Experience Platform, such as Journey and Lift. These additional offerings benefit by being in the same family, there's less setup to get these products up and running and less concern about making products talk to each other.
We are really excited about the Acquia Journey product, which can be used to drive journey automation and omnichannel orchestration. This product helps put a seamless face to customers by centralizing the control of messaging and interactions across multiple channels. Inwardly, it helps organizations coordinate efforts across what are often siloed digital marketing teams. We believe communicating a consistent brand image across channels is critical to positive customer engagement.
In addition, Acquia Lift supports data-driven personalization which helps drive deeper individual engagement by using deep insights to drive custom content. Getting the right content at the right time reduces friction, makes users feel understood and helps drive them along their experience with your brand.
Acquia Partner Network
In addition to providing the platform and tools to help maintain a robust Drupal implementation, Acquia helps organizations source talented companies with the skills and staffing to support these enterprise projects. There are varying types of partners, mostly dependent on a number of certifications and dedicated internal teams, as well as how many projects a partner can be expected to work on.
Check out the Find a Partner section of Acquia's site to explore the partners and in some cases, review portfolios of completed projects.
Working with partners like us has the added ability to tap into resources that extend beyond the Drupal/Acquia developer requirements, but are necessary for fully supporting a digital experience project from start to finish. With in-house specialties in areas like Strategy, Design, and Analytics — our teams work closely together to help refine and bring clients' visions to life.
Drupal is a great foundational CMS and can be used to build high-performing, personalized, targeted, scalable digital experiences with Acquia.