Acquia, the Open Source Digital Experience Platform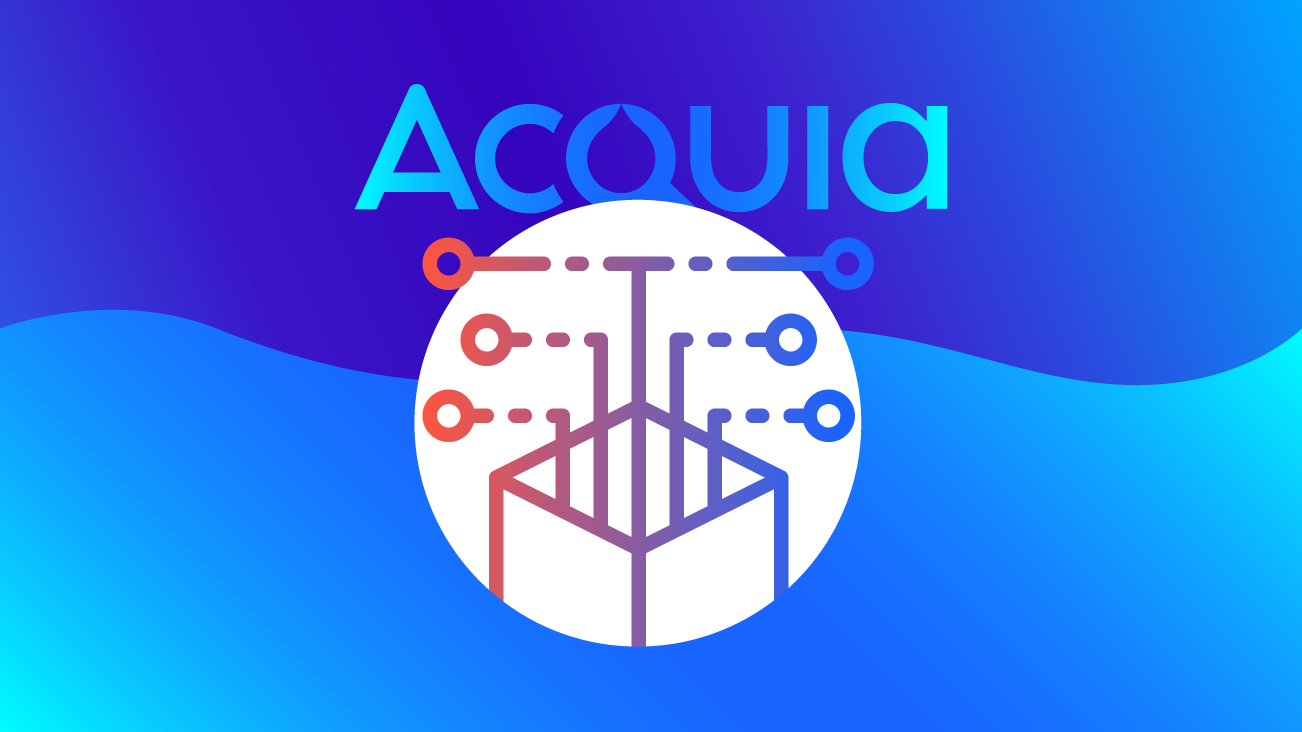 The concept of "open source" has been around since the late '70s, completely altering how software was developed. Before open source had been established as a concept, software was always developed in-house. Since the inception of open source methodology, we've tracked how it has become widely used and a popular option for developers. To this day, open source software solutions continue to pave the way for development as well as in digital marketing.
Organizations looking for a digital experience platform (DXP) can consider the benefits of open source as they compare and contrast platforms. Acquia, for example, provides enterprise digital marketing tools to support marketing automation, personalization and A/B testing, customer data management, site hosting and more — all optimized to work with Drupal, the leading open source content management system.
Proprietary Software vs. Open Source Software
Let's take a look back. When the concept of open source was established, there was noticeable tension between the advocates of proprietary software and open source software. Large companies such as Oracle and Microsoft considered open source a threat to their proprietary IP and, in the bigger picture, their business model.
To support open source development, the Free Software Foundation (FSF) was founded, which promotes the universal freedom to study, distribute, create, and modify computer software.
It wasn't until the '90s that open source became more mainstream. At this time, there was incredible growth in the number of developers who contributed to open source, and the concept of "copyleft" was established. This allows a program to be copyrighted, allowing anyone the legal rights to use, redistribute, or modify the program's code without changing the distribution terms. The copyleft concept made the source code legally linked with the freedom of use.
Now, open source development is the most popular method, and is responsible for many of the most stable software solutions our teams deploy today. Huge investments from industry giants have enabled continued progression and adoption of open source in the current tech industry.
Considering a DXP: Think Open Source
Open source is increasingly prevalent in government and higher education and is quickly becoming a popular choice for large corporations, with about one out of every 40 websites running on Drupal. Given its flexibility and scalability, among other benefits, more and more companies are now writing open source into their RFPs. As open source continues to become globally accepted as a leading technology, let's take a look at some of the features driving this adoption:
Open Source Allows for Faster Innovation
You're only as Agile as your technology stack, so if you're using open source, your organization is already at a significant advantage. Proprietary companies simply cannot keep up with the pace of innovation that happens within open source communities. Many communities experience the benefits of a global talent pool of open source developers, who are constantly working to maintain and improve the codebase.
In addition to being backed by a community of developers, Acquia works with its partners to focus on taking projects to the next level of innovation which allows them to differentiate themselves from competitors. Partners can use the Acquia and Drupal tech to build customized digital experiences. Through open source, clouds, and Acquia's API-first approach the possibilities for innovation are endless.
Open Source Puts More Eyes on Security
According to a Purdue University study, open source communities have more eyes on security vulnerabilities and risks, and issue patches faster than proprietary software. Since anyone is able to check the source code, developers often feel empowered to find and address security issues more quickly than in proprietary software. On the contrary, proprietary software must rely on third-party vendors or developers to address bugs or vulnerabilities in code which can often increase the time it takes to find and fix issues.
Lastly, it's important to note open source is powered by its community, which facilitates peer review from a diverse set of developers who are motivated by more than profit to improve source code. The Drupal community alone consists of over 1M members. This means close to 1M people are actively working to make improvements (bug fixes, new features, and so on) to the Drupal platform.
Open Source Attracts Top Talent
Open source development is one of the top ways to attract development talent, with more than half of the most-applied-to U.S. startups hosting open source projects. Most developers like to work on yet-unsolved issues and working in open source allows them this opportunity. With open source, you can showcase to the developer community the unique challenges you face and how your team solves them.
Additionally, personal engineering brands have become increasingly important. Developers today are less interested in placing their skills in a location where they aren't able to showcase their work. Working in open source allows them to create visibility outside the constraints of proprietary software.
What Has Changed in the Last Year, Alone
In the last year, Drupal and Acquia have made advancements positioning them as a top competitor and choice for open source digital experience platforms. Backed by a robust community of developers, top-tier partners, and through a series of acquisitions, Acquia is consistently at the forefront of digital innovation.
While the core of Acquia is open source, they're investing in other technology platforms to help round out their capabilities and enable them to compete with broader digital experience platforms. In the last year, Acquia has acquired three companies that have helped shed light on the benefits of working with open-source technology and the roadmap for where they are heading.
Mautic
Mautic began with a single focus on equality. The Mautic community believes in giving every person the power to understand, manage, and grow their business or organization. Mautic is focused on helping this belief become a reality by giving unequivocal access to powerful marketing automation software. Our team has worked over the last several months to become experts in the solution offering and can help provide recommendations to optimize your digital marketing experiences.
Cohesion
Cohesion redefines what it takes to create beautiful websites. This low-code, Drupal add-on is available for Acquia customers and is more inclusive, collaborative, and Agile than ever before. Perfect for non-developers, it empowers anyone in your organization to make updates on the fly and stay 100 percent brand compliant.
AgilOne
Acquia most recently acquired AgilOne, an enterprise customer data platform provider, to incorporate into its marketing cloud offerings. At Bounteous, we're very excited about this, as it represents a huge leap for Acquia's capabilities to bring together customer data for AI modeling and marketing activation.
Strength of Open Architecture
If you're considering an open source content management system optimized for enterprise businesses, Drupal combined with Acquia's digital experience platform are more than viable options. With a focus on integration, API-first, customizable workflows, mobile-first builds, and more it's no wonder why Acquia is becoming a stand-out enterprise platform choice.
Given the availability of open source, you can expect continued advancements in open architecture. We firmly believe open solutions will continue to drive the industry forward and can't wait to see what's next!